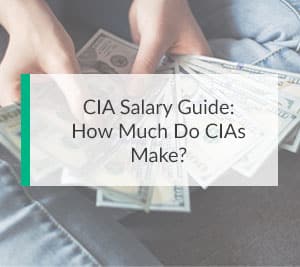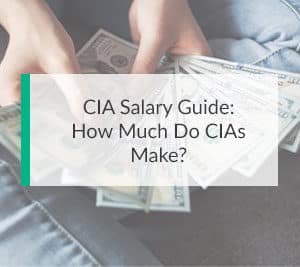 For individuals who feel as though their accounting career could use a boost, obtaining a Certified Internal Auditor (CIA) designation could be just the ticket to a promotion and salary boost.
Before making the decision as to whether this is the right career move for you, it's a good idea to investigate certified internal auditor salaries and discover what you can expect to earn as a CIA.
Are you wondering whether this is the right job for you? Here's the deal:
---
Factors Affecting CIA Salaries
Numerous factors determine the salaries that certified internal auditors can expect to earn. These factors include location, years of experience, education level, and the size of the company where you work.
Salary Outlook for Certified Internal Agents
Overall, CIA salaries are anticipated to increase by 10 percent between 2016 and 2026, according to the U.S. Bureau of Labor Statistics. This is faster than average for other occupations. For the most part, the growth of employment for auditors is closely associated with the economy's well-being. As the economy expands, there will be a need for more experienced individuals to prepare and analyze financial records.
Auditors are responsible for analyzing company records to ensure the organization's funds are not mismanaged. Additionally, auditors may also analyze company financial procedures to identify and eliminate waste and fraud. While a government agency does not regulate the field of internal auditing, generally accepted standards are provided by the Institute of Internal Auditors.
Fields Employing Internal Auditors
The largest industries employing internal auditors include:
Account, tax preparation, bookkeeping, and payroll services

Government

Finance and insurance

Management of companies and enterprises

Self-employed
Work Environment for Internal Auditors
Auditors usually work in offices, although a small number may also work from home. Internal auditors may work independently or as part of a team. In some cases, internal auditors may be required to travel from their office to other locations to perform their jobs.
Obtaining a CIA Designation
The Institute of Internal Auditors offers the certified internal auditor designation to qualified candidates. To be eligible for this designation, the candidate must be a graduate of an accredited college or university, must have worked as an internal auditor for a minimum of two years, and must have passed all three parts of the CIA exam.
Necessary Qualities to Be a Certified Internal Auditor
To be successful in the field of internal auditing, prospective candidates should possess the following qualities:
Analytical Skills – Auditors are responsible for identifying problems in financial documentation. Therefore, they should possess excellent analytical skills to be able to detect the fraudulent use of funds.
Communication Skills – Auditors must be able to listen to facts carefully as they are presented by clients and others. In this regard, an auditor must also be able to discuss their findings in written reports as well as in meetings. This requires superior communication skills.
Detail Oriented – Auditors must be capable of paying careful attention when compiling as well as examining financial documents.
Math Skills – Auditors must be capable of analyzing, comparing, and interpreting figures and facts.
Organizational Skills – Auditors are often required to work with a large number of documents. Therefore, it is important to possess strong organizational skills.
---
Entry-Level CIA Salaries
Entry-level certified internal auditors can expect to earn a salary between $52,000 and $66,000 when working for a medium-sized company. Those working for a large company can expect to earn between $55,000 and $67,000.
As an entry-level auditor, you will be responsible for auditing the financial and accounting information of the company where you are employed. This type of work is typically performed in a supporting role while working under the direction of a department supervisor. Work is usually closely monitored. In this role, you will also identify possible improper documentation or accounting. This job may also require researching issues as they are identified, as well as making recommendations to improve procedures or policies on an as-needed basis. This position requires a minimum of a bachelor's degree in accounting along with one to two years of related work experience.
---

Junior-Level CIA Salaries
Once certified internal auditors have gained between one and three years of experience, they can look forward to being promoted to junior-level certified internal auditors. At this point, salaries tend to jump to between $60,000 and $82,000. Salaries generally rise between 15 percent and 25 percent each year.
The responsibilities of a junior auditor would include checking expenditures, financial records, and revenue to ensure there is no misuse of funds. Junior auditors usually work under the direction of senior auditors in the planning of audits.
---
Senior-Level CIA Salaries
Senior-level salaries range between $78,000 and $98,000 for employees of medium-size companies. For larger businesses, salaries can range up to $110,000, representing as much as a 29 percent increase in salary from the junior level. Senior-level CIA salaries are generally higher to compensate for the more complex situations that auditors at this level must handle.
Senior auditors are generally responsible for monitoring the daily operations of the firm employing them. This could include the preparation of audits or bank reconciliations, analyzing assets, and preparing tax reports and financial statements. Senior auditors are also typically responsible for overseeing the work of junior auditors.
CIA salaries are certainly lucrative, but it gets even better!
---

Director Of Internal Auditing
With a few years of experience, senior-level certified internal auditors may be able to work their way up to the position of director of internal auditing. This top-tier position comes with a tremendous amount of responsibility as well as a higher salary. The director of internal auditing in a medium-size company can anticipate earning a salary between $92,000 and $130,000. Directors working for larger companies could earn up to $151,000.
The primary responsibilities of audit managers include organizing and supervising internal auditors. This generally includes supervising a team of junior and senior level auditors. The director may also recommend changes in policies, as deemed necessary. Directors are also responsible for ensuring their employers follow government regulations.
Even at this level, there is still more room for occupational growth. Auditors in positions such as chief audit executive can earn up to $165,000. Salaries may be even higher for directors employed by companies with multi-million-dollar revenue. Directors in such positions could see salaries in excess of $250,000.
---

CIA Salaries vs. EA Salaries
Certified internal auditor salaries do generally different from Enrolled Agent salaries. At the entry level, a certified internal auditor may have an average salary of $64,000. By comparison, an enrolled agent averages around $48,000 per year. This difference in salary is due to the difference in the job roles and responsibilities between the positions. An enrolled agent is considered to be a tax specialist; however, the range of expertise of an EA is more limited than that of a CIA.
Want to know the best part?
While earning a CIA designation does require additional time and effort, once you have that designation, you have a tremendous amount of room for career growth. As you gain more years of experience, your salary will continue to increase. There is an incredible amount of room to work your way up the career ladder while seeing your salary increase.