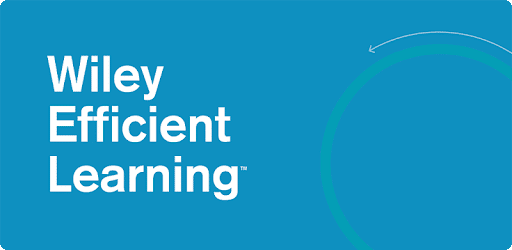 The Certified Internal Auditor designation is a globally recognized certification for internal auditors and is granted after passing three different parts of the CIA exam.
Most people who succeed on the CIA exam have one thing in common:
They enroll in an efficient and effective CIA review course to boost their chances of passing. But with a large number of CIA exam prep choices, how are you supposed to decide on which one to use? So many claim to be the best, but only a few courses are truly worth your time.
One of these worthwhile courses is Wiley CIA Review.
---

Overview Of Wiley Efficient Learning
Wiley first acquired Efficient Learning Inc. in November 2012. Since then, they have used their software platform to elevate their online courses. They offer students and test takers around the world a mobile optimized course for all their test-taking needs. Their prep courses focus on bite-sized lessons and individual mentoring as well as flexible exam planners. Student testimonials show that Wiley Efficient Learning is more than capable of boosting your test grade.
Wiley CIA Review offers many great study materials, including:
CIA Study Guides

Focus Notes

CIA Test Bank

5,300+ CIA Practice Questions

Research Activities

Unlimited Practice Sessions and Tests
---

What's Included With Wiley CIA Review
Comprehensive Study Text
Wiley CIA courses offer a book covering all IIA content requirements for each part of the test. This study guide is written from a student's point of view and contains effective guidelines for building CIA knowledge. Hence, all guides are filled with illustrations, easy to understand diagrams, and line drawings all designed to aid subject matter recall. It also includes many multiple choice questions and answers. Consequently, it's the most effective IIA endorsed review system.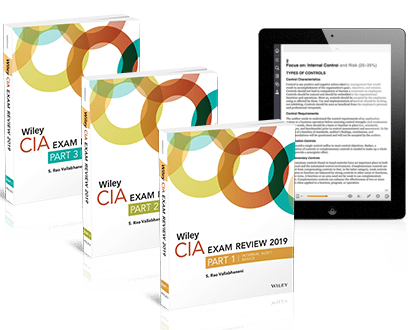 Online CIA Test Bank
These customizable question sets are designed to tag weak areas for practice and sharpen your CIA skills. There are over 5,300 questions that can be used to create unlimited custom practice sessions and tests. Furthermore, you can even mix questions from any combination of domains.
Wiley's CIA exam questions also have multiple methods of interactions that further enhance their effectiveness:
Questions can be answered in two different modes. Study mode shows you explanations for each question and delivers instant feedback upon completion of each question. Alternatively, the exam mode treats the question session as a test and saves feedback and answer rationales for the end of the session.
Focus Notes
Wiley's CIA focus notes reinforce knowledge of Internal Audit basics by being a concise and easy to read study aid. Reading focus notes allows you to review all the skills and concepts required to pass the CIA. Additionally, they also include references to authoritative literature and teach effective test taking strategies. Consequently, focus notes are a simple and focused method to maximize study time and reinforce the day's lessons.
---

Wiley CIAexcel Pricing
Wiley CIA Review sells their program in three parts with an optional full package bundle. Each part costs $225 individually and comes with all the study guides, focus notes, and practice questions related to that part. All three parts can also be purchased as a bundle for $675 which includes all CIA resources Wiley has on offer.
Wiley also provides both a two-day free trial and a twenty percent student discount. To qualify for the student discount, you must have been enrolled in college within 90 days of the date on which you order the course.
Wiley CIA Promo Code Discounts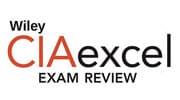 CIA, Exclusive Discount, Wiley CIA 37 uses today
CIA 34 uses today
Get $75 OFF Wiley CIAexcel review course! Save big on your test prep today with Wiley CIA Review!
Last Used 20 minutes ago
Expiration Date:
June 2, 2020
Exclusive Take 15% off Wiley CIAexcel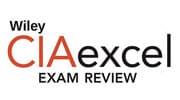 CIA, Exclusive Discount, Wiley CIA 40 uses today
CIA 37 uses today
Get 15% OFF Wiley CIAexcel review course! Save big on your test prep today with Wiley CIA Review!
Last Used 1 hours ago
Expiration Date:
June 2, 2020
---
---
Pros & Cons
Wiley's CIA Exam Review has a few added positives and negatives worth discussing:
Pro – Bundle Pricing: The study materials bundle is an extremely handy package. Students can pay only for what they need at reasonable prices. Typically services charge more for buying individual parts, but Wiley has a more reasonable pricing policy when it comes to student needs.
Pro – Up to Date Materials: All print materials are updated yearly to ensure you never have to study with outdated information. The online test bank is also frequently updated to include new questions or corrections to old ones. Wiley ensures their always material reflects current exam content specification.
Pro – Written by a CIA Expert: Wiley's content author has written over 60 study aids to prepare students for certification tests. He currently holds 24 professional certifications and has four masters degrees in management, accounting, industrial engineering, and chemical engineering.
Con – No Personal Instruction: This service is primarily a study pack, not an in person course. Therefore, it's intended to supplement your learning, not serve as a replacement. If you are looking for a classroom setting, consider pairing a separate prep course with Wiley's study program.
---

Frequently Asked Questions
For more insight into this prep course, here are some of the most commonly asked questions about Wiley:
Q: Does Wiley's CIA Exam Review work on mobile?
A: Wiley's exam review was designed with mobile in mind! Hence, all resources are fully usable on all mobile platforms. You won't have to worry about being unable to take your study sessions on the go. All progress is even cloud based so you can switch devices in different locations.
Q: What does the free trial include?
A: The free trial offered by Wiley grants access to the CIA test bank for 48 hours. You can study 5000 questions and take unlimited practice tests before deciding if the service is worth your money.
Q: How long will I have access to the test bank?
A: Paying for Wiley's CIA Review will grant one year of access to the test bank. Furthermore, you will be given your focus notes and study guides permanently.
---

Ideal Customer
For those of you still on the fence, here are a few more things to know about Wiley:
If you like breaking your study sessions into manageable chunks,

this is the course for you.

If you want access to a wealth of study materials,

this is the course for you.

If you tend to memorize information with acronyms and mnemonics,

this is the course for you.

If you like to work in person with an instructor,

this isn't the course for you.
---
Final Recommendation
Wiley's CIA Review course is well worth your time and money. Their full package includes a multitude of effective study materials and test taking strategies for a good price. Anyone still on the fence about it can try the 48 hour free trial before making up their mind. Wiley CIA Review definitely delivers on their promise of increasing your chance to pass your exams, so what are you waiting for? Click the button below and check it out for yourself!