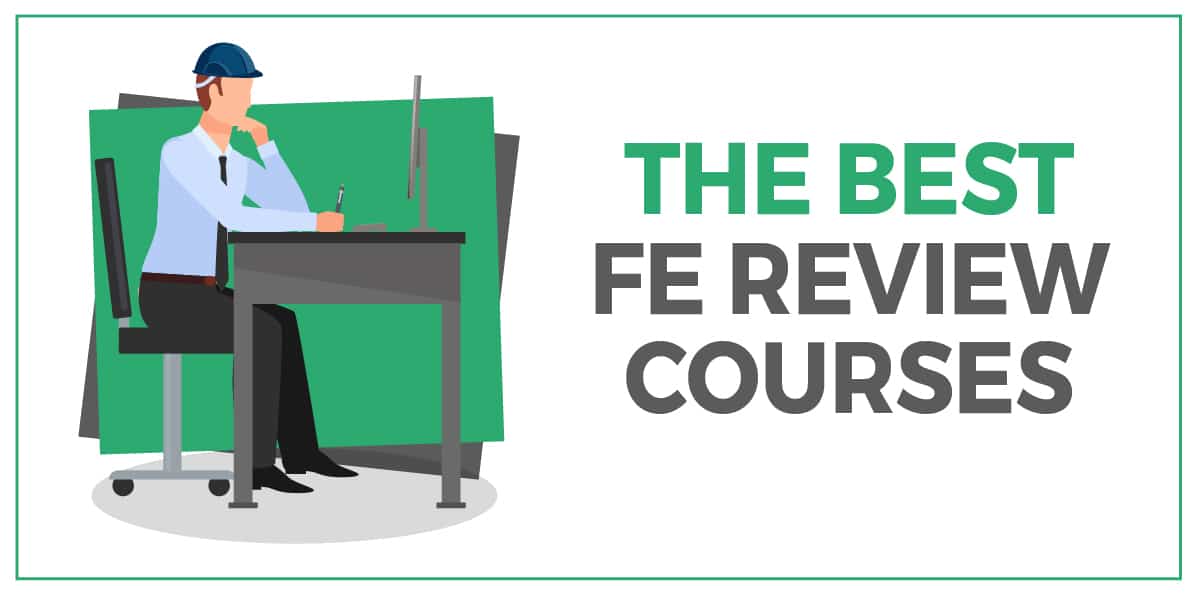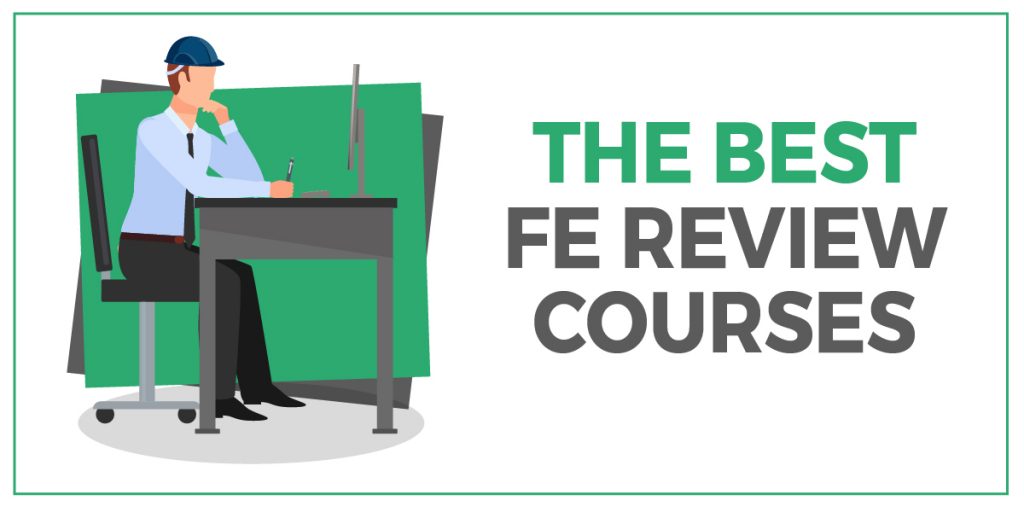 So you want to be a licensed engineer. You're going to need to pass the FE exam. And for that, you're going to need one of the best FE exam prep courses.
For people working towards becoming professional engineers, the Fundamentals of Engineering exam is an important milestone. Completing this exam and earning an FE license shows both you and your future employers that you're uniquely qualified as an engineer. As a result, the test can be pretty difficult; but there are a few good options to prepare for it.
The easiest and most effective way to do so is to take an online FE review course. FE exam review courses are usually led by a certified exam instructor and offer next-level engineering exam preparation. From diagnostic exams to full length practice exams, on demand courses to live online courses, and more, FE prep courses have what it takes to get your engineering career off the ground.
But how are you supposed to choose from everything out there? Well, luckily for you, I've gone through the work of checking them out, vetting them, and organizing a list of the top five best FE exam prep courses.
Read on to see my picks for which courses will best suit your needs.
---
These Are The Best FE Exam Prep Courses in 2023
🔥

PPI2Pass

👍 Udemy FE Exam Review Course
👎

NCEES
---
1. School of PE FE Exam Prep Course

School of PE is an excellent resource for all things FE exam prep. Don't let the name fool you; School of PE isn't just for studying for the PE exams. In fact, many PE exam candidates actually use it for FE review first.
What's so great about School of PE? this company offers a range of online review courses covering different FE exam topics, including Chemical, Civil, Electrical & Computer, Environmental, Mechanical, and more.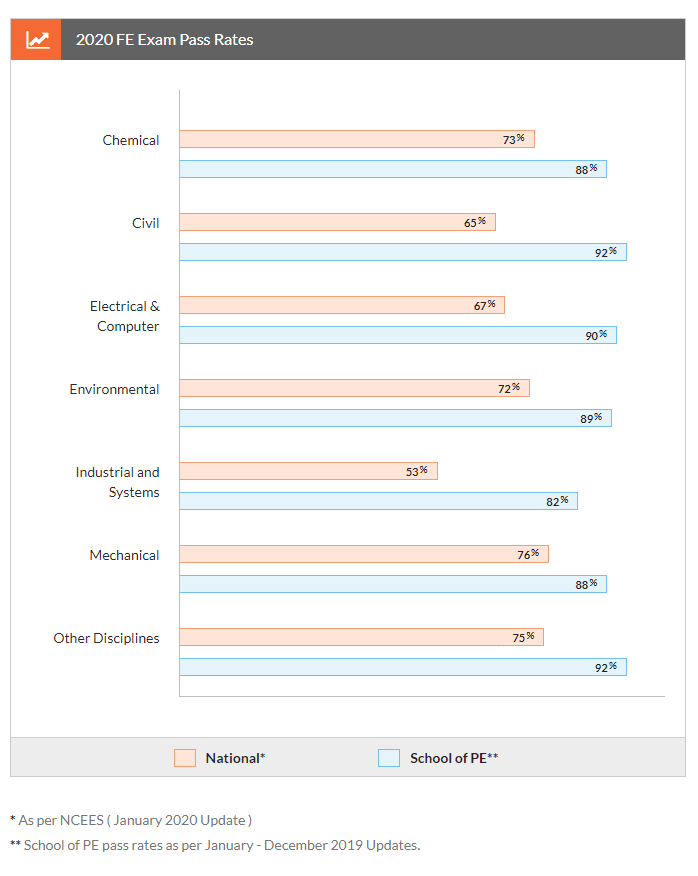 There are two ways that this online FE exam review course reassures students that their study materials are legitimate. First, they have regularly updated info published on their site showing the pass rates for all their students according to the different exams. Second, they offer a 30-day free trial of their On-Demand course so you can try it out for yourself!
Unfortunately, there is one small caveat to this prep course. School of PE's Free Repeat guarantee has pretty strict requirements and only applies to their highest-priced courses— so you won't be able to rely on it when using a budget option.
However, this is still a valuable educational resource for FE students. And when you consider their impressive FE exam passing rates, there's no need to worry about their guarantee if you pass on your first try!
School of PE Pros & Cons
Multiple Instructors Per Class: Each class comes with a different set of instructors. Each instructor focuses on their specialty so you can get the best education possible. As a result, you'll only learn from the most experienced professionals no matter what course you take.
Student Hub: School of PE courses also come with a well-designed student hub. From here, you can download notes, speak with your teacher, review course materials, and more. This hub serves as a one-stop shop for all of your studying needs during your time with School of PE.
Limited Guarantee: School of PE offers a Free Repeat Guarantee for any students unable to pass their FE exams after using an OnDemand or Live Online course. Unfortunately, this guarantee doesn't apply if you're enrolled in a monthly subscription or online boot camp; however, these are still effective enough study materials to help the vast majority of students pass on their first try!

$200 Off School of PE FE Review Course –
215 uses today
Last Used: 4 hours

$200 Off School of PE PE Review Course- Undergrad
70 uses today
Last Used: 10 hours

Military Discount- $100 Off School of PE PE Review
3 uses today
Last Used: 6 hours

Military Discount- $100 Off School of PE FE Review
8 uses today
Last Used: 15 hours

Get $100 Off School of PE PE Review Course
10 uses today
Last Used: 15 hours

Get $100 Off School of PE FE Review Course
19 uses today
Last Used: 15 hours
---
2. PPI2Pass FE Exam Prep Courses

Right now, the top provider of FE exam prep is PPI2Pass. This is because this course is uniquely designed to help you pass your exam. Rather than forcing you to focus on self-study, PPI2Pass instead guides you through difficult exam concepts and strategies via a flexible study plan. Additionally, it lets you operate off of a schedule that is convenient to you so it can match your personal schedule.
But that's not all this course does for you:
PPI2Pass also offers unparalleled support options. At any time during class, you can communicate with instructors for help on a specific topic. Furthermore, even outside of class, you can email for help and receive a swift reply. This ensures that you'll never feel lost when preparing to take the FE exam.
In order to create the best possible learning environment, PPI2Pass combines lectures, problem-solving demonstrations, and exam strategy sessions. These cover every major aspect of the exam in a clear and easy-to-understand way. In fact, one of their biggest claims is that they "over-prepare" you for your FE test. This will ensure that you confidently pass on the first try with ease.
However, one of the best parts of this FE review course is how much material they cover. As you might expect, PPI2Pass offers FE civil practice exams; however, they also provide specific coursework for other related disciplines, Check out some of their other categories, such as FE Mechanical practice exams and FE Electrical and Computer practice exams.
For all of these reasons and more, PPI2Pass' FE exam study guide and course is number one on this list. Try it out, and I guarantee you won't be disappointed!
PPI2Pass Pros & Cons
Customizable Study Plan: At any point during this course, you can go to your learning hub and readjust your pace. This allows you to breeze through materials you find easy and take some extra time on the more difficult aspects of engineering.
Print Materials: This course also comes with a wealth of print materials, which allow you to take your studying offline. I personally recommend using these during a long commute or when you need to get away from distractions for a while.
Expensive Live Course: PPI2Pass's live online course is one of the most expensive ones on this list and costs a whopping $1,595 to enroll in it. Luckily, the self-study materials are far more affordable— and what you learn is definitely worth your money if you can pay for the course.
---
3. Civil Engineering Academy FE Prep Course

Next on the list is Civil Engineering Academy's Ultimate Civil FE Review course. This course aims to help you pass by cutting straight to the crux of each requirement. All course materials are based on the exact specifications from the NCEES testing agency, so you can be assured that you're learning what you need. As a result, you'll find yourself going through everything you need to know for your FE exam practice in the shortest amount of time necessary.
But how exactly do they teach you? Read on to find out:
Civil Engineering Academy primarily delivers their course materials via lectures and practice problems. Additionally, all their FE civil practice exams are based on the required eighteen different bodies of engineering knowledge required for the test. In order to fit that format, each section has a lecture and several video practice problems tied to it. This results in the Ultimate Civil FE Review course offering nineteen lectures —each section plus an intro— and over ninety FE Civil practice exam problems in video form. These videos walk you step by step through each problem so you can perfectly understand them.
On top of that, this FE exam prep course is designed to be accessible anywhere so long as you have an internet connection. Thanks to that, you can take your learning on the go and study whenever you can find the time.
With all these excellent features, why does this prep course only get second place? Well, they only offer materials for students taking the Civil Engineering discipline. Hence, you're better off with a different company if you want to study one of the other six disciplines the NCEES offers exams for.
Ultimately, make sure you check out Civil Engineering Academy; they're well worth your time and money.
Civil Engineering Academy Pros & Cons
To the Point Lectures: Civil Engineering Academy's lectures cut out any filler and focus specifically on what you need to know. This keeps you from getting distracted with useless information, and it keeps each lesson short and sweet. They know your time is valuable and don't want to take up too much of your day.
Mobile Friendly: Course materials are available on all devices at any time— it's easy to find a few minutes a day to work on practice problems or watch a lecture. Plus, all of your progress is saved no matter what device you use, which makes it easy to pick up where you left off and keep going.
Always Online: Unfortunately, there's no way to access course materials offline; you always need a decent connection to complete this course. This is done so your progress can be easily tracked, but it makes offline learning impossible.
---
4. Capstone Learning FE Exam Prep


Capstone Learning is next on our list for their unique way of tackling FE exam prep. Since practice problems are arguably the most important aspect of exam preparation, Capstone Learning's program focuses primarily on them. Whenever you're working on your assigned FE practice exam problems, they ensure that conditions are as much like the real thing as possible. Unfortunately, that does make it a little harder to practice while on the go, but the quality of studying rises dramatically due to this method.
However, that's not the only way they prepare you:
In addition to their focus on accurate test conditions, Capstone Learning's FE exam practice course focuses on what you personally struggle with. For example, if you're interested in the mechanical engineering discipline, they offer FE mechanical practice exams that will adequately prepare you for exam day. They also offer separate course packages for the chemical and electrical disciplines, but some of the other ones are condensed into a less substantial package.
The cherry on top of all that is their excellent support. At any time during your studies, you can contact an instructor for help. This will dramatically cut down on the time spent getting stuck on certain problems. After all, you won't have to rely on a barebones contact page with limited feedback.
Thanks to their competitive style and helpful support, Capstone Learning is a strong option for FE exam prep. Alternatively, if you're not interested in lectures or videos and just want to prepare with the essentials, this is the course for you.
Capstone Learning Pros & Cons
Unlimited Access: When you buy a Capstone course, you get it for life— take this course 1 time or 100 times if you need to. Capstone will never cut you off from what you paid for, so you can work at your own pace and take long breaks if necessary.
Video and Audio Content: Capstone appeals to both visual and auditory learners through a series of multi-format lectures. These allow you to choose which learning style you prefer when working through your FE course. I personally recommend listening to audio lectures during a commute and watching video lectures when you can give your full attention.
Limited Engineering Disciplines: Currently, Capstone has only developed courses based on the civil, chemical, electrical, and mechanical engineering disciplines. For anything else, they only offer a set of general engineering practice problems. If you're interested in the first four disciplines, then there's a lot here for you— otherwise, their selection is limited.
---
5. Udemy FE Exam Prep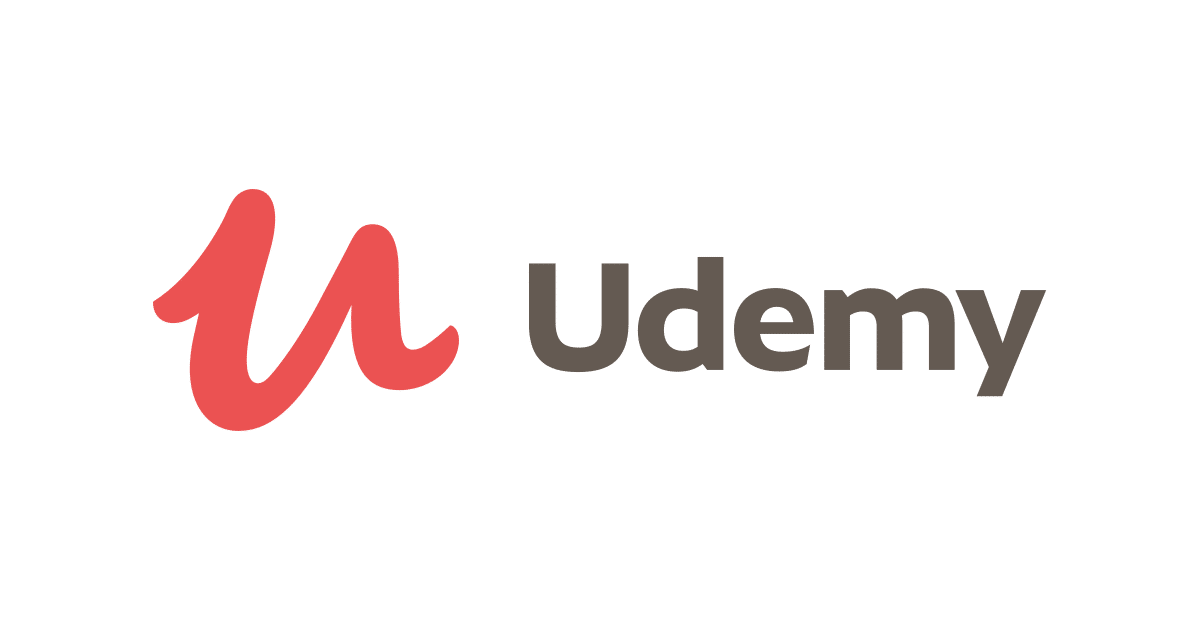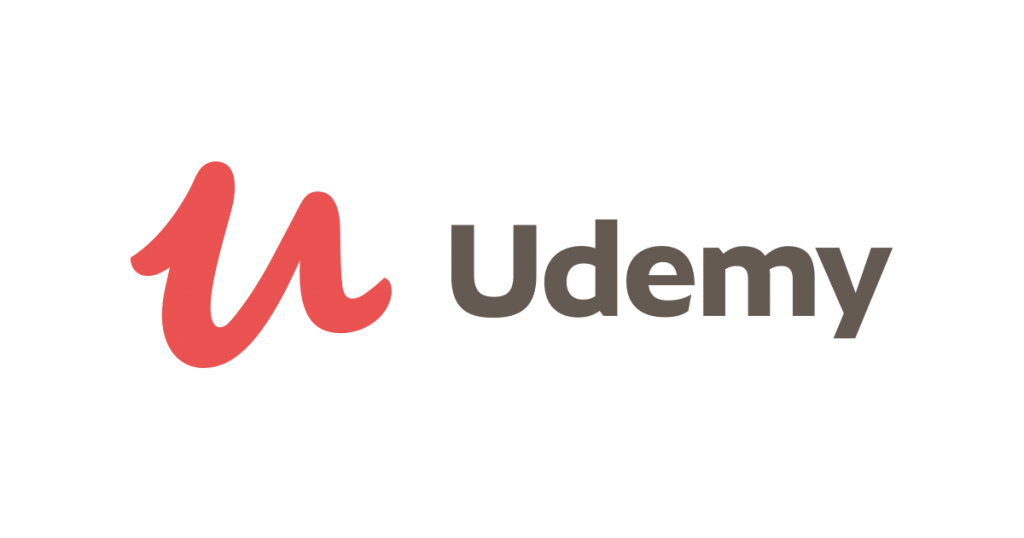 Udemy is a great choice for engineering exam prep. Their civil exams package contains 3 full-length practice tests designed to mimic the FE exam as closely as possible. Completing these will get you familiar with the test-taking process and increase your understanding of important concepts. You can even repeat these tests so you compare your scores throughout your study process.
These exams are also mobile-friendly, so you work on them at your own pace. This means you won't be able to mimic the real test's time limit, but it's still a good way to study. Plus, it's much easier to schedule study time if you only plan on working on a few questions before moving on.
Currently, these tests cost $149 for lifetime access. If you're just interested in this kind of exam prep content, then this is a good choice. But if you're looking for something more substantial and don't mind paying a bit more, School of PE is a much better pick.
Udemy Pros & Cons
Mobile Friendly: Each practice exam can be completed on any mobile device. Thanks to that, it's easy to slip some practice into your daily life. You might not have enough time to complete a timed exam, but you'll certainly be able to complete a few questions during any breaks in your day.
Affordable: Access to this course only costs $149.99— much cheaper than the other courses on this list. Definitely try this one out if you're trying to save money while preparing for your FE exam test date.
Exams Only: When compared to School of PE, this is not an actual prep course. Instead, it's just a set of practice tests. Don't get me wrong, these are very helpful study tools; they're just better as a refresher or supplement to another FE exam prep course.
---
6. Excel Test Prep FE Review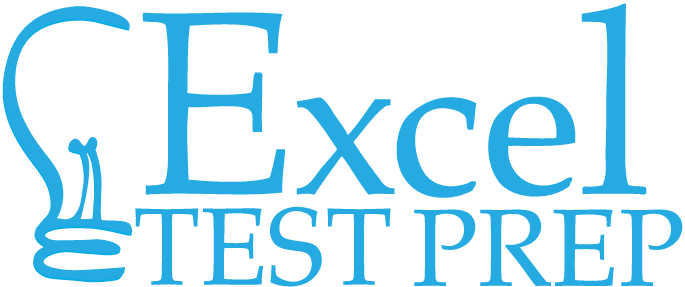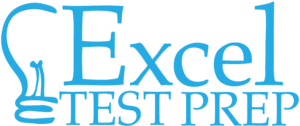 In stark contrast to the other courses on this list, Excel Test Prep offers live classes designed to teach every section of your upcoming test. This includes FE electrical and computer practice exams, FE mechanical practice exams, and the more common civil and chemical study materials.
It does this over the course of six classes that typically last around seven hours each. These FE exam practice classes are specially designed for people who have been out of school for a while. That makes this a strong choice for anyone who finished college years ago and may not be familiar with developments in the subject matter since then. As a result, all of their classes and workshops give a concise and intensive look at every important topic on the exam.
Additionally, these classes are even better than they seem. Check out some of the benefits below:
Excel's FE exam prep classes are taught by several highly qualified instructors. Each teacher is an experienced professional in their field and has taught courses for many years. Essentially, Excel Test Prep ensures that you're receiving the best education possible.
With that being said, it can be tough to actually get in touch with your instructors. While PPI2Pass and other high-ranking exam review courses have fast and easy communication during courses, Excel Test Prep sadly lacks this option. Still, this is hardly a deal breaker when weighed against the positives of this course.
Ultimately, Excel Test Prep fits a good niche for anyone who's been out of school for a while but is still interested in the exam. If you're a more recent student I would recommend some other service, but for everyone else, this is a solid option.
Excel Test Prep Pros & Cons
Comprehensive Course: Excel Test Prep's course is mainly focused on students who've been out of college for a while. Because of that, they make sure their course is as comprehensive as possible so you can easily remember anything you may have forgotten over the years.
Experienced Teachers: All of Excel Test Prep's teachers have years of experience teaching FE and PE courses. As a result, they're highly trained and know what works when teaching students. Passing the exam should be easy for you with these instructors on your side!
Civil and Mechanical Only: Right now, the only disciplines with dedicated FE-CBT courses are civil and mechanical engineering. Anyone interested in different disciplines will need to take their broader course that focuses on other disciplines— so you may want to try somewhere else if that doesn't appeal to you.
---
7. NCEES FE Exam Prep


NCEES is the creator of all FE exams. Consequently, when you go to them for insight into the NCEES exam, you know you're going to get the most accurate materials on offer!
The biggest selling point for this service is the FE practice exams are designed by actual FE test creators. When working with these, you'll know for a fact that you'll always be working in the same style, format, and difficulty as the actual test. Ultimately, this uniquely prepares students in a way other services just can't match.
The best part about working with NCEES is their generous return policy. If you purchase a test but don't end up using it, you can return it within thirty days for a full refund. This takes a lot of the pressure off if you find you just don't have the time for some of the practice materials you've bought.
However, there is a downside to using NCEES materials (keep reading to find out).
It's important to keep in mind that this isn't exactly a review course. NCEES publishes the FE Reference Handbook which is a solid resource, but if you want an in-depth course and study guide, you'll want to go elsewhere. Still, this can be a good option for people looking to save money on FE practice exams, or for those who are uninterested in committing to a full-on course.
Anyone interested in going straight to the source for practice should use this service. Even if you want to take a full-blown review course, this can still be helpful as supplementary material. Essentially, when it comes to NCEES there's material for every kind of student!
NCEES Pros & Cons
Testing Software Practice: NCEES will let you try a free demo of their computer-based testing program. This demo walks you through the format, style, and navigation of the exam software. Completing this will ensure that you're comfortable with the test-taking experience before having to sit for your exam.
Printable Materials: Most of what NCEES has to offer are PDF exams and handbooks. Both of these can be easily printed out and worked on at your own pace. I prefer to do this since it limits the distractions that a computer can bring to the study process.
Limited Materials: NCEES doesn't offer a full-blown prep course. Instead, they only have study guides and practice tests. Those are excellent supplemental tools, but they shouldn't take the place of a more intensive study schedule.
---
FE Exam FAQs
Which FE Exam is the hardest?
According to the NCEES, the FE exam with the lowest cumulative pass rate is FE Industrial and Systems at 65%. However, the Petroleum discipline in the FE Other Disciplines exam is even lower at 33%, although this is slightly skewed due to a low number of test takers. In any case, you can expect to have a tough time passing either of these exams, so enrolling in a FE review course is highly recommended!
How many times can you fail the FE exam?
If you fail your first attempt at the FE exam, you can retake it once in the same three-month testing window. In one 12-month testing period, you can fail and retake the exam a maximum of three times; after that, you will have to wait for the next 12-month period for another chance at a retake.
Does it matter what FE exam you take?
Absolutely! Engineering is a vast field with many different disciplines— for example, the necessary knowledge and skills for a petroleum engineer are very different from a computer engineer. Instead of comparing pass rates or question counts, pick the FE exam discipline that directly applies to your ideal career path. This is the best way to ensure you meet your professional goals.
Do all engineers have to take the FE exam?
Technically, no— it's possible to work as an engineer without taking the FE exam and being certified. However, the path to becoming a professional engineer is significantly easier if you pursue FE and PE certification, so it's highly recommended that you do so in order to save time and energy.