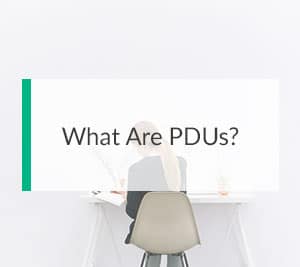 PDU stands for Professional Development Units. These are necessary for anyone looking to maintain their Project Management Institute (PMI) credentials, such as those held by a Project Management Professional (PMP).
The PMI website's Continuing Certification Requirements (CCR) manual defies a PDU as "the measuring unit used to quantify approved learning and professional service activities."
PDUs are hour time blocks that you spend learning, teaching, or volunteering. Furthermore, PMI requires that you track these over three-year periods in order to maintain your certification.
To maintain your PMP certification status, or your status with other similar certifications you need to earn a minimum of sixty PDUs every three years. Different certifications have different requirements; however, most will stick to this standard.
---

How Can I Earn PDUs?
There are two different types of PDUs that can be earned in different ways: Education and Giving Back to the Profession. Usually the sixty PDU requirement is broken down into a minimum of thirty five Education PDUs and a maximum of twenty five Giving Back PDUs.
Education PDUs
Education PDUs are exactly as they sound; they're earned by furthering your education in project management. These can be earned in a number of ways, such as the ones listed below:
Take a prep course or gain extra training. Instructor led courses, both online and offline, are a great source of PDUs. Both the PMI and numerous third party companies offer courses designed to further education in project management. If you don't want to commit to taking a course, you can also attend

seminars

held by the PMI.

Attend meetings or local events related to your profession. These are often held at PMI chapters and can double as an opportunity to network. Be sure to check the

PMI events calendar

to find chapter events near you.

Self-directed learning also counts towards earning PDUs. These can be earned by both online self-paced learning or self-directed reading relevant to your certification. Online learning can be pursued on the

project management website

and the

PMI store

offers many relevant reading materials.

The last great option for educational PDUs are informal learning periods. Education PDUs can be gained by engaging in structured professional discussions with others in your field: even through something as simple as mentoring or a work lunch.
Giving Back PDUs
Giving Back PDUs are a bit more complicated to earn. They're mainly given out for time spent volunteering, mentoring, or working with professional groups. Typically, this means creating content that adds to the overall Project Management Body of Knowledge (PMBOK).
This can be accomplished in a few ways:
Work as a practitioner. You can earn PDUs by applying your knowledge and skills in a professional setting via working in your certified role. This 'gives back' to the industry by showing the benefits of a certified project manager. However, you can only earn a maximum of eight PDUs by doing this.

Create project management content. You can do this by writing articles and blogs or by giving webinars. A lot of valuable information could be shared if you created a video for educational purposes. Alternatively, if you

really

want to dedicate some time to content creation, write a book that can be used to teach others the ins and outs of project management.

Give a presentation. You can claim PDUs for speeches you give relating to your certification. Typically this means speaking at your organization, local PMI chapter events, or conferences. You can also work as a member or a moderator for a panel discussion on project management at a conference or workshop.

Share knowledge with your peers. Coaching others not only imparts knowledge but also helps you develop leadership and communication skills. Keep track of the time you spent mentoring others and you can claim it towards re-certification.

One last effective method of earning PDUs is to volunteer. PMI and many other organizations rely on volunteers. Hence, by helping any of them out you can earn credit towards your recertification. Visit the

PMI volunteer page

for more information about volunteer opportunities.
For more information about earning both Educational and Give Back PDUs, visit the PMI page on earning PDUs.
What If I Earn More PDUs Than Are Required?
Earning more than your required amount of PDUs can still be well worth your time. Up to twenty PDUs can be carried over into your next recertification cycle. This can be valuable as it creates a safety blanket for those who can't earn as many PDUs due to extenuating circumstances.
What Happens if I Don't Get Enough PDUs?
If you cannot earn enough PDUs during your your three year cycle, your will lose your credential. If that happens, your credential will be suspended and you won't be allowed to refer to yourself as whatever position your credential qualifies you to hold.
Here's what to do if this happens to you:
You'll have one year to earn back your credential by making up your overdue requirements. If you can't make up what you missed during your one-year suspension you will be forced to redo your exam entirely in order to re-earn your qualification.
For more information on regaining credentials, see the PMP Handbook.
---

Reporting Your PDUs
All PDUs must be reported by submitting a PDU claim via the PMI website. Hence, you'll need an account on the Continuing Certification Requirements System Website.
Once you've logged in, there will be option on the side of the dashboard for reporting PDUs. Make sure to click the option relating to what kind of PDU you're reporting and fill out all relevant information.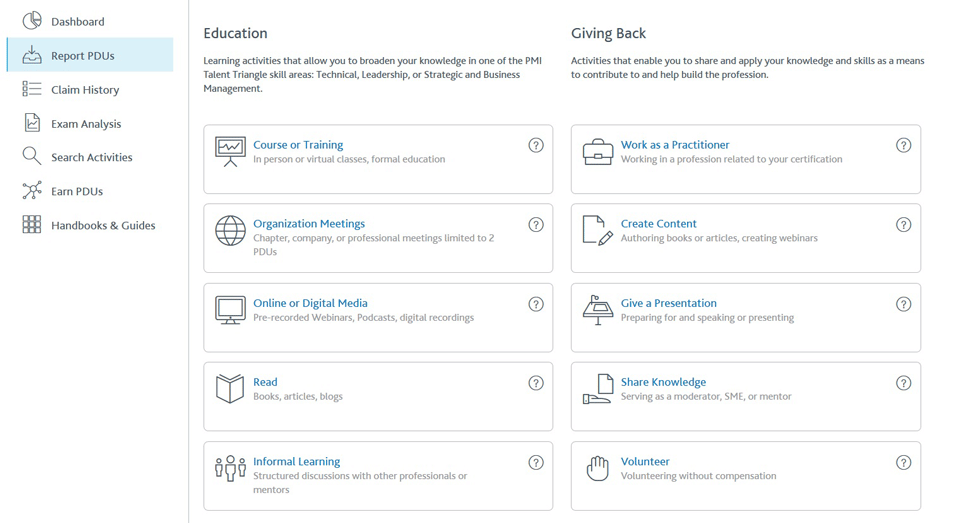 In most cases, your PDU claims will be approved quickly. Typically this will only take a few business days. If you want to monitor your approval you can do so from the dashboard. It will tell you what has been approved, what has been denied, and what needs more information.
---

The Bottom Line
PDUs are not as hard or expensive to earn as people might think there are. There are many cheap or even free methods to earn PDUs so that you always meet your certification requirements. Volunteering, attending meetings, and informal learning are just a few out of the many ways to get free and easy PDUs.
Therefore, my advice to aspiring and current project management professionals is this: don't be discouraged by these requirements. All in all, keeping your certification is a lot easier than you might think!