It's hard to find a PMP Review course that prepares you for the exam while also keeping you engaged. That's one of many reasons why I highly recommend Brain Sensei PMP Review, they use a compelling story to entertain and educate in a highly effective way.
As students follow the story of a young samurai, they learn complicated project management techniques in a way that emulates real-world experience. The aid of a personal instructor, or Sensei, and several challenging practice exams and quizzes are also included. These features ensure that you aren't just having fun watching the story unfold; you're gaining real knowledge that's directly applicable to the PMP certification exam at the same time!
So if you're sick of the same old test prep material, you're definitely going to want to see what BrainSensei has to offer.
Check out the rest of my review to learn more about this unique take on preparing for the PMP exam!
---

Overview of Brain Sensei PMP Review
If you are looking for a different type of PMP training course, BrainSensei is the course for you. Preparing for the Project Management Professional exam can be pretty boring, so you are going to want a prep course that keeps your interest.
By following a young samurai through his projects and challenges, you will be reinforcing key project management concepts that are tested on the exam. Everyone knows that stories make it easier to retain information. But aside from the storytelling format, BrainSensei also comes with easy to read content, quizzes, and practice questions.
What is included in Brain Sensei PMP Review:
Engaging Storytelling Lessons

PMP Practice Exam Questions and Quizzes

Personal Instructor
---
What's Included With the Brain Sensei PMP Prep Course?

Engaging Storytelling Lessons
You won't find any other PMP course like BrainSensei as it draws you in with a story about a Samurai in ancient Japan. By learning PMP concepts in this entertaining way, you will be able to remember even the trickiest of project management concepts.
BrainSensei uses this narrative theme to reinforce the information they are imparting, much like how stories have been used by ancient cultures in the past. There are mounds of research that prove that when you receive information through a story, you will be able to remember and recall information dramatically better.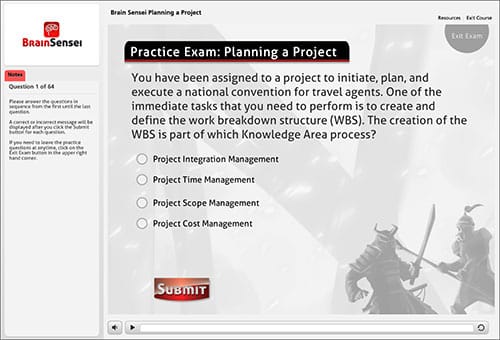 Lots of PMP Practice Questions and Quizzes
You will receive four full-length practice exams at the end of your course. Furthermore, Brain Sensei also provides you with lots of quizzes to practice with throughout your course. I liked how these short assessments tracked my progress and lead me to the topics that I needed to study harder.
You will have over 900 practice exam questions throughout the Brain Sensei training. These questions all come with answer explanations that help you learn from your mistakes. It doesn't take a genius to know that practice questions are a core strategy for most students studying for the PMP exam. That's why BrainSensei provides more than enough questions for you.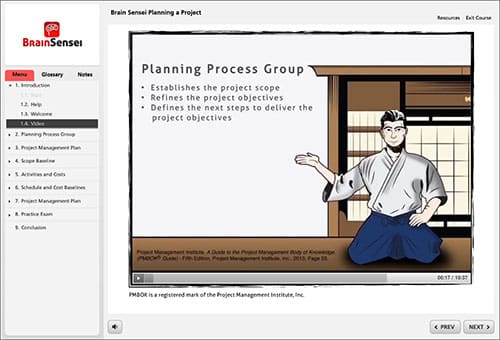 Personal PMP Instructor
While any other PMP test prep course will have standard and somewhat boring lecture videos, BrainSensei provides all students with their own personal animated Sensei. He will be your guide throughout your entire prep process.
Self-studying can be overwhelming. Because of this unfortunate fact, I enjoyed having my own teacher that would help me through my studies. Having a Sensei take you through the PMP process step-by-step makes studying for this daunting test a whole lot easier.
---
Brain Sensei PMP Review Pricing
BrainSensei PMP can be yours for just $499.99. That is an excellent value for all that you get. Furthermore, BrainSensei is one of the least expensive courses available for this certification.
Best BrainSensei Coupon Codes & Discounts
---
Pros & Cons
So what are the benefits and downsides to this unique course? Here's what you should know:
Pro – Pass Guarantee: If you sign up for this PMP course, you will have a 100% pass guarantee. Brainsensei is so confident with its course that if you don't pass the exam after completing it, you can take it again for free!
Pro – PMP Contact Hours Included: BrainSensei is a Registered Education Provider with the Project Management Institute. Consequently, once you complete the course you will have met the 35 contact hours required to sit for the PMP certification exam. What a great way to utilize your study time without having to drop anymore money!
Pro – Progress Tracking: No need to worry about keeping track of how far along you are in your studies; BrainSensei will keep real-time details of where you are in your study journey. You will find scores, duration, and status in your dashboard.
Con – Course Design: Other courses have fancy website designs with all sorts of flashy additions. BrainSensei is basic in layout, which might be preferred for some but boring for most. I don't like to have distractions in my prep course, so BrainSensei was a great match for me. Still, students looking for flashier content should look elsewhere.
---

Frequently Asked Questions
Q: Will I be able to meet the 35 required contact hours?
A: Yes! You won't have to spend any more time or money when you choose Brain Sensei PMP program.
Q: Does BrainSensei come with a pass guarantee?
A: It sure does! If you don't pass the PMP exam after using your Brain Sensei prep course, you can retake it for free.
Q: What is BrainSensei's refund policy?
A: Everyone learns differently; that's why Brain Sensei offers the first module for free so you can experience the course before committing. They also offer a 30-day money back guarantee if you're unsatisfied with any aspect of this review course.
---

Ideal Customer
Check out these questions to see if BrainSensei is the course for you:
If you struggle to stay engaged while self-studying,

this is the course for you.

If you are on a budget,

this is the course for you.

If you want a more serious course with real life instructors,

this isn't the course for you.

If you learn well through stories,

this is the course for you.
---
Final Recommendation
I strongly recommend BrainSensei because of the unique format of the course. I love the storytelling aspect; after all, it's one of the best ways to retain and recall information. I strongly suggest this course to you if you find yourself falling asleep while studying for the PMP exam any other way.
Furthermore, you know this course believes in its abilities because of its pass guarantee. This non-traditional teaching method is not only affordable, but incredible at teaching PMP concepts through an engaging story. Check out the free demo of BrainSensei to see for yourself!