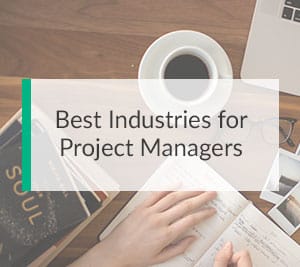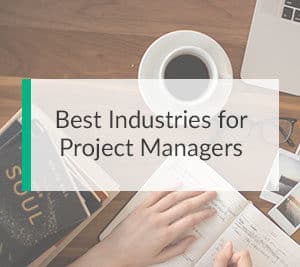 There's never been a better time to be a project manager.
The Project Management Institute (PMI) released a report last year that revealed the project management labor force is expected to grow 33 percent across 11 countries by 2027.
The "Project Management Job Growth and Talent Gap 2017-2027" report contained extensive survey data performed by the Anderson Economic Group (AEG) and highlights ample opportunities in project management jobs and career growth in the next 10 years.
In fact, by 2027, employers will need nearly 88 million individuals in project management roles.
So where are these positions opening up?
According to the PMI, here's where project management job growth is projected to increase over the next 10 years:
Management and Professional Services

Manufacturing

Finance and Insurance

Information Services and Publishing

Construction

Utilities

Oil and Gas
By considering one of these sectors, you can take use your project management skills and experience to take advantage of a huge industry need. 
Want To Know More?
Here's an overview of the 7 best industries for project management, opportunities for career growth and development and salary expectations in each industry. 
---
Management & Professional Services
Does it surprise you to know that of the seven industries marked for high growth over the next decade, the biggest demand is in management & professional services? In the United States alone, more than 60 percent of new project management jobs opening annually will come from management and professional services.
This makes a lot of sense if you think about it. Almost every aspect of business, from marketing to sales to production, includes some level of project management. Therefore, specialized skill as a project manager can be incredibly useful to most business operations.
As a project manager in management and professional services, you'll often deal with the following:
Meeting deadlines

Delivering client expectations

Understanding your current resources

Projecting and sourcing future resource needs

Delegating tasks and team management

Creating project schedules and tasks

Overseeing several active projects
This type of business-focused project management fits perfectly within many services and management roles. A project manager seeking a career in management and professional services can look into consulting services, government consulting and services, legal services, training and more.
Because a career in management & professional services can take you to many different types, sizes and strains of businesses, the salary for a project manager in this field ranges from $46,000 to $110,000 yearly, with the average salary landing around $72,001.
Length of time and experience as a project manager drives this number up considerably, as well as the potential for commission and bonuses. 
---
Project Management For Manufacturing
The manufacturing industry is alive and well, with a growing need for project managers!
Project managers who seek a career in manufacturing will often maintain the relationship between client and manufacturing companies. Creating efficiency and improving the bottom line while keeping both vendors and clients happy makes excellent communication and people skills a must in this field.
Manufacturing project managers will probably find themselves managing lots of client and vendor accounts and projects as well as streamlining the production process while eliminating risks, hazards and safety issues.
Skills in budget management are a must in this field, as manufacturing project managers will find themselves supplying estimates on labor and productivity when seeking new customers. A healthy knowledge of risk management will help this project manager resolve issues in the production line or unavoidable delays without disrupting the vendor-client relationship.
The salary for a manufacturing project manager is nothing to sneeze at either. On average, a project manager specializing in manufacturing can expect a salary of $65,871. Depending on location, company and skillset, this salary number ranges from the low $40,000s to $100,000 comfortably.
---

Finance & Insurance Services
The finance and insurance sector has warmed up considerably to project managers, with many larger banking and financial institutions wooing them for their daily and long-term operations.
This is because projects in finance inherently involve high risk and flexible management. Project managers are trained to pivot quickly, foreseeing risk and managing it efficiently. This makes project management a great fit in the financial sector.
Finance Project Managers can expect to incorporate frequent systems changes and technology improvements while planning and implementing initiatives. Strong skills in agility and the ability to think several steps forward usually benefits project managers in this position.
Finance & Insurance Services are not for the faint of heart. Since banking and finance institutions deal with people's money, they are often under intense public scrutiny. Project management professionals who work in finance must be accustomed to being publicly accountable and fully transparent.
Because of the nature of the work and organization required, a strong skill-set in accounting, budgeting and projection are a must.
However, the high-stakes pressure of project management in this field often pays off- literally!
The median income for a Finance Project Manager position is $71,330 per year, with lows of $50,000 and a high of $105,000. Not only is the salary comfortable, the skillset required for Finance Project Managers often can put them on a career path that leads towards Chief Financial Officer (CFO) positions in their respective companies.
---
Information Services & Publishing
Not every project management career requires a job site. Digital project managers and those overseeing systems in information services & publishing is a growing telecommuter industry.
Businesses, corporations and organizations are adjusting their marketing plans and spends to include the production of high-quality content and networking. Audiences are now accustomed to content marketing that elicits emotional or thought-provoking reactions.
In the age of YouTube, influencers, blog posts, and podcasts, the digital project manager overseeing information services and publishing has a chance to shine.
Chances are that if you enter this field, you'll be using both creative and analytical skillsets. You'll work to streamline and expedite processes for posting content, ranking in search engines (SEO), obtaining backlinks from other sites and improving your website and content pages' various web rankings and authority.
In addition, you'll also be ensuring top-notch quality on media content, be it video, audio or written content. You'll have to manage a production team with rotating deadlines and tight schedules to automate the process of thoughtful publishing.
---
Construction Project Managers
One of the mainstays of the project management field as a profession has been construction and infrastructure. There will always be a need for new buildings, repairs, roads, bridges, and tunnels. These are only a few of the types of projects that construction and engineering project managers take on.
Construction project management requires the ability to work with a lot of assorted teams and take on various projects that won't all be the same. In your capacity as a project manager, you'll often take on various overlapping projects with tight budgets, deadlines and varying levels of client involvement.
Construction can occur in the private sector, the government, or even military contracts. Research, scope and planning are all integral parts of managing a construction project efficiently.
Construction project managers are no stranger to risk, either. From planning for unexpected delays to mitigating risks on the jobsite or to the project at large: effectively managing risks like these is a must-have skill for this position. Strong communication skills that can carry you to a jobsite or a workshop to a boardroom will benefit you in the long-run as well.
With the requisite skill comes compensation. The median salary for a Construction project manager is $71,726. Depending on your level of experience, location and the employer you work for, this salary can stretch from the lower end of $46,000 to the higher end of $110,000.
---

Project Management in Utilities Industry
Much like construction, utility and energy management is an industry that won't go away anytime soon. In fact, the industry is seeing growth with thousands of jobs forecasted to open in the next decade.
The reason for this is social, environmental and political pressure. Although efficient electricity and water energy management practices are well-established, pushes for environmentally friendly fuel and energy sources are creating new opportunities in the industry as well. Each of these industries are a space for greater innovation and efficiency as technology advances.
The oil and gas industry in particular is open to innovation and new ways to conserve or create fuel for the mainstream all over the world. At present, the oil industry ties heavily into politics with oil-rich countries and there has been a growing push in home countries to find ways to generate the supply at home. This creates an space for innovation in oil and gas.
Because of the innovation potential in utilities going forward, these industries are ideal for project managers who wish to have an impact on the future. Coordinating research, communicating goals and vision as well as experience in Agile project management would be beneficial to project managers who are charting new territory in energy production and management.
While working in already-established systems of energy, water, gas and oil management, a project manager will have to have strong budgeting and forecasting skills. Risk management is also important on a large scale in these industries, as potential shortages or outages because of disaster, delay or other unforeseen situations can affect entire communities.
Project Managers in the Energy and Utility Sectors are rewarded well for their hard work. Depending on the employer, industry, company size and years of experience, the average base pay of an Energy Project Manager is $90,337 a year. This salary can range from a low of $59,000 to $134,000 according to Glassdoor.
---

Project Management Is Valuable In Many More Industries
There are countless opportunities for project managers in each industry. From digital project management to construction to finance and more, the workforce at large is demanding project manager skills and experience.
There are several industries not covered in this article that have a need for project management as well. Industries like healthcare, Information Technology and scientific endeavors are just a few of those not mentioned.
The most important thing you should take away is that with project management skills and experience, your career options and opportunity to earn a comfortable salary in the workforce is endless.
Regardless of your chosen field, you are uniquely positioned as a project manager to provide efficiency and innovation to existing industry or forge new pathways. Either way, your project management skills could have a direct impact on the future, so there's no better time to start than now!