Taking the PMP exam and forging your way into the professional field of Project Management is an exciting journey. Soon, you'll be a certified Project Management Professional (PMP) that your company will look to in order to guide them through the logistics of everyday operations.
Alternatively, you may be interested in starting with a less intense certification— something like the Certified Associate in Project Management (CAPM) or becoming a Project Management Institute Agile Certified Practitioner (PMI-ACP) While these disciplines have varied knowledge areas and levels of difficulty, they're all similar in the positive effects they can provide for your career.

But if a Project Manager needs to pass their exam in order to begin managing projects, who manages a Project Manager while they're studying?

Don't worry about wasting your time looking for the best project management training materials— we've already done that for you. Keep reading in order to learn more about what makes Velociteach such an effective study resource to help you pass your PMP, CAPM, or PMI-ACP exam on your first try!
---
Overview of Velociteach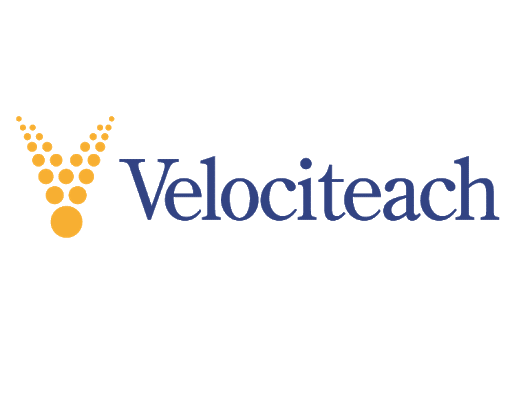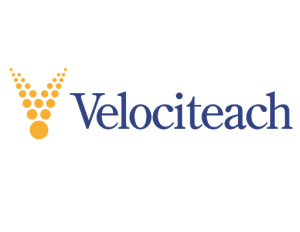 Fueled by a desire to combine his enthusiasm for writing with his experience in project management, Andy Crowe started Velociteach in 2002 and has shown no signs of slowing down. Velociteach was established on the principle of continuous growth and improvement, and that philosophy has extended to their course offerings as well.
In order to foster a continuous culture of learning and self-improvement, this company has an elite staff of Project Management Professionals and a course catalog that regularly expands. Their courses include group learning as well as fully online options under the Insite Velociteach label.
Here's what you get with Velociteach's PMP Exam Bundle:
Pass The PMP Exam Prep Classes

Video and Audio Training Materials

3 PMP Practice Exams

47 Total Contact Hours

Comprehensive Exam Outlines

1,000+ Practice Questions
This is what's included in Velociteach's CAPM Exam Prep Materials:
CAPM Prep Based Off The Official PMBOK Guide

Video and Audio Training Materials

3 CAPM Practice Exams

32 Total Contact Hours

Formula Sheets and Maps
Here's what Velociteach offers for PMI-ACP prep:
3 Agile & Scrum Related Courses (8.5 Contact Hours)

PMI-ACP Practice Exam (3 Contact Hours)
---
What's Included With Velociteach
Online Prep Courses
Without leaving home, make your way through 35 hours of audio and video PMP training with this online exam prep platform. This instructor led training course uses tools like practice exercises, formula sheets, and more to help prepare you for the different sections of each test.
In particular, their Pass the PMP 6th Edition Exam Prep Course also grants you additional opportunities to practice with a special quiz at the end of each module.You can even pull together review questions from specific categories or take simulated exams. Essentially, this course does a great job of breaking down important material and relating them to overarching project management concepts. Combined with the review options on hand, this makes for a truly potent combination!
Practice Exams
A practice exam is a great way to assess your readiness prior to taking an actual exam. Additionally, your practice exam will be more effective at preparing you if it's as close to the real thing as possible. To accommodate this, Velociteach includes three full-length practice exams for their PMP and CAPM courses in order to make sure you're more than prepared.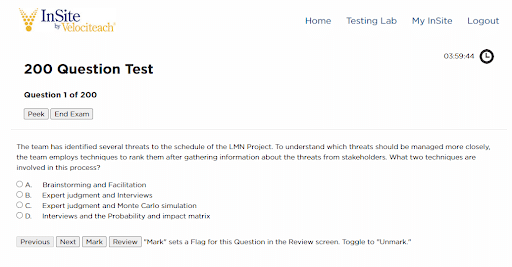 For example, each PMP practice test consists of 200 questions and takes roughly 4 hours to complete. Understandably, you might be intimidated by this— after all, it equates to 12 hours spent answering 600 questions.
But there's a tried and true method behind this resource:

The heft of these exams demonstrates just how seriously Velociteach takes your project management training, as each exam is designed to help you acclimate to the real thing while also assessing your overall readiness. Without taking up too much of your time, these 12 hours will be essential to ensuring you can CRUSH the PMP exam on your first try.
Comprehensive Exam Outlines
In addition to their practice exams, Velociteach does its due diligence in other areas to ensure you know what you're getting into with each exam. One feature included with their Complete PMP Exam Prep Bundle is their PMP Outline, which breaks down the exam into three key parts:

Essential Terms

Project Roles

Project Context
From there, Velociteach breaks down these three key areas into 10 focused areas of study. This feature will allow you to take lessons in subjects like Integration Management, Schedule Management, Cost Management, and more.
Project Management Key Takeaways
An understanding of PMP topics is key before taking your exam, and Velociteach understands that keeping your focus on vital areas is paramount to your overall success. Some of the tools and features you'll have at your disposal within Velociteach's Key Takeaways are 1100 Practice Questions and Answers, an Interactive Process Explorer, Project Plan Stack Exercises, and more.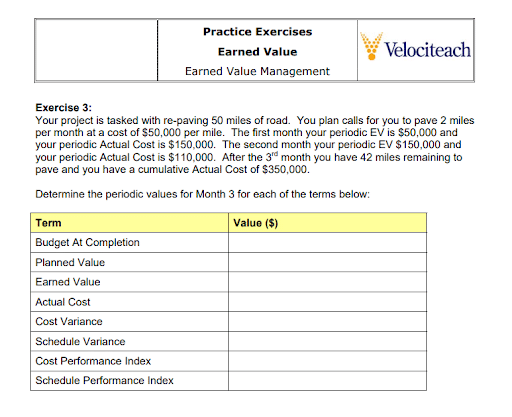 Velociteach also includes a Certificate of Completion once you've completed your course and had a chance to take advantage of these key takeaway sections. While it might not be something you'd want to proudly frame and hang in your office, it's nice to have something tangible that shows you've put in the time and effort.
---
Velociteach Pricing
The pricing for Velociteach's various project management study materials is reasonable. But the prices for some courses can vary— especially with regards to how long you wish to have access to their platform.
Depending on if you want access for 1 month, 3 month, or 6 months, Velociteach PMP can run anywhere from around just under $400 to just over $600. And when it comes to their CAPM review course, you'll have to pay a little over $200 for a single month and nearly $500 for six months.
For the amount of study resources on hand in these package — as well as the Practice Exams and Key Takeaway features — the bundles are fairly priced if you only need a month or two. However, there's no real flexibility when it comes to the prices for their PMI-ACP materials; without a full course, you'll only have the set prices for their 3-course bundle and solo practice exam.
---
Pros & Cons
We've gone through the highlights of Velociteach, but there are also some criticisms. For your benefit, take a look at this quick list of positives and negatives with their project management prep materials:
Pro – Audio and Video Content:

Velociteach manages to cram 35 hours of relevant content into their PMP Exam Review Course. These videos and audio lessons are complemented by practice formula sheets as well as a quiz after each module to reflect on that particular section's key points and material. We found this to be a great way to keep on track with our progress and really commit each topic to memory.

Pro – Multiple Practice Exams: In addition to the quizzes that you'll take after each module of the course, you'll also have the added benefit of taking three practice exams for either the PMP or CAPM. Each exam is about 4 hours in length and consists of 200 questions— yet another great way to review and track your personal progress on the way to your actual exam.
Pro – Key Takeaways + Tools:

In addition to breaking down each exam by major sections and minor subjects, Velociteach also provides you with a slew of practice tools that can really elevate your performance. Master these subjects through the use of tools like 1100 practice questions, Process Matrix Worksheets, a Course Progress Checklist, and more.

Con – Subscription Length:

While some may find the 1, 3, or 6 month enrollment options to be more than ample time to prepare for the PMP Exam, there are those who have hectic schedules and may want to draw their studies out for a longer period of time. Unfortunately, if you are someone who learns and reviews at a slower pace, the 6 month option is the longest currently on offer— and you'll have to pay the most when enrolling!
---
Ideal Customer
Are you considering enrolling in one of these courses to enhance the velocity of your project management career? Here's how to know if Velociteach is the right choice:
If you enjoy watching videos to learn key points and review for your exams, then

Velociteach is the right course for you.

If you relish the opportunity to take Practice Exams in preparation for the real thing, then

Velociteach is the right course for you.

If you like flexible pricing options based on the length of enrollment for your course, then

Velociteach is the right course for you.

If you have a crazy hectic schedule and you need longer than six months to prepare for your exam,

Velociteach is not the course for you.
---
Final Recommendation
We can't understate how impressed we were from our time with Velociteach. From their video content that ably guides you through their course to their wealth of practice exams and quizzes, there's something for every kind of aspiring project manager looking to obtain their certification.
Most importantly, though, there's content for all types of learners:
Whether you're a visual learner or someone who likes to be a little more hands-on with their studying, Velociteach's interactive process sheets and formulas allow for students to make that distinction for themselves and change their study plans accordingly.
And if you're someone who struggles with keeping organized in your studies, their Study Schedule to help guide you along the way.
For the value that you are receiving, we honestly feel like the Velociteach PMP Exam Bundle is the very embodiment of "more bang for your buck" while still adhering to a standard of utmost quality.
Hurry up and check out their site today!
---
Frequently Asked Questions
Here are a few commonly asked questions about Velociteach:
Does Velociteach PMP Review meet the PMI's contact hour requirement?
Yes, the 35 hours included within our course do qualify for your needed 35 hours of contact training. Velociteach also provides you with an official certificate of completion.
Is Velociteach a PMI-approved project management study resource?
Yes, Velociteach takes your education seriously and is a Registered Education Provider with the Project Management Institute (REP#1768).