Do you have any nagging questions about Project Management Professionals or the PMP exam? To answer some of the most common questions, we asked Amanda Harley, certified Project Manager and Process Engineer. Check out what she has to say below!
What is the PMP certification?
The Project Management Professional (PMP) certification is offered by the Project Management Institute and adds validity to your skillset as a project manager. This globally-recognized certification tests your knowledge regarding each phase of project (including inputs, outputs, tools, and theories) and is based on the Project Management Book of Knowledge (PMBOK® guide).
What does PMP stand for?
PMP stands for Project Management Professional. Typically, it refers to the certification offered by the Project Management Institute.

What Are PMP PDU Courses?
A PDU is a Professional Development Unit. After you've successfully passed the PMP certification exam, you're required to earn 60 PDUs over the course of three years to keep your status in good standing. PDUs are broken down into the three categories of Technical, Leadership, and Strategic & Business, with the added stipulation of a minimum of eight educational hours needed in each category.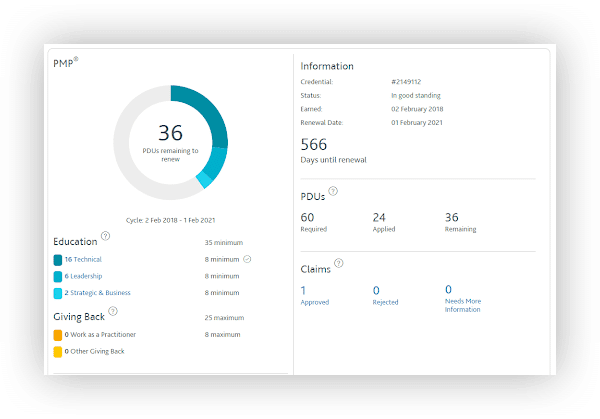 What is a day in the life of a project manager like?
As a PMP, your responsibility is to use the technical and situational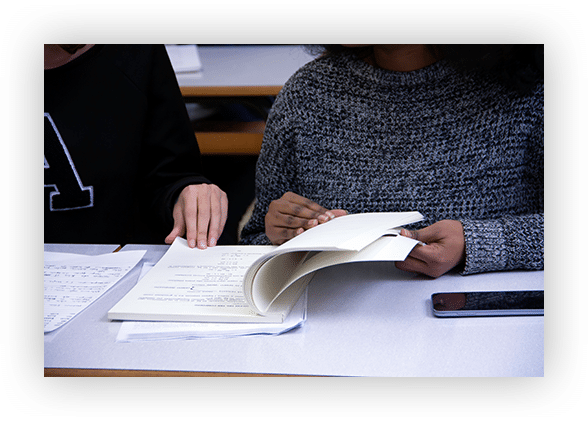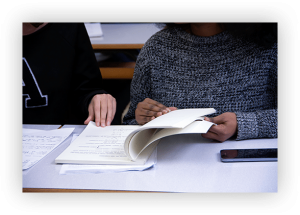 knowledge you learned from your studying and apply it to execute projects successfully. Like any other project manager, your role may include creating and assembling project documentation, managing stakeholders, identifying risks and issues, and so on. The difference is that because you have PMP attached to your title, you're also expected to be a leader and a knowledge resource to others.
How hard is the PMP exam?
There's no doubt that the exam required to earn the PMP credential is challenging. While it may seem daunting because there is no set passing rate for the exam, thousands of project managers have successfully been able to add PMP to their resume: even on their first attempt. There are few things you can do to set yourself up for success:
Schedule your test immediately to avoid pushing it back.

Create a study plan and schedule set times each week to study.

Take every quiz and answer every practice exam question you can find.

Set up a study environment that works for you (background noise vs total silence, at home vs coffee shop, etc.).

Know when to give yourself breaks.
Remember: passing the test is feasible, but you'll need to give yourself time (about three months) to properly absorb and understand the amount of information the exam tests you on.
---
When will the PMP exam change?
According to PMI.org, the last day to take the current version of the PMP exam will be December 15, 2020. The exam is typically updated when PMI conducts an analysis of the evolution of project management every 3-5 years. In the current exam format, questions are organized by the project phases. However, the new exam will organize questions by People (42%), Process (50%), and Business Environment (8%).
In terms of studying, allowing yourself three months is a good timeframe. This means September 2020 should be the latest you start your efforts if you would like to take the current version of the exam.
Why should I get a PMP certification?
Earning PMI membership and becoming PMP certified can help you change careers, get promoted, or find a better job. It's versatile and applies across virtually any industry. Research shows that becoming PMP certified can bump your salary up by 23% on average compared to project managers who aren't certified.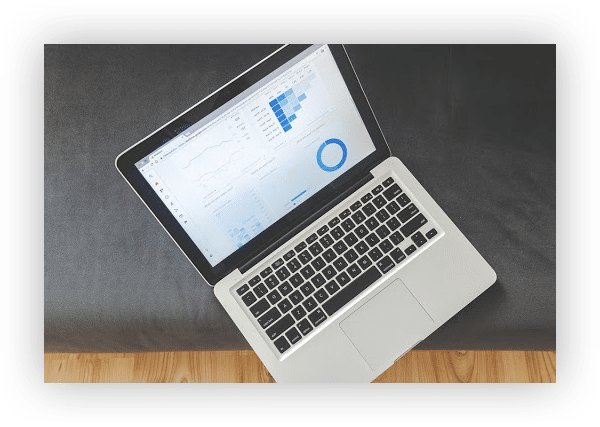 Many companies around the world now require a PMP certification for their project manager roles. Becoming a PMP shows your commitment to the profession and adds validity to your ability to execute projects successfully using relevant tools and techniques. It gives your employer confidence that you will add value by being able to implement the company vision. In some cases, passing the PMP examination can even qualify you for certain management positions without prior work experience.
---
Where should I take the PMP exam?
As of July 1, 2020, the PMP exam can no longer be scheduled through Prometric. PMI has now partnered with Pearson VUE. Once your application to take the exam is approved by PMI and the fees have been paid, you'll receive an e-mail with your unique PMI eligibility ID and instructions. You can then schedule at a Pearson VUE testing center near you.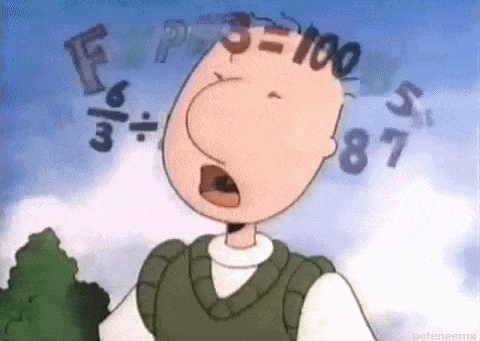 How is the PMP exam scored?
While many sites may publish that you need to answer 61% of the questions correctly to pass, that's incorrect. Today, the PMP exam pass/fail rate is now determined by a panel of subject matter experts. Essentially, they review the various versions of the exam and help establish a unique pass rate for each one based on the difficulty level. This means that for a harder version of the test, you may only need a 60% to pass, but with an easier version, you may need around 70%.
What's the difference between Six Sigma vs. PMP?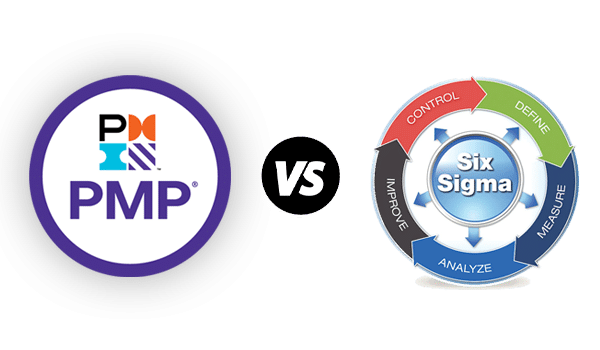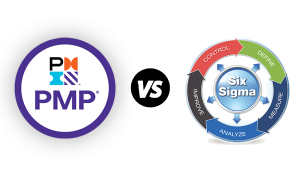 Here's the primary difference between these two certifications. Six Sigma is a mathematically-based methodology with quality at the forefront; alternatively, the PMP is based on a project management framework instead.
Six Sigma professionals seek out opportunities in processes and analyze data to understand and find solutions. They work to improve quality, boost productivity, and reduce waste with optimal efficiency as the goal.
PMPs, however, focus on executing projects successfully using the tools and resources available to them. While quality is important to project managers, it's not the sole objective of their efforts. Rather, they are considered successful if a project comes in on time, within scope, and on budget.
What's the difference between CAPM vs PMP?

The Certified Associate in Project Management (CAPM) is for those who would like to advance their career in project management but can't meet the prerequisites to take the PMP exam. For the CAPM, you would need:
A high school diploma (or equivalent) and 1,500 hours of project experience
OR
23 hours of project management education
The CAPM exam is shorter and less comprehensive, the cost is less, and the certification is easier to maintain. Hence, this certification is suited for entry-level professionals dipping their toes into project management experience.
What's the difference between PRINCE2 vs PMP?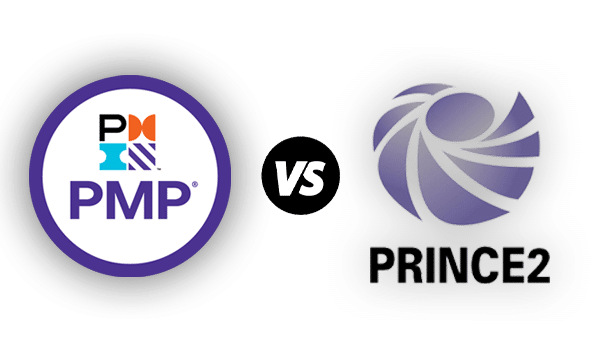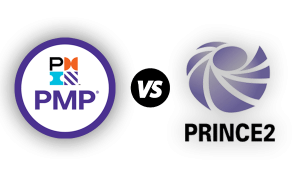 Projects IN Controlled Environments (PRINCE2) differs from the PMP because it integrates IT frameworks into the methodology with a process based on best practices in the field. Consequently, PRINCE2 is most useful in IT project management.
In contrast, the PMP is knowledge-based and details specific tools and techniques used in each knowledge area. Additionally, the prerequisites for the PMP are related to educational and professional experience and are separate from other certifications. PRINCE2 offers certifications in a tiered system for three levels of project management.
What's the difference between PMP vs Scrum Master (CSM)?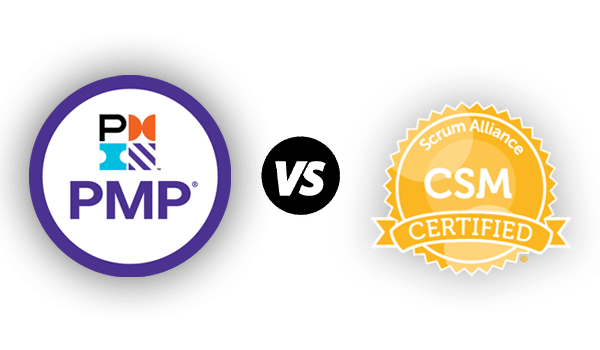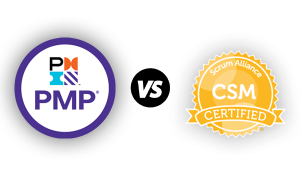 Being certified as a Scrum Master shows your expertise with the Scrum framework. Scrum is usually associated with the Agile project management methodology, which encourages collaboration to solve complex problems and manage iterative projects. While Scrum/Agile is used in various industries, it's most prevalent in the IT world. Also, being certified in Scrum can give you a leadership position within the Agile environment.
The PMP teaches the waterfall methodology of executing a project. It's currently much more widely used simply because it's the traditional method. However, the prep work and eligibility requirements for this certification are much more in-depth. In comparison, the CSM has no prerequisites; you'll only need to attend a two-day class and take a 35-question exam.
Hopefully your questions have been answered! If not, please leave a comment and we'll do our best to find you the answers you're looking for. Thanks for reading!