Plumbing is a very useful profession. Demand is very high since every household will need help with their plumbing multiple times during their stay. In fact, demand is so high that the Bureau of Labor Statistics estimates a 4% increase in job opportunities over the next 10 years.1
However, becoming a plumber isn't as easy as you might think. Don't be fooled by pop culture's depiction of the plumbing trade— it takes more than a monkey wrench and ill-fitting pants to be a professional.
After receiving a high school diploma or GED, you'll need to learn the trade through a 4 to 5 year apprenticeship; roughly 2,000 hours of on-the-job training. Only after completing all those requirements can you take the licensing exam to become a plumber.
Can I learn plumbing online?
The exam itself can be difficult, and you want to have a lot of on-the-job experience to understand most of the material. But if you want to make sure you pass on your first try, completing an online course is easily the most effective. Each course offers important working knowledge and will help you create a study schedule for the upcoming test. In order to help you find a course, I've gone ahead and picked out the top 4 online plumbing courses on the market.
---
#1 Penn Foster

Penn Foster offers an accredited online Plumbing program that can help you take the first step toward a profitable and rewarding career as a plumber. The main goal of this program is to provide students with the comprehensive and modern training required to start a new career path in plumbing. Students will learn to read blueprints and install piping and plumbing fixtures. Additionally, they'll learn the basic codes, regulations, and standards that every plumber needs to know when working. 
In lieu of standard plumbing classes, Penn Foster provides this information online through a combination of lectures and practical exercises. It's also mobile-friendly, so you can log some study time during any downtime.
Bottom Line
Penn Foster can be an excellent way to prepare for a career as a plumber. It's also easy to get started at a pace that works within your busy life!
---
Sponsored Listings
#2 Ashworth College


Next up on this list is Ashworth College. Unlike other online plumbing courses, Ashworth offers both general plumbing education and continuing education (CE) credits. They even offer GED programs, making them a one-stop-shop for all necessary training programs for plumbing— start to finish, entirely online.
Ashworth College's plumbing program is designed to teach a basic understanding of the materials, tools, and processes used by plumbers during residential and light-commercial plumbing assignments. As a part of that, you'll learn safe-work practices and the common fixtures and components used to repair water and waste systems. Plus, you'll also learn to design and install standard plumbing systems.
Every instructor employed by Ashworth College is a practicing plumbing professional, which greatly informs the entire learning experience. That reliable knowledge will dramatically increase your chances of passing, and it might even improve your apprenticeship opportunities.
Speaking of job opportunities, all graduates from the Ashworth program gain access to the Ashworth College Central Network. This is an online toolkit designed to help you find a job; it provides you with templates for resumes, cover letters, and more.
Ultimately, Ashworth College focuses heavily on general knowledge above all else. That's because they expect you to learn more advanced concepts and techniques from your apprenticeship. Even though this knowledge isn't required, it's a shame to miss out on it.
Bottom Line
Ashworth College is an excellent option for both general plumbing knowledge and CE hours. Their teachers are uniquely experienced and have created one of the best programs out there.
---
#3 Plumber's Training Institute (PTI)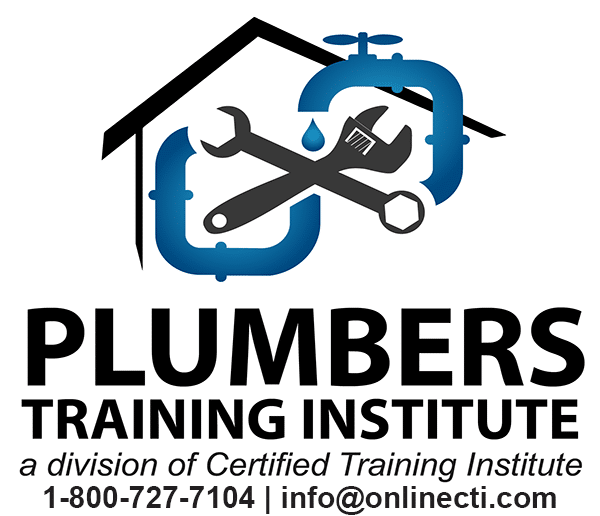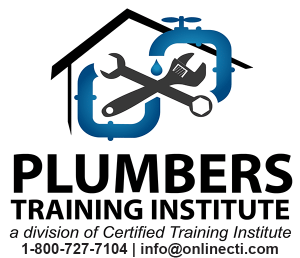 Plumber's Training Institute offers much more content than a lot of other online plumbing trade schools. After all, each plumbing jurisdiction comes with its own set of rules and requirements— so PTI offers courses covering every single one of them.
But why is it only #3 on our list? The short answer is that they focus on quantity at the expense of quality.
Much like Penn Foster, PTI offers a prep course for every state. Every course has hours of material designed to maximize your plumbing knowledge. Plus, each course has several different study formats in order to shake things up. Because of that, you'll learn each topic through a series of HD videos, textbooks, and practice problems.
This is great if you're only interested in studying for the test, but what about the next steps you have to take as a journeyman plumber? With a diminished focus on specific state requirements, Penn Foster offers a program that can prepare you for specialized careers. On the other hand, PTI is only meant to help you pass state plumbing programs.
Here are some finder details about what you'll get with Plumber's Training Institute:
HD Videos with Onscreen Instructor
Support Staff of Licensing Experts
Free Exam Guide
Safety Talk Meetings
On Demand 24/7 Access Times
Mobile Friendly
Bottom Line
If you like the focus on each state but want to limit costs, then this is the perfect course for you. But if you also want some help in other aspects of your plumbing career, PTI won't be very helpful.
---
#4 SCI Training

Stratford Career Institute is an excellent starting point for plumbing knowledge. It doesn't quite meet the vocational requirements for all jurisdictions, but it's an effective way to ease yourself into studying for the plumbing certification exam.
Most course concepts are taught to you via a set of textbooks and practice exams. The course is split into 5 sections, and each one covers a different portion of the exam. Breaking it up that way makes it more manageable than trying to learn everything in one giant block. Plus, it allows you more freedom to create a personalized study schedule.
SCI courses have quite a few features that make them an attractive option, such as:
Real World Curriculum
Flexible Study Schedules
Affordable Tuition
Instructor Support
Online Learning Tools
Personalized Career Diploma
Bottom Line
SCI Training doesn't have enough material to use on its own. However, if you plan to use this course as a supplement to another course like Ashworth, then it's definitely worth your money.
---
Honorable Mention: Udemy


If you're really trying to save money, then Udemy is the course you should take. It's much cheaper than the others on this list— but it's also not nearly as good.
Unlike the other companies on this list, Udemy courses only cover single subjects. This can help you fill any gaps in your knowledge for cheap. However, it's not reliable as your main option for studying; there's just not enough content.
Much like our #4 pick, these classes should be used to supplement other aspects of your training.
---
FAQs about Online Plumbing Training
Q: How long does it take to get certified in plumbing?
A: If you're attending a trade school, it takes about two years to become a plumber. However, if you choose to go the apprenticeship route instead it can take up to 5 years to complete your training.
Q: Is plumbing hard to learn?
A: It varies from person to person. Plumbing can be physically taxing and there's a lot you need to remember when working. If you're in good shape and like math then you'll have a much easier time with plumbing.
Q: How much do plumbers make a year?
A: According to Glassdoor, plumbers make $48K a year on average.2 Of course, salaries can vary based on how experienced you are and where you work.
Q: What kind of math is involved in plumbing?
A: Primarily, plumbers need to use algebra and geometry to measure and create layouts when on the job. You'll also need basic math skills in order to effectively fit pipes and create measurements of water systems.