Students graduating from high school and applying to colleges have more than ever to consider when trying to stand out against millions of applicants. From stellar test scores to community service, everything matters and has some weight in your overall chances of admission into your first choice.

The American College Testing (ACT) exam has risen to the forefront as one of the most impactful scores to obtain for your college admissions. Hence, it should come as no surprise then that your choice of exam prep is a big deal. Finding the best ACT prep course to earn the highest score possible will allow you to make the most of your valuable study time.

Not sure where to start your search? We've got your back:
Keep reading to see analysis and rankings for the best online ACT exam prep courses currently available. Check out detailed reviews for each provider that highlight what makes them unique; this will provide you with the perfect resource to choose the best option for you!
These are the Top 5 Best ACT Exam Prep Online Courses in December 2023:
Higher Scores ACT Prep
Compare The Best ACT Review Courses!
#1 – The Princeton Review ACT Prep Review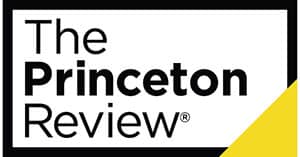 The Princeton Review is an ACT and SAT prep provider with over 35 years of experience helping students get the best score possible. In this time, they've honed their approach to near perfection by identifying the key areas in which students struggle on the exam. According to them, many students make errors on the ACT due to three particular points:
Failure to choose the most efficient method to solve a particular question

Failure to correctly understand the question presented

Attempting to commit everything they review during studying to memory
To prevent these mistakes from being made by their students, The Princeton Review values speed and efficiency in their education. They guarantee a score of 31 or higher in just 2 months— it sounds like a rushed schedule, but it's actually very well-paced to avoid leaving any students behind!
Additionally, the guarantee of a better score isn't all that students of The Princeton Review can expect when they enroll. Their self-paced ACT prep course adds an extra level of customization in order to provide students with tailor-made test prep resources. However, what's most impressive about The Princeton Review is their exceptional teaching staff. Not only are they knowledgeable and professional, but they also bring a bit of fun to their lesson plans.
Lastly, we felt The Princeton Review had a level of clarity and support not commonly seen with all providers. For less than $1500, you can have access to a review course with distinct Science and English Prep paths. They also offer the option of private tutoring and live online courses for those who need a more hands-on touch.
With a 4.1 out of 5 star rating from almost 800 online reviews, it's easy to see why The Princeton Review is so highly recommended as the number one choice for ACT Test Prep!Coming in at a close second is Kaplan, another ACT review course with successful test prep tactics of their own to help students achieve their ultimate score.
Kaplan isn't shy about how they help you to succeed on the ACT. They utilize techniques like answer elimination and strategies like creative problem solving. Additionally, their website serves as a resource for free study materials and a calendar of free events— including sample classes and practice tests.
And if you think that's impressive, just wait until you hear this: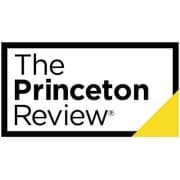 Check Weekly Offers on Princeton Review ACT Courses
3 uses today
Last Used: 20 hours
---
#2 Achievable ACT Review

If you want to get the best score possible on your ACT exam and get into your dream college, Achievable is a great way to do so. Achievable uses advanced adaptive learning technology to optimize your learning experience as you are studying and improve your final score. Their course includes everything you need to ace your ACT exam, including complete textbook content for ACT Math, English, Reading, and Science; tons of practice questions for all subjects; and full-length practice tests. It also works great on mobile devices, so you can study at school, on the bus, or anywhere you have downtime.
When you're ready to start your test prep, all you need to do is create a free account on their website. Then, you'll have access to several resources right away – you don't even need to put any money down. Take a look at some of their textbook entries or try their complementary practice quiz before deciding if you want to enroll in the full package.
When you do enroll, you'll be free to use any and all of their ACT textbook, questions, and quizzes for a full year. Best of all is that this comes at one of the most affordable prices out of any other exam prep on this list – plus, you can get our Achievable promo code for a discount!
Unfortunately, there is a downside to the reduced cost – no lecture content. However, Achievable tells us that they are planning to add videos in the coming months. Take a look during your free trial to see if they've added them.
Achievable ACT Pros and Cons
Student Success: If you're looking to improve your ACT score, Achievable is built to get you there. Their adaptive learning algorithm will automatically adjust the course to focus on your weak areas and improve your score.
Very Affordable: This is the only full ACT review course with adaptive learning that costs less than $130. If you're trying to save money but don't want to skimp on any features, you should absolutely consider signing up for Achievable's course!
Lectures: As I mentioned above, there aren't any video or audio lectures included with Achievable's ACT review course at this time. Fortunately, its affordable price tag means that you can seek out supplementary video lectures without breaking the bank.
Bottom Line

Unless you absolutely have to have lecture content to prepare for the ACT exam, you'll be in great hands if you enroll with this ACT prep course. But if you're still not sure, at least check out their free materials to see for yourself.
---
#3 – Prep Expert ACT Review


When looking at Prep Expert's ACT prep options, the first thing that comes to mind is precision.
Unlike some providers — who cram way too much information on a single page and end up confusing their users — Prep Expert is set up in a way that you'll have a basic understanding of all they have to offer within about 15 seconds.

What's their secret? It's all in the presentation.
Prep Expert's ACT Prep Course offers the following benefits right off the bat:
Guaranteed

4 point score improvement

Courses instructed by professors who have scored in the top 1% on the ACT

Firsthand exposure to Prep Expert's

Perfect Score Strategies
As far as pricing goes, Prep Expert should cost the average student (or more likely, their parents) less than $1000 in total. Furthermore, payments can be made over time with the use of Affirm, making Prep Expert's price point easier to manage. Still, you can get a whole lot more with just a bit more money if you decide to enroll in Kaplan instead!
Overall, the clarity of Prep Expert's catalog as well as several supplementary features make Prep Expert an excellent choice for any student looking to prepare for the ACT in a clear-cut, no-nonsense manner.
---
#4 – Kaplan ACT Prep Courses Online

Coming in at a close second is Kaplan, another ACT review course with successful test prep tactics of their own to help students achieve their ultimate score.

Kaplan isn't shy about how they help you to succeed on the ACT. They utilize techniques like answer elimination and strategies like creative problem solving. Additionally, their website serves as a resource for free study materials and a calendar of free events— including sample classes and practice tests.

And if you think that's impressive, just wait until you hear this:
Kaplan provides students with a course plan that's tailor made for their particular preferences. Students have the option to choose between self-study, live online courses, or one-on-one tutoring.
In addition to a stellar teaching staff that is always ready and willing to help, they also offer frequent discounts to help students with tight budgets. This level of care and compassion can also be found in their course curriculum with their guarantee of an improved ACT score or your money back.
Overall, the expert-level nature of Kaplan's offerings — and the care put into delivering those offerings to their students — make them a great choice for ACT prep.
---
#5 – Magoosh ACT Prep Review

Much like the last course mentioned, Magoosh is an ACT prep solution with a simplified approach and easy to understand course offerings. However, what's most immediately apparent is the confidence this company has behind the quality of their study materials.

For example, check out this course's guarantee. Not only does Magoosh promise that you'll increase your ACT score by 4 points or receive a full refund— you'll also have the ability to get all your money back within 7 days of enrolling with no questions asked!

The reason that this company is able to offer such a great deal is that they know you're not going to want a refund. That's because in addition to over 1300 practice questions, 4 practice tests, over 250 video lessons, and specially curated study schedules, Magoosh is currently offering massive discounts on their courses.

Magoosh's pricing model is dependent on how long you want access to the prep materials. There's a monthly, 3-month, and annual option. This is an excellent way to ensure that you only pay for the amount of time you need to spend on your studying. However, when comparing this to The Princeton Review's two-week long ACT prep course, you run the risk of wasting time— and time is money!
All-in-all, we found the content, pricing, and focus on self-progress tracking form a delightfully well-rounded package. Definitely consider this option if you're interested in spending a few months on your ACT prep!
---
#6 – Higher Scores Test Prep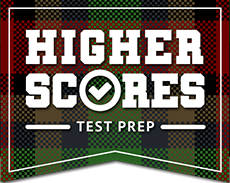 Taught by professionals with over 10 years of experience in helping students maximize their ACT scores, Higher Scores is one ACT prep program that really stands out with their offerings.
This test prep course is based around preventing the two biggest sources of stress for ACT prep students:
The amount of time needed to prepare

The incurred cost of ACT Prep courses
Not only does Higher Scores focus on bolstering your exam score, it also helps you leverage that score in order to earn financial scholarships.Their curriculum is based around score-specific strategies for each exam subject in order to help students better identify potential pitfalls and traps left by testmakers.
One aspect of Higher Scores that we really appreciated was the offerings based on the amount of time you are looking to spend on studying. There's an ACT Quick Prep option that guarantees an improvement in your score in as little as 4 hours; it also includes hours of video content and a practice exam to test your mettle before the real deal. For less than $200 you'll have access to all of this content for 6 months.

If you need something more thorough, check out their ACT Complete Package. This expands upon their Quick Prep course with a 24 day ACT study guide, test prep books mailed to your doorstep, unlimited email support, and more. This is all for less than most other courses offer their top option for pricewise, so the value here is pretty hard to ignore.

With that being said, you do miss out on some appealing features if you sign up for this course instead of The Princeton Review. But if you're okay with missing out on a score increase guarantee and top-level instructors, Higher Scores is a decent budget pick for students.
---
#7 – Veritas Prep ACT Study Guide and Course

Veritas Prep aims to help you prepare for the ACT exam, yes— but this company also wants to help you with the overall college admissions process. Bundled in with their ACT Prep offerings is their College Admissions Essentials Live Course (with a standard value of around $400) in order to help provide you with guidance for your next steps after the exams.
There are 3 different levels to Veritas' offerings: Self-Study, Live Classes, and Private Tutoring. Depending on your selection, the pricing can vary from a few hundred dollars to a couple thousand. The main justification for the higher priced options is that they contain all the material in lower-tiered courses as well. However, there's still quite a bit more for your money if you choose to enroll in a similarly-priced course from Kaplan.

The ability to download video content for learning and review on the go makes Veritas a very convenient option, and their staff having previously worked at Ivy League schools adds to their overall credibility. We found Veritas' offerings are a wholly competent review method for anyone in need of ACT Prep— although there are several better options available!
---
ACT Frequently Asked Questions
Still confused about the ACT exam? Check out these answers to commonly asked questions:
❓Am I required to take a Prep Course in order to take the ACT Exam?
No, ACT prep is not a prerequisite to the exam itself. However, for how competitive admissions to college can be, it's highly beneficial to use an ACT exam prep course to obtain a higher score.
❓Should I take an ACT Prep Course?
Yes. A strong ACT score can help you stand out and get noticed by your school of choice. Every university has different entry requirements, though, so you'll want to double check to see what the requirements are for the school you want to gain admission to. 
❓Are all ACT Prep Courses expensive?
Not at all! In fact, many of them offer various price points and bundle options in order to help get you the most mileage out of your budget. A few of the options on this list even offer free courses in addition to the paid options on their site.