A life and health insurance license is an important certification for any insurance specialist. It can open a lot of doors in your career and generally make you more qualified.
But getting it requires taking a tough state exam. And if you're eager to start your career in life insurance, you'll want to pass your Life and Health Insurance Licensing Exam on your first try in order to start working as soon as possible.
So what's the easiest way to do that? By enrolling in a well-made life and health insurance exam online course!
Prep courses can guarantee that your time won't be wasted. Each of them has a unique and useful approach to preparing you for a career involving health and life insurance policies. Plus, the courses I've listed today all have pass guarantees— so there's no risk of wasting your money!
Keep reading to see how the top 6 life and health insurance courses stack up against each other.
Comparing the Best Life and Health Insurance Exam Prep Courses
WebCE Insurance Prep
A.D. Banker Insurance Prep
---
1. Securities Training Corporation


STCUSA's bread and butter are their video lectures. This is the primary method offered for you to prepare for the upcoming exam, so keep that in mind before enrolling. Much like ExamFX, the goal of this format is to offer an experience that's similar to learning in a classroom with one teacher.
One of the unique aspects of STCUSA is the accessibility of its instructors. Students can reach out to teachers through an instructor hotline for personalized assistance. This direct line of communication is a standout feature, not commonly found in online insurance courses, providing an added layer of support for students.
As the course nears its end, STCUSA introduces 'Crunch Time Facts', a concise and impactful tool for last-minute revisions. These key points are strategically designed to reinforce core concepts, ensuring that students are well-prepared as they approach their exam date. However, it's important to note that these facts are supplements and not replacements for the comprehensive study required over the course duration.
STCUSA offers various course tiers, with minimal differences between them. This structure allows students to opt for the most cost-effective option without missing out on essential features. While the course is comprehensive, some students might find value in supplementing STCUSA's materials with additional resources for a more rounded preparation.
Course Features
Video Lectures: Engaging and comprehensive video lectures that simulate a classroom learning experience.
Instructor Hotline: Direct access to instructors for personalized guidance and support.
Crunch Time Facts: Concise revision notes provided towards the end of the course for effective last-minute study.
Flexible Course Tiers: Multiple tiers with minimal differences, allowing for cost-effective choices.
Supplemental Study Materials: Option to enhance learning with additional resources.
Pros
Classroom-like experience through video lectures enhances understanding.
Direct access to instructors for queries ensures personalized learning support.
Crunch Time Facts provide effective revision and reinforce learning.
Cost-effective course options make it accessible to a wider range of students.
Suitable for learners who prefer structured and guided study approaches.
Cons
Limited variety in course tiers may require additional resources for comprehensive preparation.
May not cater to all learning styles, particularly those who prefer more interactive or hands-on learning methods.
Bottom Line
STCUSA offers a solid foundation for those preparing for the Life and Health Insurance exams. Its structured approach, combined with accessible instructor support and effective revision tools, makes it a commendable choice for learners seeking a budget-friendly yet comprehensive study guide.
---
2. ExamFX


ExamFX distinguishes itself in the field of insurance exam preparation with its innovative live lecture curriculum. This feature allows students to enjoy an immersive classroom experience from the comfort of their own homes. The presence of a live instructor adds a personal touch to the learning process, making the course engaging and interactive compared to other online offerings.
A unique aspect of ExamFX is its inclusion of audio lectures. This format is particularly beneficial for students with busy schedules, as it allows for studying during activities like commuting or exercising. The audio lectures are an excellent tool for reinforcing knowledge and making efficient use of time.
Despite its comprehensive offerings, ExamFX remains one of the most affordable options for life and health insurance exam preparation. The pricing structure is designed to be budget-friendly, with a relatively small difference between the most basic and the most comprehensive course packages.
However, one area where ExamFX could improve is in the diversity of its test questions. Students may encounter repeated questions in practice exams, which can be beneficial for revision but may also limit exposure to new scenarios and topics.
Course Features
Live Lecture Curriculum: Interactive and engaging live lectures for a real-time learning experience.
Audio Lectures: Convenient audio lectures for flexible study times, ideal for multitasking.
Affordable Pricing: Competitive pricing with minimal difference between basic and comprehensive packages.
Accessible Learning: Easy-to-use platform suitable for a wide range of learners.
Pros
Engaging Live Lectures: Enhances learning with real-time interaction and personalized instruction.
Flexible Study Options: Audio lectures allow for studying in various settings, maximizing time efficiency.
Cost-Effective: Affordable course options make it accessible for students on a budget.
Comprehensive Content: Covers a wide range of topics necessary for exam preparation.
Cons
Limited Question Pool: Repeated questions in practice exams may limit exposure to new material.
Focus on Traditional Learning: May not cater to learners who prefer more modern, interactive methods.
Bottom Line
ExamFX stands out as a top choice for those preparing for life and health insurance exams. Its blend of live lectures, audio learning, and affordable pricing makes it an attractive option for a wide range of learners. While the question pool could be more diverse, the overall quality and accessibility of the course make it a strong contender in the field of insurance exam preparation.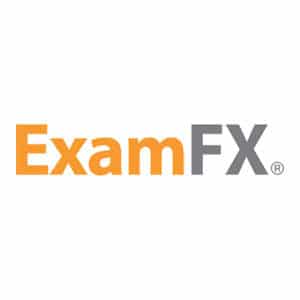 Save up to 20% on ExamFX Securities Review Courses
124 uses today
Last Used: 1 days
---
3. Kaplan


Kaplan's Life and Health Insurance exam prep course is renowned for its adaptability to various learning styles. Recognizing the diverse needs of students, Kaplan offers both a live online classroom and an on-demand self-study course. This flexibility ensures that every learner finds a mode of study that resonates with their personal learning preferences.
In addition to the primary course offerings, Kaplan enriches the learning experience with extra video and audio lectures. These resources become available after each reading and practice exam question, allowing students to deepen their understanding of the material.
The structure of Kaplan's courses is meticulously designed to reinforce core exam topics immediately after they are introduced. This reinforcement is further supported by the use of a License Exam Manual, which provides concise review sessions, breaking down complex topics into manageable segments.
A standout feature of Kaplan's course is the mastery exam. This exam is crafted to closely mirror the actual insurance test, serving as a crucial indicator of a student's readiness. The correlation between mastery exam scores and actual exam performance is a valuable tool for students to gauge their preparedness.
However, one area where Kaplan's live courses fall short is the lack of a question and answer segment at the end of each session, a feature that competitors like ExamFX offer. While students can communicate with instructors via email, the addition of a live Q&A would enhance the interactive learning experience.
Course Features
Live Online Classroom and Self-Study Options: Catering to different learning styles with flexible study modes.
Supplementary Video and Audio Lectures: Additional resources available post-reading and exams for enhanced learning.
Structured Learning Path: A well-organized curriculum that reinforces core topics effectively.
Mastery Exam: A simulated exam experience to gauge readiness for the actual test.
Pros
Versatile Learning Modes: Accommodates various learning preferences with live and self-study options.
Comprehensive Supplementary Materials: Enriches learning with additional video and audio resources.
Effective Curriculum Design: Reinforces learning immediately after topic introduction.
Realistic Exam Simulation: The mastery exam provides an accurate measure of exam preparedness.
Cons
Lack of Live Q&A Sessions: Misses the opportunity for immediate interaction and clarification in live classes.
Email-Only Instructor Communication: Limits real-time engagement with instructors.
Bottom Line
Kaplan's Life and Health Insurance exam prep course stands out for its versatility and comprehensive approach. It effectively covers all bases, providing a well-rounded preparation experience. While the course could benefit from more interactive elements in live sessions, its overall structure and resources make it a strong choice for those seeking a tailored learning experience.
---
4. CompuCram


CompuCram sets itself apart in the insurance exam preparation market with its dynamic approach to learning. The platform is meticulously designed to present fresh content consistently, ensuring that students are continually exposed to new information. This approach not only enhances knowledge acquisition but also keeps the study process engaging and free from monotony.
A standout feature of CompuCram is its constantly updating readiness indicator. This tool provides students with real-time insights into their preparedness level, guiding them on when to schedule their licensing exam. It eliminates the guesswork in determining whether more study time is needed or if they are ready to take the test.
CompuCram's courses are fully optimized for mobile devices, offering unparalleled flexibility. Students can seamlessly transition between different environments, studying on the go without being tethered to a desktop setup. This mobile-friendly design caters to the modern learner who values convenience and adaptability.
However, it's important to note that CompuCram primarily focuses on self-study materials. While this format is highly effective for many learners, those who prefer a traditional classroom setting with interactive elements might find it less suitable.
Course Features
Dynamic Content Delivery: Ensures exposure to new information, preventing repetitive learning.
Readiness Indicator: A unique tool that tracks preparation progress and suggests optimal exam timing.
Mobile Optimization: Full course accessibility on mobile devices for flexible learning.
Self-Study Focus: Concentrated on independent learning, ideal for self-motivated students.
Pros
Continual Learning: Constantly refreshed content keeps the study process engaging and effective.
Preparation Tracking: Real-time readiness assessment aids in efficient study planning.
Flexible Learning Environment: Mobile compatibility allows for studying in various settings.
Comprehensive Self-Study Materials: Extensive resources tailored for independent study.
Cons
Limited Interactive Learning: Less emphasis on interactive or instructor-led learning formats.
Geographic Availability: Not available in certain states, limiting its reach.
Bottom Line
CompuCram excels as a self-study course for aspiring insurance professionals, particularly in states covered by their catalog (sorry Alabama and Maryland). Its innovative approach to content delivery and readiness tracking, combined with mobile-friendly design, makes it an excellent choice for learners seeking a modern, flexible study solution. While it may not replicate a traditional classroom experience, its strengths in independent learning make it a valuable tool in exam preparation.
---
5. WebCE

WebCE stands out as an ideal choice for students who prefer a paced and thorough approach to exam preparation. The platform is designed to cater to learners who value depth over speed, ensuring a comprehensive understanding of the material.
The cornerstone of WebCE's exam prep packages is its extensive practice exams. The state exam tutor program offered by WebCE allows unlimited practice tests, enabling students to become intimately familiar with both the content and format of the actual insurance exam. This feature is particularly beneficial for those who aim to enter their exam with confidence and a deep understanding of the subject matter.
Moreover, WebCE's courses are crafted with the input of experienced professionals in the field. This ensures that both the licensing and continuing education courses are relevant, practical, and aligned with current industry standards.
However, it's important to note that additional study aids such as workbooks or flashcards are not included in the base package. These resources are available for an extra fee, which, while reasonable, may lead to an increase in the overall cost of exam preparation.
Course Features
Unlimited Practice Exams: Offers an infinite number of practice tests for thorough preparation.
Professionally Designed Courses: Developed with insights from experienced industry professionals.
State Exam Tutor Program: Tailored program to familiarize students with exam content and format.
Additional Study Aids: Availability of workbooks and flashcards for enhanced learning (at an extra cost).
Pros
In-Depth Practice: Unlimited practice exams ensure complete familiarity with exam material.
Expert-Crafted Curriculum: Courses designed by professionals for real-world applicability.
Flexible Learning Pace: Ideal for students who prefer a methodical approach to study.
Comprehensive Exam Preparation: Covers all necessary aspects for thorough exam readiness.
Cons
Additional Costs for Study Aids: Essential study materials like workbooks and flashcards require extra payment.
Focus on Self-Study: May not suit learners who prefer interactive or instructor-led formats.
Bottom Line
WebCE is a highly recommended choice for those who wish to prepare for their insurance exam at a steady pace. Its practice-focused approach, combined with professional course design, makes it a robust and reliable educational program. While the additional cost for study aids may need to be considered, the quality and depth of preparation offered by WebCE make it a valuable investment for professionally-minded students.
---
6. A.D. Banker


A.D. Banker stands out in the realm of insurance exam preparation by offering a diverse array of course formats to suit every student's preference. Whether you thrive in self-study environments, prefer the engagement of live online classes, or excel in live in-person settings, A.D. Banker has a solution tailored for you.
A particularly commendable aspect of A.D. Banker's courses is their availability in multiple languages. This inclusivity ensures that non-native English speakers have equal opportunities to succeed, making the courses accessible and effective for a broader audience.
Each course at A.D. Banker is accompanied by a meticulously designed study manual. This manual is a treasure trove of learning aids, featuring retention questions for each chapter, lightning facts that summarize key points, and other valuable resources. These tools are instrumental in reinforcing and retaining the knowledge gained throughout the course.
However, it's important to note that the availability of live classes is somewhat limited, being offered only on Mondays and Tuesdays. This scheduling may pose a challenge for students who prefer live interaction but have conflicting commitments on these specific days. If you want a live experience but can't make it to either of these sessions, you might want to try Kaplan or ExamFX instead.
Course Features
Diverse Learning Formats: Self-study, live online, and live in-person courses to suit different learning styles.
Multilingual Course Options: Courses offered in multiple languages, catering to a wide range of students.
Comprehensive Study Manual: Includes chapter-wise retention questions and key point summaries.
Focused Learning Approach: Designed to enhance understanding and retention of insurance concepts.
Pros
Flexible Study Options: Accommodates various learning preferences with multiple course formats.
Inclusive Language Support: Makes learning accessible for non-native English speakers.
Effective Study Tools: The study manual serves as an excellent resource for review and revision.
Comprehensive Course Content: Covers all necessary topics for thorough exam preparation.
Cons
Limited Live Class Availability: Restricted scheduling for live classes may not suit all students.
Alternative Options for Live Learning: Students unable to attend the scheduled live classes may need to consider other providers.
Bottom Line
A.D. Banker offers a well-rounded and inclusive approach to insurance exam preparation, catering to a diverse student base. Its commitment to providing varied learning formats and language support makes it an excellent choice for a wide range of learners. While the limited scheduling of live classes is a consideration, the overall quality and inclusivity of the courses make A.D. Banker a strong contender in the field of insurance exam preparation.
Criteria for Choosing the Right Insurance Prep Course
Understanding Your Learning Style
Before choosing a course, it's essential to understand your learning style. Are you a visual learner who benefits from charts and videos, or do you prefer auditory learning through lectures? Perhaps you're kinesthetic and learn best by doing, in which case interactive courses with simulations might be best. For example, if you're a visual learner, look for courses with rich visual content like STCUSA or Kaplan, known for their engaging video materials.
Assessing Course Content and Structure
Evaluate the depth and breadth of the course content. Does it cover all the topics outlined by the exam syllabus comprehensively? Also, consider the structure – is it logically organized to facilitate easy learning? For instance, ExamFX is known for its well-structured content that systematically covers all necessary topics.
Considering Instructor Expertise and Support
The quality of instructors can significantly impact your learning. Look for courses with experienced and qualified instructors. Additionally, consider the level of support offered – does the course provide opportunities for one-on-one interaction, Q&A sessions, or additional tutoring? A.D. Banker, for example, offers courses with expert instructors and ample support.
Comparison of Different Learning Formats
Self-Study Courses
Pros: Flexibility to learn at your own pace, often more affordable.
Cons: Requires high self-discipline, limited interaction with instructors.
Example: CompuCram offers a comprehensive self-study program with a variety of materials to cater to different learning styles.
Live Online Courses
Pros: Structured learning environment, real-time interaction with instructors.
Cons: Less flexible schedule, may require a stable internet connection.
Example: Kaplan's live online courses provide the benefit of real-time interaction with the flexibility of learning from home.
In-Person Courses
Pros: Direct interaction with instructors, immediate feedback, and peer learning.
Cons: Less scheduling flexibility, usually more expensive.
Example: Local community colleges often offer in-person insurance exam prep courses with the advantage of face-to-face learning.
Time Management and Study Schedules
Crafting an Effective Study Schedule
Creating a study schedule is a critical step in preparing for your insurance exams. It's not just about allocating time; it's about optimizing it. Start by breaking down the syllabus into manageable sections and allocate specific times to each. For example, you might dedicate Monday evenings to studying policy types and Wednesday afternoons to regulations. The key is consistency and balance; avoid cramming all your study into one day.
Balancing Study with Other Commitments
Many candidates juggling work or family commitments find it challenging to find time for study. It's important to create a realistic schedule that fits into your life. This might mean shorter, more frequent study sessions. The American Council of Life Insurers (ACLI) offers practical tips on balancing study with work and personal life, emphasizing the importance of a well-rounded approach to exam preparation.
Utilizing Time Management Tools
Leverage tools like digital calendars, study apps, or traditional planners to keep track of your study schedule. Set reminders for study sessions, and don't forget to include breaks. Regular breaks are crucial for maintaining focus and avoiding burnout.
Additional Resources and Study Aids
Maximizing Learning with Study Aids
Supplementary materials such as flashcards, practice tests, and study guides can significantly enhance your learning experience. Flashcards are great for memorizing key terms and concepts, while practice tests can help you get accustomed to the exam format and identify areas where you need more focus.
Choosing the Right Study Aids
When selecting study aids, ensure they align with the exam syllabus and your learning style. For visual learners, study aids with charts and infographics can be particularly helpful. The Insurance Institute of America (IIA) provides a comprehensive range of study aids tailored to different learning styles and exam requirements.
Integrating Study Aids into Your Schedule
Incorporate these resources into your study schedule. For instance, you might use flashcards for quick review sessions during your commute or practice tests as a weekend activity to assess your progress. Remember, the goal is to use these aids to complement, not replace, your primary study material.
Real-Life Testimonials and Success Stories
Overcoming Challenges with STCUSA
"Before I discovered STCUSA, I was struggling with the vast syllabus of the life and health insurance exam. The video lectures provided by STCUSA were a game-changer for me. They broke down complex topics into digestible segments, making learning much more manageable. The Crunch Time Facts feature was particularly helpful during the final days of my preparation, offering a quick recap of key points. Thanks to STCUSA, I passed my exam with a score I never thought I'd achieve."
The Flexibility of ExamFX
"As a working professional, finding time for exam prep was my biggest hurdle. ExamFX's live lecture curriculum allowed me to study effectively without disrupting my work schedule. The audio lectures were a blessing, enabling me to utilize my commute time for studying. Despite the limited pool of test questions, the course's structure and content were comprehensive enough to ensure my success in the exam."
Kaplan's Comprehensive Approach
"Kaplan's blend of live online classes and on-demand self-study resources catered perfectly to my varied learning needs. The extra video and audio lectures after each reading and practice exam question reinforced my understanding of the material. The mastery exam at the end of the course was an excellent indicator of my readiness for the actual exam. Kaplan's thorough approach was instrumental in my passing the exam with confidence."
The Self-Study Advantage of CompuCram
"I opted for CompuCram due to its focus on self-study, which suited my learning style. The constantly updating readiness indicator was a unique feature that helped me gauge my preparation level accurately. The mobile-friendly format allowed me to study on the go, fitting in study sessions whenever I could. CompuCram's comprehensive and flexible approach was key to my success in the exam."
WebCE's Practice-Driven Method
"WebCE's focus on practice exams was exactly what I needed. The ability to take unlimited practice tests helped me familiarize myself with the exam format and question types. Although I had to invest a bit more in additional study aids, the overall quality and effectiveness of WebCE's program made it worth every penny. Their practice-driven approach was a significant factor in my passing the exam."
A.D. Banker's Multilingual Support
"As a non-native English speaker, A.D. Banker's multilingual course options were a lifesaver. The well-designed study manual, complete with retention questions and lightning facts, made studying in my native language much easier. The limited availability of live classes was a minor inconvenience compared to the overall quality and accessibility of the course. A.D. Banker's inclusive approach played a crucial role in my successful exam preparation."
FAQs
What are the key features to look for in a life and health insurance exam prep course?
Look for comprehensive coverage of exam topics, various learning formats (like video lectures, interactive quizzes), access to experienced instructors, and ample practice tests.
How do I choose between self-study and instructor-led courses for insurance exam preparation?
Consider your learning style, schedule flexibility, and need for interaction. Self-study is great for independent learners with tight schedules, while instructor-led courses benefit those who prefer structured learning and interaction.
Are there any online courses that offer real-time interaction with instructors for insurance exam prep?
Yes, many online courses like Kaplan and ExamFX offer live online classes where you can interact with instructors in real-time.
Can I find insurance exam prep courses tailored for non-native English speakers?
Yes, some providers like A.D. Banker offer courses in multiple languages to cater to non-native English speakers.
Are there any free resources available for life and health insurance exam preparation?
Yes, there are free resources available online, including study guides and practice questions, but they won't be as comprehensive as paid courses.