If you're a forward-thinking finance professional, you probably understand the importance of having insurance. Just like with the kind of insurance you buy, it takes research and forethought to find the best property and casualty insurance study guides to help you get your license and start a career in the insurance industry.
And while we're not insurance agents, we can provide you with information to bring you peace of mind while working towards these goals:
We've listed the best pre-licensing courses online that will help you pass your exams and get a property and casualty license. Let us save you time and stress by crunching the numbers to assemble a list of the best exam prep providers currently available.
We'll dive into the highs and lows of each platform, providing you with a clear picture of the optimal course forward for you. Let's get started!
---
1. ExamFX Property and Casualty Insurance Review


ExamFX is our top choice on this list due to their simplicity as well as their smart pricing structure. Right off the bat, all of the information you need to start studying for your exams can be found on a single page. This is a huge timesaver and a reflection of how the rest of this company's products and study materials respect your time.
Need some extra info for your first try of the licensing exam? Just scroll down and you'll see a chart that clearly tells you the different sections on the exam and what each entails. You can go a bit further and check your state requirements with another click— just to make sure you're well aware of all your responsibilities before your first attempt at becoming an insurance professional.
While this is all informative, what about the actual content of these courses— how does ExamFX stack up there?
Within the 60 days of access you'll receive from signing up, you can take advantage of items like the ExamFX Interactive Learning Portal, Online Exam Simulations, a preliminary Guarantee Exam to gauge your readiness leading up to the real deal, and even Instructor support. And that's just in the lowest-priced option!
If you want a bit more help preparing for your insurance test, this company offers a Video Package and a Live Online Package as well. The Video Study package is almost like an enhanced version of the Self Study Package, with the addition of on-demand video lectures, online flashcards, and access to their series of audio lectures. The Live Online Package takes this all a step further and accounts for those that like to have more of a hands-on approach to their exam prep by granting students the ability to attend live online lectures.
Another aspect of ExamFX that makes them our top choice is their stellar pricing. All of the bundles with the amazing features mentioned above are available for less than $350 each, with the lowest tier running in the ballpark of $150. If you're someone who studies quickly and prefers to study on your own, you could potentially save quite a bit on high quality exam prep.
Bottom Line
This company's content is not only well thought-out; it's also clearly designed with the student in mind. ExamFX easily earns the top spot in our minds due to their overall quality and value— but the short access period can be troublesome if you sign up for the high-tier packages. Make sure you've got the focus and time commitments necessary to go over all the materials in a timely manner!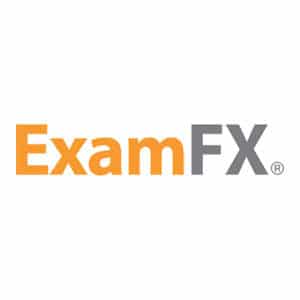 Save up to 20% on ExamFX Securities Review Courses
124 uses today
Last Used: 1 days
---
2. CompuCram Property & Casualty Insurance Study Guide

Part of the larger Hondros Education Group, CompuCram is another great entry on this list for Insurance Exam Prep, using their solid foundation and pedigree from their Hondros parentage to form a solid reputation and identity all their own. Utilizing practice tests, flashcards, and more, CompuCram's goal with all students is to help you pass your exam the first time with no retakes.
One aspect of the CompuCram platform that we loved is its full compatibility with mobile devices and tablets. This means that you can take advantage of study tools like Vocabulary Practice Testing as well as Simulated Exams without sitting at home on your computer. But how else does this test prep company ensure that you feel prepared for your licensing exam day?
It all comes down to their subject-focused tracking and dashboard:
Within your CompuCram account is a list of the different steps you need to take in order to complete the course. First is a pre-assessment exam that measures your initial readiness prior to the course. After that, this course guides you through review sections that are modeled after the different categories you'll see on your actual exam (ie Property Ownership, Land Use Controls & Regulations, etc.).
Your progress and performance are recorded on these categories and the results are displayed in an overall meter at the top of the screen. Similar to a speedometer in your car, this dial will continue to climb as you proceed with your study guide and indicates when you are ready for the real deal.
Take a look at their site and you'll see hundreds of satisfied customer reviews— they even include reviews that are specific to a certain region or course on each of their respective pages. This confidence is clearly a result of a solid exam prep foundation, which we definitely can attest to from our time with CompuCram.
However, the downside is that this company offers limited availability for professionals who want to gain certification in key states. If you live in Alabama, Maryland, or Nebraska— you're out of luck!
Bottom Line
CompuCram is an incredible value with a clear and effective approach to helping you pass your Insurance Exam. In addition to a fully featured course that provides you with progress tracking as you go, it's worth taking a final moment to note the appealing price point of CompuCram's Insurance Exam Prep, as practically any course option will run you less than $100. We definitely recommend taking a look at CompuCram's offerings if they offer something that applies to your state.
---
3. Kaplan Financial Education Property and Casualty Insurance Classes Review


Kaplan's family of educational and exam prep packages are a standout within many different fields of study, and their Property & Casualty course catalog is yet another instance of their impressive track record. There are many different types of students with different budget levels and learning styles; hence, Kaplan's platform and study materials adapt to these different students and their needs.
While the specific details of your package may differ depending on your state of enrollment, you can expect to be able to choose between 4 different package bundles. Essentially, the biggest differences between these boil down to how you prefer to study and receive lecture content: self study vs. live online prep.
Kaplan also has separate study materials on offer in digital or physical format, such as a property and casualty License Exam Manual (LEM) and a State Law Supplement book which also includes a multiple-choice review at the end of the text. They've even developed a library of online study tools to help keep you on track throughout the process.
Kaplan continues to help you feel secure as you prepare for your licensing exam by providing you with important milestones. Checkpoint Exams test you on key concepts in a manner that is similar to the real thing. Lastly, there are Certification Exams which must be passed in order to take the state exam, these are included with all state packages.
Bottom Line
While Kaplan's educational services are exceptional, they're a little more spread out than the top rated options. And although this can allow you to have a higher level of customization within your exam prep, it will cause you a bit more hassle than just going for the no-fuss options from CompuCram. Still, Kaplan is a great way to get some extra side study tools if you need just a bit more help!
---
4. NRS/A.D. Banker Property and Casualty Insurance License Course


With a slightly limited catalog than the other listed courses, NRS still has something to offer you when preparing for a career selling property & casualty insurance. Additionally, the need to sign up for an account with a separate site before even viewing their insurance pre licensing course catalog is somewhat concerning. But once you do, you'll have the following options: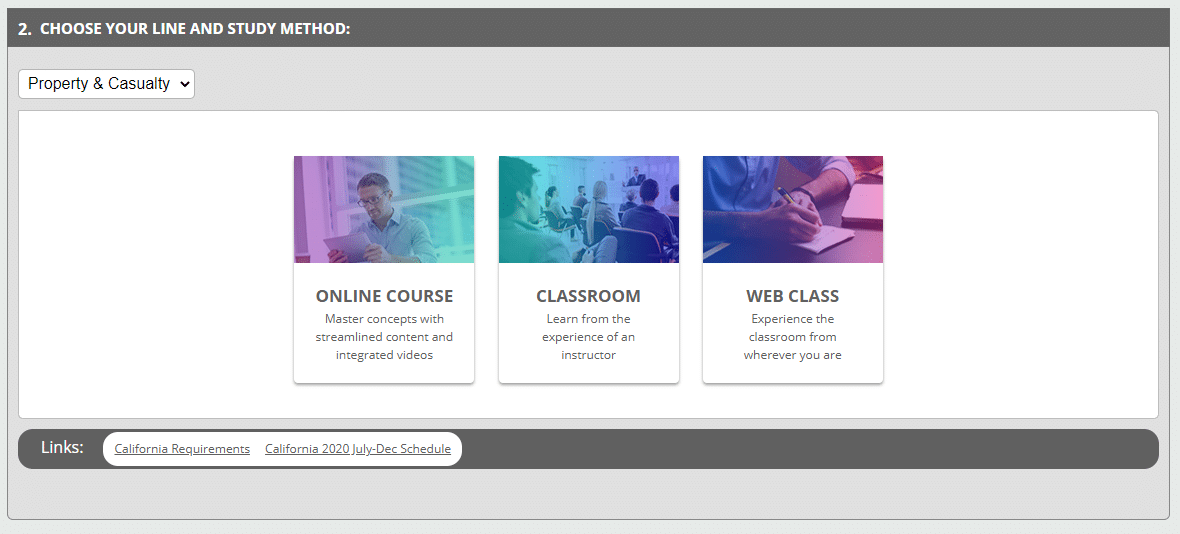 Online Course:

This option provides you with practice exams, practice questions, a pass guarantee, mobile compatibility, and the choice of flashcards for an extra fee.

Classroom:

Depending on your state and city, you might be able to attend physical classes for a traditional learning experience if you book a specific date. You can add on extra practice exams or flashcards for a higher price.

WebClass:

Essentially an upgraded version of the Online Course with live instruction from a professor with personal insurance experience. Much like the physical classroom option, you'll need to book a specific date ahead of time.
It's important to also keep in mind that NRS' offerings also have a heavy focus on Continuing Education. While this may be useful to you in the future, it can make it confusing to differentiate their catalog offerings— especially when considering the need to sign up for an account just to access half of them!
Bottom Line
While NRS and A.D. Banker provide a combined catalog with decent content, it takes a lot of work for a student to hunt down the specific course they need to get started with their pre licensing prep. And when evaluating these prep courses based on their effectiveness and ease of use, this is a big deal. Unless you're interested in continuing education, consider using ExamFX instead to save yourself a lot of headache.
---
5. WebCE Property and Casualty Insurance License Classes

WebCE is mainly focused around continuing education, much like the last pick. However, it has a more refined presentation that's much easier to navigate— seemingly at the cost of its library of courses.
While their materials are a bit limited compared to ExamFX, the option to listen to all of their lessons with included audio tracks is a welcome feature. The overall look and feel to their content is light and fun with a cartoon aesthetic at times. The pricing for their courses is pretty low overall, though we recommend paying just a bit more for one of our top picks.
Bottom Line
While we loved the simple and fun feel of WebCE, we felt that their courses weren't quite as in-depth when compared to our other top choices. However, people looking for a lower cost and lighter feel to their exam review would be well-suited.
---
Property and Casualty Insurance License Classes Frequently Asked Questions
Have any nagging questions about your licensing exam or casualty/property insurance in general? Check these answers and put your mind at ease:
❓How will I know what will be on the Property and Casualty licensing test?
Insurance test providers in each state will publish an outline of the exam content that also breaks down the exam into the subjects that were integral in forming these test questions. This outline is made available on the state provider's website and in the Candidate Licensing Handbook.
❓How long does it take to prepare for the Property & Casualty Insurance exam?
Everyone is different, but it typically takes anywhere from a few weeks to a few months to fully prepare for this exam.