While it isn't a fun topic to have to think about, everyone has to make arrangements for their passing at some point. Establishing your will and/or trust will ensure that all you've worked for is distributed to their friends and loved ones in a way you see fit.
To the average person, however, this process can be extremely confusing and stressful. Luckily, we've done the research for you to make the process of seeking out the best online will makers much easier:
After taking the time to evaluate the best choices we could find online, we've provided a guide below that will help you to decide on the best possible route to obtaining a will or trust. At the end of the day, it's your life and your family— staying informed on these topics is important for the future.
Wills Vs. Trusts
Before we jump into the list of providers and starting throwing pros and cons your way, we wanted to provide you a quick reference:
What is a Will?
A will is a document that goes into effect after you have died. Also known as a last will and testament, this document allows you to do the following:
Name new legal guardians for kids and pets.

Specify where your assets will go.

Designate final arrangements.
You can also establish a living will, which sometimes have a bit of confusion around it. A living will is a version that goes into effect while you're still alive but unable to make sound decisions.
What is a Trust?
Unlike a will, a trust goes into effect while you're still alive and capable of making decisions regarding your estate.
A few pieces of information:
Trusts allow you a greater level of control over how your assets are dispersed.

They allow you to apply to any assets held within that trust.

They can come in different types and forms, including a

living trust

.
Now that we've refreshed ourselves, let's break down the best online will and trust services available to you:
---
#1 – Trust & Will (Review)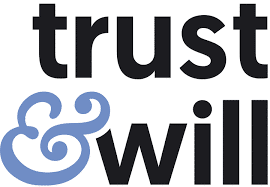 Trust & Will is an online service provider that helps users with their by providing estate planning documents and information. They offer documents like will and trusts as well as Nomination of Guardians. This company is primarily dedicated to providing document services, but they also provide educational resources and articles on their website to help you with estate planning and considerations.
Trust & Will has three different core offerings: Guardian, Will, and Trust. The pricing for these options varies based on your individual needs, which is a nice way to ensure that you can fit this service into your budget. Trust & Will also has an entire section of their site dedicated to learning resources, so you can brush up on a variety of topics before making an informed purchase.
One particular feature that really stands out is their intuitive process of product selection based on your individual responses. By simply clicking "Get Started" on Trust & Will's site, you'll be taken to a page that asks you which specific legal forms and documents you need to create. From there, your pricing and product recommendations will be tailored to your responses.
Keep in mind that Trust & Will's products aren't a complete replacement for legal advice. This means you may still need to review these documents with a law firm or legal professional, which can add to your estate planning expenses. However, for a service that you can use on your own without any professional level of experience, the level of personalization is truly impressive.
Trust & Will Frequently Asked Questions
Here are answers to some common questions people ask about Trust & Will:
❓How long does it take to create documents with Trust & Will?
The process is fairly quick. Trust & Will states that the average time to complete a Guardianship form is 5 minutes, and the average time for Trust and Will document completion is approximately 10-15 minutes. 
❓Does Trust & Will have a refund policy?
Yes! if you're unsatisfied with your purchase, you may get a full refund within 30 days of purchase. See this page for more details.
Bottom Line
Using this online will and trust resource feels better overall compared to other providers. In terms of ease of use, clarity of information, and availability of learning resources — as well as the fact that it's designed to adjust to your specific needs — really makes this stand head and shoulders above the competition. This is far and away the top provider of estate planning software available today.
---
#2 – Rocket Lawyer (Review)


Rocket Lawyer is a company that aims to serve as a one stop shop for all legal matters, including simple will and trust services. Their services are designed to be easy to understand for people of all experience levels. In contrast to the previous entries on this list, you can actually hire an on-call lawyer for legal support through this website.
This company offers a slew of legal services and documents— from having the best online will makers to real estate leases. As previously mentioned, they also enable users to easily connect with actual lawyers for personal counseling. However, one offering stood out as particularly unique: an incorporation page that can help you start your own officially recognized business.
Rocket Lawyer allows you to create legally binding documents at a flat rate per document. Alternatively, you can sign up for a monthly premium membership and receive unlimited documents. Considering that they have an expansive number of legal offerings on hand, this membership can provide further benefits aside from creating your legal wills.
Someone with additional legal needs outside of their estate plan may find Rocket Lawyer to be their preferred option of provider. However, if all you need is access to living trust software, you may prefer a company that specializes in this area.
Rocket Lawyer Frequently Asked Questions
❓How do I know if Rocket Lawyer is right for me?
Try them out for yourself with a free trial and see if they're a good fit.
❓Can I cancel monthly memberships with Rocket Lawyer at any time?
Yes! You can cancel your membership at any time and still access the documents you've already created.
Bottom Line
Anyone in need of multiple legal documents and assistance should absolutely utilize Rocket Lawyer. Their service enables you to create an unlimited amount of documents and connect with lawyers should you need any guidance in your endeavors.
---
#3 – Legal Zoom Will Review


One of the most popular and best online will makers is LegalZoom. You've probably seen their commercials before or heard about them from other people— but did you know that they also have online estate planning software?
When visiting their site's Estate Planning section, you can see a variety of services on offer. These range from living trusts and wills to establishing an iron-clad last will and testament online. They even offer resources that allow you to delegate a financial power of attorney when settling your estate.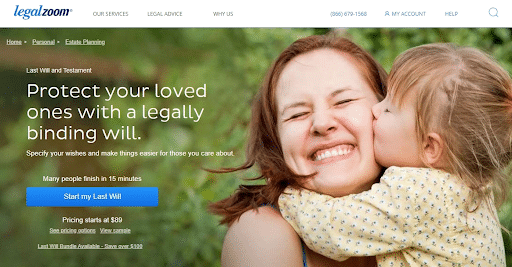 In order to provide these products in the most convenient and least stressful way possible, LegalZoom provides all important processes entirely through their secure website. And to ensure there's no unwelcome surprises, they make the estimated time of completion and price range for each service clear from the very start.
Although this company has a lot to offer you when it comes to your estate plan, there are some unfortunate drawbacks that keep it from being one of our top picks. For starters, many of their offerings are also available online through Rocket Lawyer at a fraction of the cost— especially if you opt for their monthly subscription. Additionally, the fact that they aren't focused entirely around this niche means that they're simply not able to provide the same attention to detail and fast turnaround time that you would get from Trust & Will.
LegalZoom Frequently Asked Questions
For more info on LegalZoom's online estate planning software, here are answers to some of the most commonly asked questions:
❓How much does a will cost on LegalZoom?
LegalZoom offers tiered pricing for creating your last will and testament. The most affordable option is under $90 and covers document creation, attorney verification, security, and a downloadable copy. Higher tiers add extra benefits like power of attorney and bundles with other LegalZoom services.
❓Is Rocket Lawyer better than LegalZoom?
LegalZoom provides a lot of hassle-free legal services, but there are some companies that offer a slightly better deal. Consider Rocket Lawyer if you're going to need a lot of legal assistance for a variety of different needs— they have similar services for a more affordable monthly rate.
Bottom Line
You can do a lot worse than LegalZoom when looking for assistance planning your trust and/or will online. They've got an excellent reputation for a good reason; they provide convenient and easy-to-navigate features that cover an incredibly wide range of legal needs.
---
#4 – NOLO Willmaker and Living Trust Software Review


NOLO has been around since 1971 when they first began publishing do-it-yourself legal guides. Over the past 40 years, they've continued to expand their legal and technological offerings in order to become one of the world's leading legal websites.
So what makes NOLO stand out?
With an approach focused on using technology to serve their customers, NOLO offers legal services on an extremely wide scope of topics— not just Wills and Trusts. In addition to these services, they also help users connect with lawyers and provide a wealth of legal articles on their site.
When it comes to provided services, NOLO really shines with their proprietary Quicken willmaker software. This yearly updated software allows users to create their own documents from their home computer and is compatible for Mac and Windows.
Additional resources available on NOLO's website are particularly impressive. In addition to the ability to purchase the software, NOLO also has a free "Find a Lawyer" directory as well as a full section of legal articles for you to peruse at your leisure. Similar to Trust & Will's site offerings, there's a clear desire to educate as well as serve the user from NOLO.
Like Trust & Will, this website offers a quiz that helps you decide on which documents you should complete. However, NOLO locks this quiz behind a paywall, which is frustrating if you're simply looking for legal information. Additionally, their Find a Lawyer tool only puts you in contact with existing legal firms and law offices without offering any specific rates— which can result in a big hit on your estate planning budget.
NOLO Frequently Asked Questions
Here are some of the biggest questions about NOLO with factual answers:
❓What documents do I need to be able to use NOLO's Willmaker and Trust Software?
Quicken Willmaker incorporates a "Document Quiz" that asks you a handful of questions. Based on your answers, the software then recommends documents to complete.

Bottom Line
With a tech-savvy, comprehensive offering that will satisfy all of your document needs for a low rate, NOLO seems like a no-brainer. It's not the best option available, but it's got a great deal of helpful tools and resources that make it worth your time.
---
#5 – Avvo Online Will Maker(Review)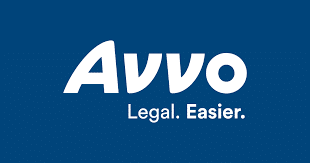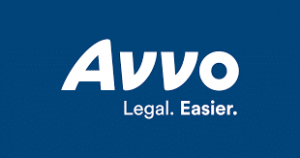 Avvo is a company that believes informed people make better decisions. To that end, their goal is to provide you with a place to easily connect with legal help and learn more about legal topics online.
Unlike the other options so far on this list, Avvo is not trying to sell you anything on their site or actually helping you complete documents. Instead, you'd be looking for a legal professional using their highly versatile online search function.
Using this, you can quickly search by practice area, city, state, or legal topic.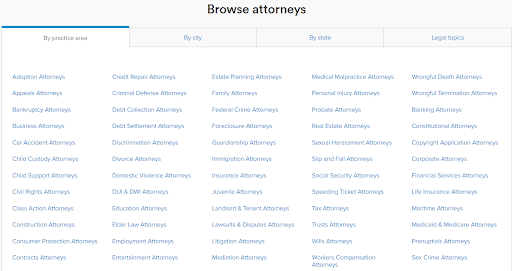 In addition to their excellent search functionality, Avvo includes the ability for users to ask specific legal questions. They can also read in-depth guides with information on a number of legal topics, including estate planning for businesses and individuals. In fact, just about everything Avvo has to offer is free, including the initial consultations for the lawyers. The only costs you would need to worry about would be that particular lawyer's fees if you decide to follow up.
Unfortunately, you can only get so much out of the free resources provided online through Avvo. Yes, they can get you in touch with an attorney and schedule a free consultation— but what about the follow up costs? In this case, you'd be better off with Rocket Lawyer's affordable monthly subscription. And if you just need to have some estate planning documents filled out, Trust & Will offers a much better service at an affordable rate.
Avvo Frequently Asked Questions
Here are some answers to the most significant questions regarding Avvo:
❓Does Avvo have mobile access?
Yes! You can use Avvo on mobile devices when searching for lawyers or more information regarding legal topics.
❓Is Avvo user-friendly?
Avvo's search functions and site are presented in a manner that is conducive to a pleasant user experience.
Bottom Line
While fundamentally different and ultimately more limited in assistance offered compared to the earlier providers on this list, Avvo is a great resource for those seeking professional legal assistance online, or looking to fill their mind's appetite for legal information.
---
#6 – ABA Connect by The American Bar Association (Review)


The American Bar Association (ABA) is a nationally recognized organization that seeks to educate and connect people with their legal needs. The ABA website offers users a member directory in addition to online self-assessment tools. They also sell books concerning a multitude of topics. However, the most relevant free resource currently available is their Trusts and Estates subsection.
One exclusive feature provided by this website is ABA Connect, a social networking tool for legal counsel. This service is complimentary for lawyers and law students. However, individuals who aren't working in the legal field or are pursuing a legal career as a student will need to pay yearly membership fees to access most of their features— including access to their online Real Property, Trust and Estate Law resources.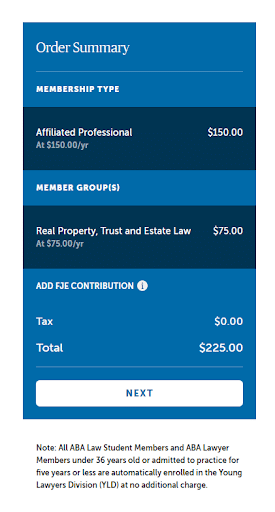 ABA Frequently Asked Questions
Here are answers to some relevant questions asked about the American Bar Association:
❓Does American Bar Association offer additional study materials?
Yes, you may purchase books individually on their website in addition to the resources provided with membership.
❓Does American Bar Association offer a money back guarantee?
Unfortunately, no. However, the ABA provides (limited) complimentary membership on their website.
Bottom Line
The American Bar Association is a useful study and reference tool. When it comes to preparing official estate plan documents online, it's not going to be a better choice over a company like Rocket Lawyer. However, it's great for access to academic-level expertise that will help you learn the right questions to ask and the right forms to fill out.
---