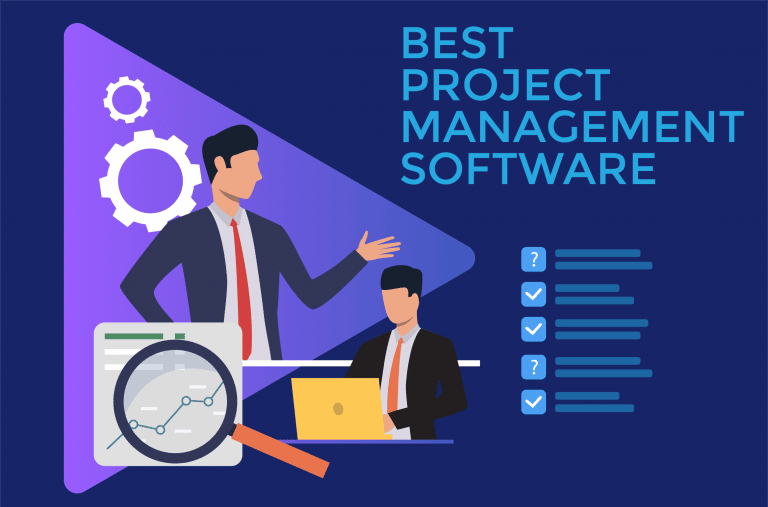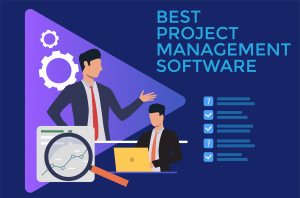 Finding the best project management software is a daunting process when there are hundreds of different options, online tools, and apps available: both free and paid.
Whether you are just starting out or are an experienced project manager, let's face it: we all struggle with project constraints and need the top project management software that will help us throughout the project, from concept to reality.
A majority of experienced project managers vouch for eliminating half of their project management tools as insufficient and incapable of dealing with complex projects.
While there's no single project management software, tool or app that can truly be considered as the only solution for every kind of project, every tool is designed to accommodate a specific industry and the complexity of its projects.
Ultimately, the major purpose of all project management tools is to give a visual representation of the project from start to finish — and help project managers assign resources, schedule, set goals, estimate cost, manage, and generate reports.
The 5 Best Project Management Softwares in 2023
To make your life easier, we have reviewed and compiled a list of the top 5 best project management software for small, medium, and enterprise-level projects and businesses.
The list will hopefully help you take a better decision in choosing the right project management, task management or collaboration software for your project or business.
1. Hubstaff Tasks Project Management Software Review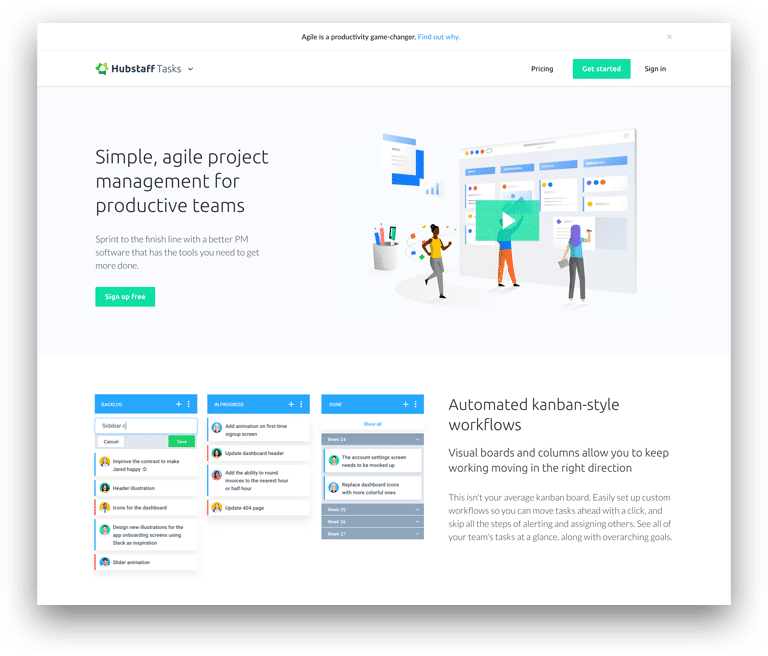 Hubstaff Tasks is the ideal project management solution for teams looking for a way to organize work and get things done more efficiently. Hubstaff Tasks breaks down complex projects into smaller, actionable tasks. It simplifies monitoring the progress made by teams, and streamlines the flow of work.
Hubstaff Tasks' main feature is automated, kanban-style visual workflows. It lets you create checklists within tasks, label cards with tags and colors, and easily see who is currently working on and involved in specific projects or tasks. Team members are automatically notified when you mention them in comments or assign a task to them, so they don't miss any work. You can move projects forward with one click.
Since Hubstaff Tasks was built with Agile methodologies in mind, it uses sprints so you can view what your team is currently working on, tasks they have planned in the future, and tasks they have yet to accomplish.
Hubstaff Tasks is designed to integrate with Hubstaff, a time tracking and productivity solution. Easily keep track of the hours spent working on specific tasks assigned to you in Hubstaff Tasks, so you can focus on finishing work rather than timekeeping.
Hubstaff Tasks Features:
Kanban-style boards and tasks
Agile methodologies and sprints
Collaboration, comments, and file sharing
Visual aids: Checklists, progress bars, and labels
Integration with Hubstaff
Hubstaff Tasks Pros:
Provides an effective visual approach to project management
Automatic notifications when assigning and adding team members to tasks
Agile features let you plan sprints for focused work
Hubstaff integration lets you maximize your productivity
Unlimited storage
Hubstaff Tasks Cons:
No desktop app
Free plan only supports up to 5 users
No reporting feature
Only integrates with one time tracking app
Colors are not customizable
Bottom Line:
If your team uses Agile methodologies to get work done or prefers a visual approach to organizing tasks, Hubstaff Tasks is one of the best options out there. It has several features that support projects from start to finish without overwhelming its users. Hubstaff Tasks lets you view project statuses at a glance, and makes collaboration between teams seamless.
---
2. Wrike Project Management Software Review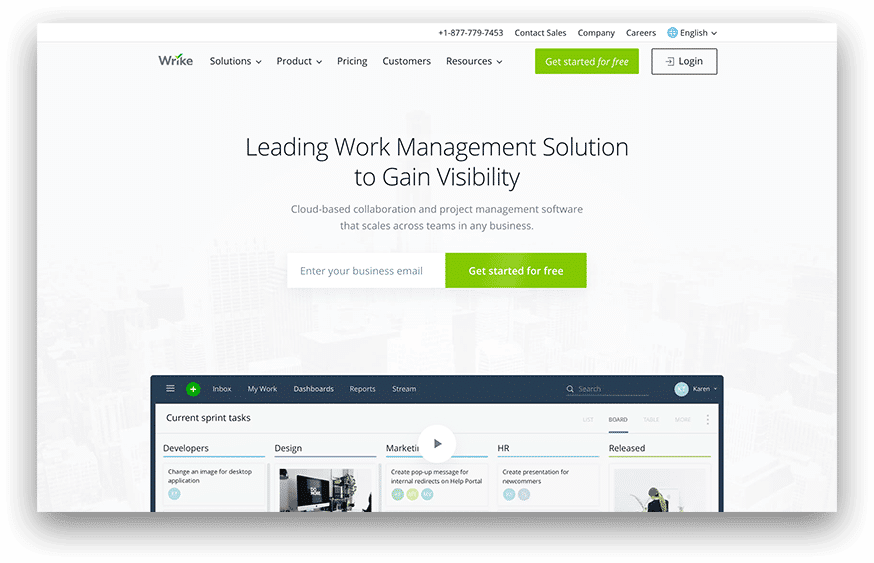 Wrike is the perfect solution for midsize and enterprise level companies.
The options, flexibility, functionalities, and integration of Wrike make it a favorite tool of project managers, product managers, program managers, marketers, and creative teams.
Wrike proudly considers itself among the best options for online project management software. Its desktop application recently won commercial innovator of the year at the Windows developer Awards in 2018.
Wrike is one of the few project management tools that allow team members the option to customize workflows and let them work the way they want to.
The most powerful features of Wrike is its integration with various applications and services, ranging from email services like Gmail and Outlook to mobile and desktop apps, CRM, CMS, accounting and invoicing, customer support, social– the list goes on!
Wrike Features
Budget and resource management
Kanban board
Time, cost, and expense tracking
Milestone and status tracking
Agile methodologies
Wrike Pros
Support for unlimited projects
Customizable reports, working hierarchy, and dashboards
Seamless integration with major apps and services
Collaboration and communication made easy among teams and clients
Availability for both Windows and Mac and native apps
Wrike Cons
Too many features can be intimidating
Steep learning curve of the application
Notifications can be overwhelming
Arranging projects in folder/tasks/subtasks can be challenging at times
Interface needs improvement with the addition of colors and labels
Bottom Line
If your organization is a fan of David Allen's GTD (Get Things Done) philosophy, then Wrike is the project management and work management solution that you need to look into.
It's intuitive UI interface and its ability to organize projects, sync email and calendar, receive instant notifications and live project updates, add videos and documents, and so much more, make Wrike a top competitor for work management software. Go to Wrike's website here.
---
3. Quire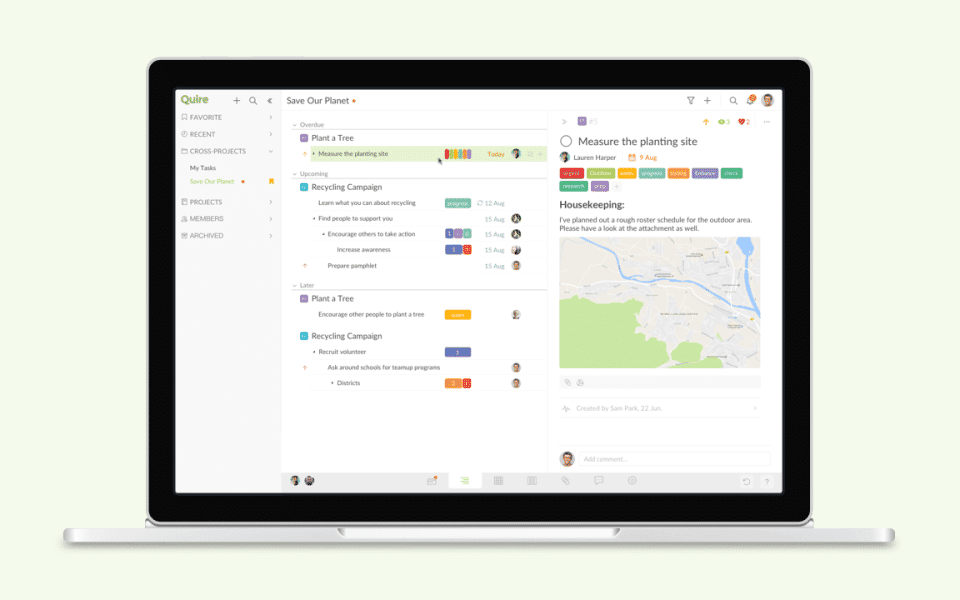 Price: FREE
Free Version: Yes
Installation: Desktop, Web, Android, iOS
Project tracking: Yes
Storage: 200MB/Organization
Main Features: Project Management, Agile Methodologies, Business Management, Project Tracking
Users: 100,000
Homepage: https://quire.io
Quire is a cloud-based project management software for creative teams to collaborate and get things done efficiently. Quire main features include an infinite hierarchical task list, visual Kanban board, a wide range of collaboration features and integrations.
If your team has been working with a whiteboard with sticky notes for a long time, Quire exceptional Kanban board is a perfect option. Unlike other project management platforms, with Quire, you can tackle your projects and get focused with both Kanban board and nested task list as a perfect duo.
The best thing with Quire is, you can switch between nested task list and Kanban board at anytime to get the best of both worlds. Quire is one of the very few, if not saying the first project planning platform allow this.
Quire Features
Nested Task list: Breakdown big tasks and organize with structured list.
Kanban Board: Focus on selected crucial tasks in a short period of time.
Schedule: Set start date, start time, due date, recurring date for a task to track the process.
Project Template: Save time – duplicate a project or task to use as a template.
Reports: A visual overview of how well each of your projects and members is performing.
External Team: Outsource your tasks and assign to third parties without them seeing everything on your projects.
Integrations: Github, Slack, Google Drive, etc.
Quire Pros
Interchangeable infinite nested task list and Kanban Board
Comprehensive collaboration features including multiple assignees and scheduling.
User-friendly and minimalist interface.
Cross-platform operations: iOS, Android mobile apps
Smart search feature to locate every piece of information.
Quire Cons
Lack of various theme options
No built-in chat (can use task-based comments are updated in real-time instead)
Quire Pricing
Bottom Line
If your team is looking for a powerful project management software that makes work easier and more productive, Quire can be the platform for you and your team. Quire helps team members collaborate more efficiently, communicate and track tasks without a steep learning curve. With all of the available features, Quire can be a real asset for your team.
---
4. Microsoft Project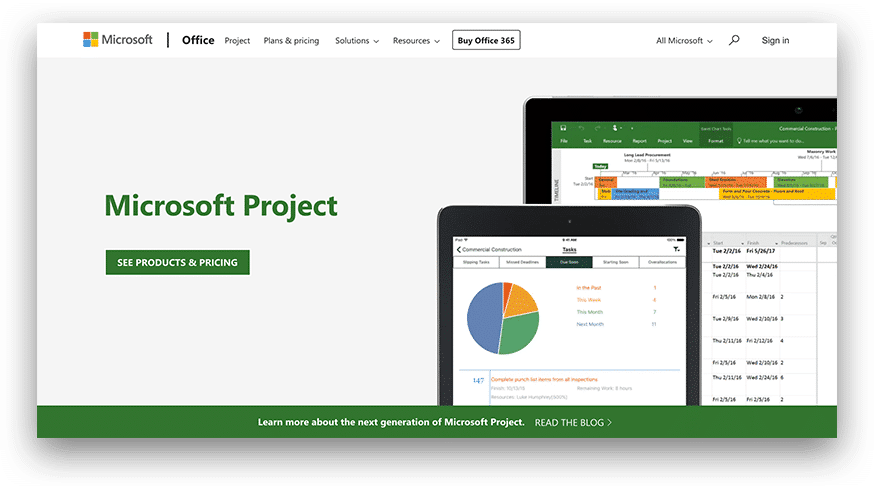 Microsoft Project is the ultimate solution for project management, portfolio management, and resource management. It remains the favorite tool of team leads, project managers, executives, and decision makers.
MS Project evolved from a stand-alone on-premise option to cloud-based integration via Microsoft Office 365 project online professional edition.
The cloud feature enables cross-functional teams to collaborate effectively and work efficiently to assign, monitor, and prioritize tasks and manage projects from anywhere.
If you are using Microsoft Office suite in your projects or business, that's where Microsoft Project really shines, thanks to its seamless integration with Office suite.

It takes everyday team collaboration to the next level, by allowing users to easily share relevant project information with teams via MS PowerPoint or Excel. Users can also share and save project plans to Office 365 or SharePoint.

MS Project 2020 is the latest version of Microsoft Project and is compatible with Windows 10.
Microsoft Project Features
Budget and resource management
Task management
Milestone tracking
Gantt charts
Collaboration
Microsoft Project Pros
Plan, track, and manage projects easily regardless of size and complexity
Decision driven actionable and customizable reports
Integrated templates saves time
Native Office suite integration makes team communication useful
Cloud integration enables collaboration more effective
Microsoft Project Cons
It's very expensive
It's not a cross-platform solution
It's difficult to learn all the features of the software
It's not available for Mac users
It's developed for more experienced users
Bottom Line
Microsoft Project comes with all the bells and whistles for project management.
Within the hands of a knowledgeable and an experienced project manager, it's one of the most powerful tool for planning, tracking, and managing any size of project.
A few things must be considered before choosing Microsoft Project as your project management tool for managing your projects or business:
You must have an experienced person to run the software or an infinite time to let them learn the ins and outs of the software.
You must be running Microsoft Office suite in your business for seamless project communication and collaboration among teams.
You must have sizable and complex projects and the will to pay extra, as full features and cloud integration can be quite expensive.
---
5. Asana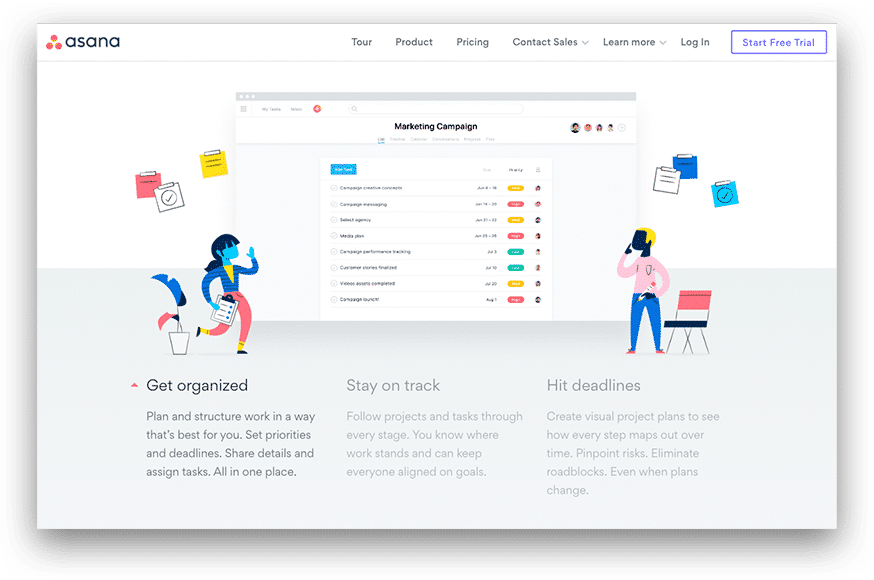 Asana is an excellent work management tool for teams with multiples projects served from a single place. Whether you are a startup, medium business or an enterprise, this program will help your team plan, organize, and deliver projects successfully.
Asana's visual interface lets everyone on the team knows who's doing what and when. It enables users to add sticky notes, checklists, and to-do lists, thus completely eliminating paperwork from your office environment.
Asana breaks down entire project into small manageable chunks for team members to identify their workload, tasks, and critical deadlines. At the same time, it reveals the bigger picture of the entire team's progress and project status to managers.
This project management software can help team members organize all of their work, update, manage, and track their tasks, set deadlines, collaborate, and communicate with teammates on tasks and projects.
Asana Features
Agile methodologies
Idea, budget, resource management
Kanban board
Milestone, time, expense tracking
Client portal
Asana Pros
Intuitive UI
Feature rich
Multiple integration
Single location for entire project
Customizable according to requirements
Asana Cons
Steep learning curve
No messaging service
Poor reporting
Overwhelming for new members
Messy tasks and subtasks
Bottom Line
Asana is an amazing collaboration, communication, task, tracking, work, and project management app. It helps team member organize their projects in the calendar, list, and Kanban boards and enables the project manager to see a bird's eye view of the entire project.
---
6. Trello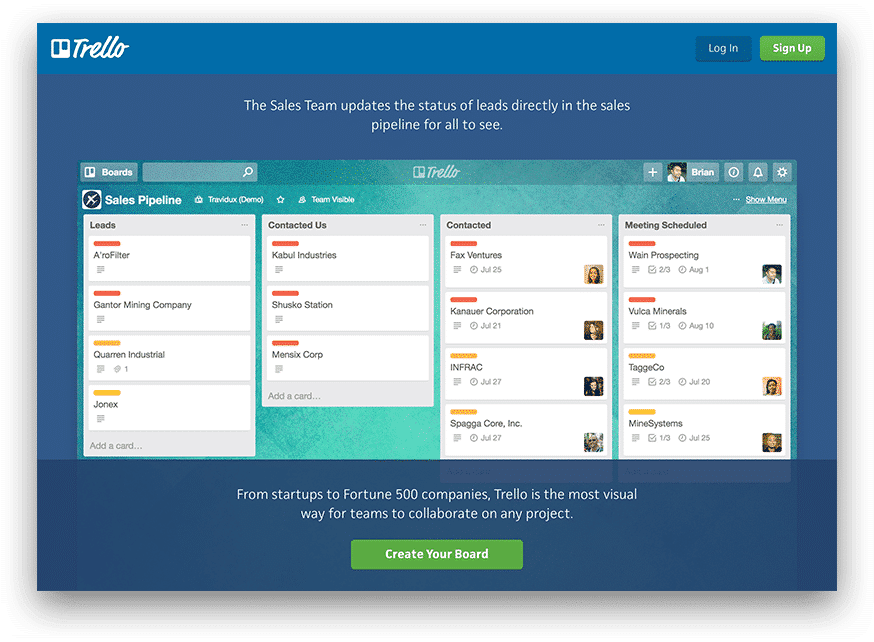 Trello is a feature rich web-based project management app. It's an ideal project management tool for freelancers, individuals, small teams, and business.
Trello offers digital boards for teams to collaborate visually on projects; its intuitive design and flexible workflow allow team members to assign, organize, and manage tasks.
The boards allow team leads and managers to set deadlines and monitor overall progress of activities, tasks, and workflow on all projects, bringing the entire team on one page.
Since Trello is a freemium application, the free version offers limited functionality while the paid version is a powerhouse for teams and organizations: it offers integration with unlimited applications, tools, and softwares.
Each card on a Trello board allows a shared perspective to the entire team. Cards can be dragged and dropped, labeled, color-coded, and archived.
Checklists can be added; ideas, suggestions, and queries can be shared as a comment; and a team member can be mentioned in the comment and they are notified instantly within the app through mobile and desktop notifications.
Trello seamlessly integrates with 100+ top applications and is available for desktop, android, and iOS devices. Notifications sync across all devices with a breeze.
Teams that follow Agile methodologies should definitely start using Trello. However, it's not limited to Agile software and web development teams — it's flexible and adaptable workflow make it equally useful for marketing, sales, HR, and support!
Trello Features
Kanban boards
Idea, task, resource management
Collaboration
Agile Methodologies
Milestone, time, expense tracking
Trello Pros
Intuitive UI
Feature rich
Easy to set up and learn
Multiple integrations
Team collaboration
Trello Cons
Overwhelming for new users
Clumsy search feature
Cards updates can be time-consuming
Messy for large projects
UI needs an overhaul
Bottom Line
If your organization is lost in spreadsheets and endless email threads, suffers from a lack of productivity, constantly falls short of activities and tasks, and misses important deadlines, then you need to look into this visual collaborative tool.
Trello will help your organization achieve its strategic goals by providing a clear picture of the entire project to everyone on the team, allowing everyone to be on the same page.
---
7. Basecamp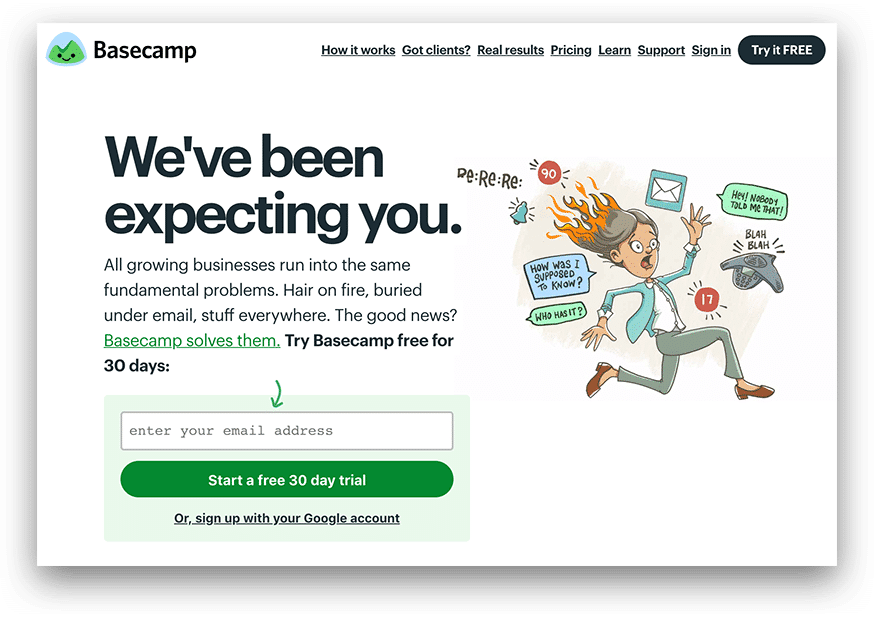 Basecamp is the best project management solution for freelancers, solopreneurs, entrepreneurs, and small to medium-sized business teams.
It doesn't have all the awesome project management features that competitors like Wrike or Microsoft Project offer; therefore, it's more of a task management tool.
Transparency is at the core of creating projects in Basecamp; team members knows their roles, responsibilities, tasks, and deadlines. Consequently, nothing gets through the cracks, as the entire team knows what's going on in the project and who is working on specific tasks.
Basecamp Features
Tasks, document, and calendar management
Chat, messaging, and discussion threads
Client portal
Collaboration tools
File sharing
Basecamp Pros
Simple pricing
Intuitive and simple UI
Better coordination and collaboration
Transparency and accountability
Smooth communication
Basecamp Cons
Lack of resource allocation
No Gantt chart
No reporting
Limited project management features
Lack of time tracking and progress feature
Bottom Line
If your organization is tired of endless email loops and is looking for a more robust way to get things done – A place where the team can assign, manage, track, and monitor tasks, upload files, discuss, and collaborate on internal and clients projects — then Basecamp is your best bet, as its one of the most effective collaboration apps for the price.
Now it's your turn, what tool or app or software would you recommend to be the best project management software? Let us know below in the comments!