Real estate is one of the most sound investments that a person can make. After all, people will always need a place to live.
But even if you aren't able to buy a house, there's another way you can invest in real estate— through your career.
If you obtain your real estate license, you can begin helping people to find the home of their dreams while making a living. But each state has different laws and requirements regarding real estate, and the Texas Real Estate Commission is no exception to this.
However, whether you're a current resident of the Lone Star State or an ambitious professional looking for the next emerging market, Texas is a fantastic location to start your career as a real estate agent. So check out our list of the best Texas real estate schools and take the first step towards your real estate license exam today!
The Best Texas Real Estate License Prep
---
1. Colibri Real Estate for Texas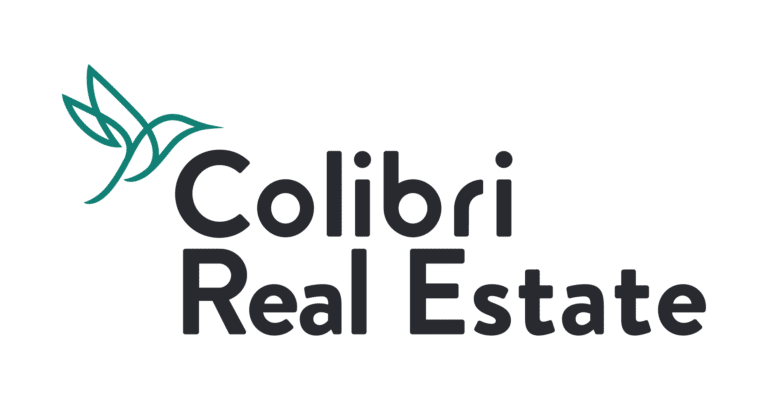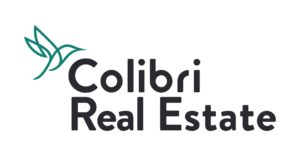 Colibri Real Estate has earned a stellar reputation by helping thousands of professionals obtain their real estate license. They've helped people earn their Texas real estate license in areas including Austin, San Antonio, Fort Worth, and Dallas. This real estate school is also accredited by IDECC and ARELLO— which means it meets the standards set by both online real estate schools and educators.
Course Details
Colibri Real Estate takes the middle ground between online learning and a traditional classroom experience. If you're someone that needs access to study materials on the go but also likes to learn by reading textbooks, then this is a good fit for you. What's more, they also allow you to learn the art of real estate from practicing agents.
You'll receive 3 eBooks covering key real estate topics as you progress through the required 6 Texas courses included in all packages. There's also a total of 90 hours of SAE courses, a real estate dictionary, and instructor support in case you run into any difficulty along the way.
Colibri Real Estate also has a Pass or Don't Pay Guarantee in most of their packages, so you can study without worrying about wasting your money on failed attempts.
Colibri Real Estate Features
6 Required Texas Courses
3 eBooks (Print versions also available)
Online Practice Exams + Exam Prep
90 hours of SAE classes
1 year of professional development
Pass or Don't Pay Guarantee
Colibri Real Estate Pros and Cons
Pro – Pricing: Colibri Real Estate isn't just our top choice for their course content. They also have the best prices across their bundles. With the option of affordable options or slightly more expensive premium bundles, you'll be able to find and afford whatever level of education you need.
Pro – Instructor Support: Regardless of which package you choose, you can count on having instructor support for topics or questions you may be experiencing difficulty with.
Con – Limited Guarantee: While Colibri Real Estate has a Pass or Don't Pay Guarantee on almost all of their course bundles, this is not included in their Basic Package. Be aware of this limitation before enrolling.
Bottom Line:
We recommend Colibri Real Estate as our top option because of their commitment to getting you the necessary information at the right value. Their content is designed with the student in mind.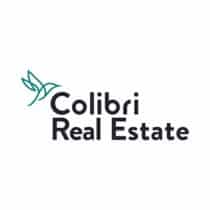 Colibri Real Estate: $205 Off Ultimate Learning Course
83 uses today
Last Used: 1 days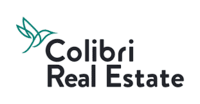 Colibri Real Estate: $182 Off Ultimate Learning Course
21 uses today
Last Used: 18 hours
---
2. Aceable Agent Review Course


Aceable Agent is a quality online course for obtaining your real estate license in Texas. This is not as robust as our top two picks, but does have the advantage of being totally self-paced, so it can work around your busy schedule.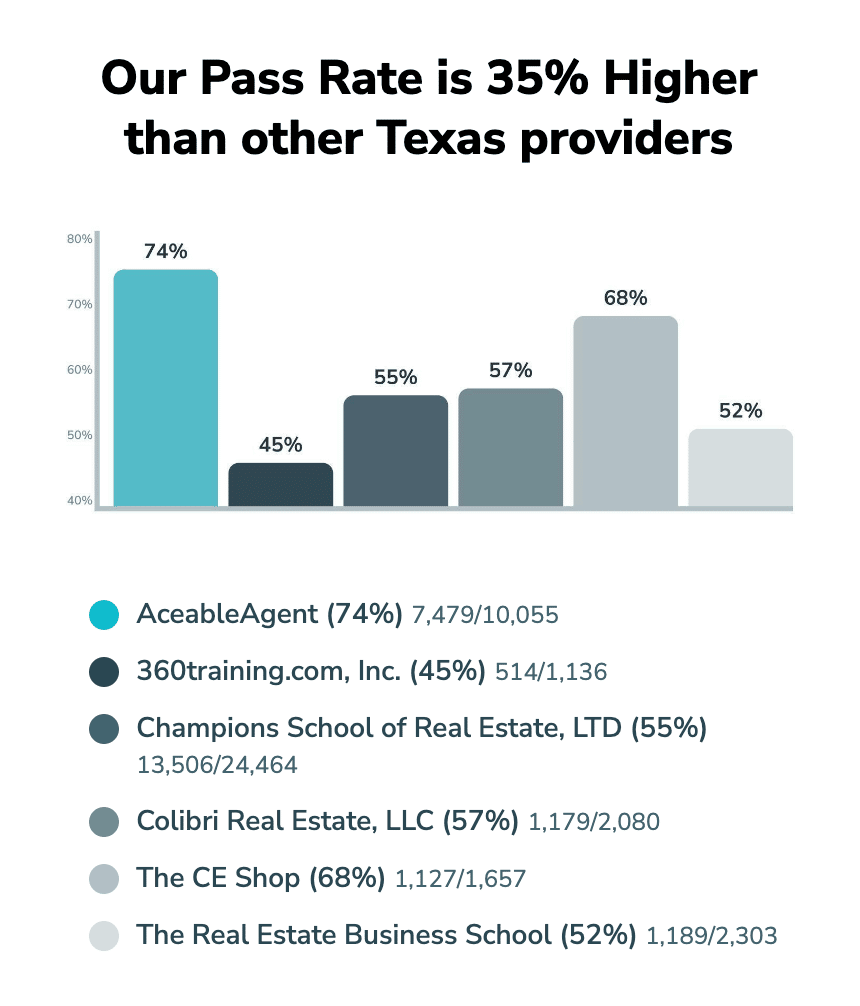 Essentially, this online real estate school has a lot in common with CompuCram, albeit with some noteworthy differences. For example, you can speak to a team of real estate veterans for extra help on topics you may have trouble understanding. You don't often see this level of instructor feedback with other self-paced online courses, so it's a welcome addition here.
The interactive learning portion of their platform will throw multiple choice and open answer questions your way to make sure you're ready for the exam. When you consider the fact that Aceable Agent has a 78% pass rate and glowing reviews from their students, it's clear that their unique approach to real estate school is worth checking out!
Bottom Line:
Aceable Agent is recommended for students that have hectic, irregular schedules. Their course is able to be built around your schedule and will help you meet your requirements to pass your exam.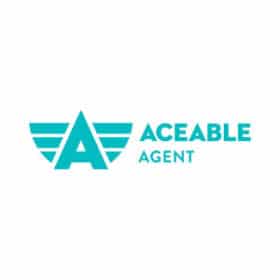 Holiday Sale – $160 Off on Aceable Agent Premium
uses today
Last Used: 1 days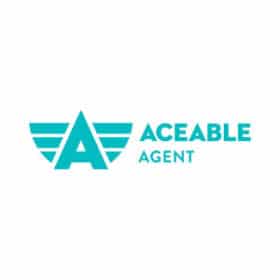 Up to 20% Savings on Aceable Agent Exam Packages
uses today
Last Used: 1 days
---
3. PrepAgent Real Estate Review Course


Are you just looking for a barebones (but still well-made) method for obtaining your real estate license in Texas? Then PrepAgent's online platform may be a good fit— although it's far from the best option available for online real estate licensing.
PrepAgent has a few different package options that are all under $100. While these range in length from 1 week to 1 year, their Premium package is the best value by far. On the other hand, their lowest-priced Basic package lacks videos, audio lectures, and most of the good stuff this online real estate course can actually provide to help you pass.
Deluxe includes audio and video review options as well as interactive flashcards. If you spring for the Premium package, you can watch live and recorded webinars as well as interactive vocabulary worksheets.
Bottom Line:
At what is arguably the best price point on this list, as well as a money back guarantee thrown into the mix, PrepAgent is undoubtedly a strong choice for someone looking for something quick and effective.
---
4. The CE Shop Real Estate License Education

The CE Shop is similar to our top picks, since it provides additional resources that some digital-based Texas real estate license schools don't. That said, it's not as impressive as Colibri Real Estate— but their combination of webinars and online material is interesting regardless.
Let's talk shop.
The CE Shop's online real estate course packages will ensure that you receive your required 180 hours to work as a real estate agent in Texas. They include E-books from industry professionals, digital flashcards, a real estate glossary, and more.
If you're someone that needs (or wants) a little extra help with your career, this Texas real estate school also includes an entire portion of their platform dedicated to career resources. They also regularly host webinars concerning exam subjects that are led by instructors— so you can get some live feedback on specific subject matter before you sit for the licensing exam.
Bottom Line:
The CE Shop is recommended for students that not only want to acquire their license but also plan for their future. Their career resources make them stand out for the pack and their price point is more than fair.
---
5. CompuCram Real Estate Review


CompuCram is different from our top two picks, but they still provide helpful study tools and resources. These include your standard practice tests, but they also have fully simulated exams to help you get acclimated to your real estate license test.
Their course is designed for both the Texas-specific and national portions of the exam. And with an 86.5% first time pass rate among their students, they've clearly gotten it down to a science.
CompuCram is different from Colibri Real Estate and Mbition because they have more modern features. They're tablet, mobile, and desktop friendly— meaning you are covered with any device you might have. They also have progress tracking in the form of their Readiness Indicator and their course pre-assessment. 
Using their progress tracking tools will help you identify parts of the exam curriculum that you struggle to understand or answer correctly. As you complete more of their practice exams and simulated tests, you'll receive more accurate data showing how ready you are to earn your Texas real estate license.
Once you've identified your knowledge gaps, take advantage of CompuCram's additional tools like flashcards and fill-in-the-blank exercises. Then you can sit for the exam knowing that you're an expert in the principles of real estate!
Bottom Line:
CompuCram is designed more as a set of online study tools and self-guided learning. We still recommend choosing Colibri Real Estate over this one, but it's definitely a good fit if you don't need a lot of instructor guidance.
---
6. Mbition Online Real Estate School


Mbition offers licensing education courses to help you realize your ambitions of starting a real estate career. They offer three different packages that will help you meet your real estate licensing requirements; these include some pretty interesting features that you can't get anywhere else, like their Pass the First Time Guarantee and a proprietary MathMaster tool.
Mbition Course Details
In order to get the best possible price available for all of Mbition's real estate license package options, use the promo code Discount15. This will ensure you get their top quality courses with a sweet discount. From there you'll have access to several fully-featured courses that will help you to meet all of the Texas state requirements.
While Mbition doesn't beat out Colibri Real Estate in terms of pricing, they do excel in other ways. For example, they have MathMaster, a specially created program that will help you understand the essential mathematics of real estate. This is especially helpful if you've struggled with math in the past— it's designed to break down all the important concepts and offers detailed answer explanations so you can truly understand it inside and out.
Mbition features:
Texas-specific Pre-license Real Estate Courses
MathMaster program
Real Estate Exam Prep Toolkit
Textbook Bundle
Instructor and Technical Support
Pass the First Time Guarantee
Mbition Pros and Cons
Pro – MathMaster: Mbition provides you with their program, MathMaster, which helps you hone your real estate math skills with ease. This feature alone might be worth the cost of admission if you suffer from math-phobia.
Pro – Real Estate Exam Prep Toolkit: With special topic recordings, tips for studying, and flashcards, this special Toolkit from Mbition will ensure that you are ready to answer all questions related to your region and for real estate in general.
Con – Pricing: It's not that the price points for Mbition's packages are exorbitantly high, but the difference between the highest and lowest packages aren't that far apart. Because of this, you're far better off signing up for the highest-priced package— the limitations of the affordable options outweigh the value you would save.
Bottom Line:
Mbition is a good option if you're looking for a high-tech real estate school. It's also very helpful if you struggle with math, since it demystifies the most important formulas and offers plenty of stress-reducing practice.
---
7. Kaplan Real Estate Texas


No list of online courses would be complete without mentioning Kaplan. This company has been around forever and offers hundreds of courses, textbooks, and other study materials for many different industries. So it's no surprise that they also offer real estate prep, making for a great safety pick.
Kaplan Course Details
Kaplan's real estate courses are divided into three different formats: OnDemand, Home Study, and Live Online. All three are designed to take you through the entire licensing process from start to finish. But if you're interested in getting post-license assistance, they also offer Career Launcher add-ons for all three formats plus an 8-hour course on best practices when starting your career.
Whatever format you choose will provide the same study materials, which includes 6 individual courses, a question bank, textbooks, and exam proctoring. You'll also be able to communicate with your instructor and fellow students during livestreams if you enroll in Live Online, or through an Interactive Study Hub if you choose OnDemand.
Kaplan Real Estate features:
Texas-specific real estate licensing course
Three different course formats containing 6 individual courses
Interactive Study Hub for OnDemand students
40+ video lessons for OnDemand, livestreams for Live Online
8-Hour Real Estate Accelerator career course
Kaplan Real Estate Texas Pros and Cons
Pro – Interactive Education: Kaplan's Live Online package is a good choice if you want to ask questions to your instructor and receive quick answers. However, you can do something similar if you choose their OnDemand package instead, thanks to its Interactive Study Hub.
Pro – Start Your Career: In most cases, your online classes consider their job finished once you get your license. But what about the next step in your career? Kaplan's Career Launcher packages go one step beyond other online real estate schools by actually preparing you for a job in real estate after passing the licensing exam.
Con – Confusing Formats: What's the difference between Live Online, OnDemand, and Home Study? These terms seem more or less interchangeable, but they actually come with a few key differences that are worth noting. You won't get live or pre-recorded video content with Home Study, so I recommend choose one of the other two packages instead.
Bottom Line:
Kaplan is a household name for a reason: they're an established brand that has helped millions of students pass their exams. You can get a lot out of their real estate content, but be sure you actually understand what you're signing up for first!
---
8. Champions School of Real Estate


Although they're pretty low on our list, Champions School of Real Estate is still worth considering for your online education and test prep. That's because they have a convenient catalog of educational content, with a lot of state-specific resources that are especially helpful to Texans.
Champions Course Details
For starters, this is one of the only online real estate schools to also offer in-person classes. And out of the few companies with physical locations, they're the easiest option by far. Whether you're near Dallas, Fort Worth, San Antonio, Austin, or Houston, there's a brick-and-mortar school within reach that's fully staffed by real estate experts.
But if you're just interested in online classes, Champions offers them as well. They have a very affordable standalone exam prep course for just under $150; however, it's missing a lot of content that you could get from Colibri Real Estate or Aceable Agent. Still, it's reasonably priced and would make a good fit for someone who's already familiar with the exam and just needs a little extra help.
Champions School of Real Estate features:
5 Physical Schools in Texas
Affordable Online Classes
Free Exam Retakes for 1 Year
Physical Textbooks and Digital Ebooks
Additional Classes for MLO, Appraisal, and Continuing Education
Champions Pros and Cons
Pro – All In One: If you like your experience with one Champions test prep course or product, you can stick around for the rest of your career. Whether you need continuing education to maintain your credentials, or you're interested in getting new ones in mortgage loans or home inspection, you can find a test prep package on their website.
Pro – In-Person Experience: It can't be understated how effective in-person instruction can be. If you're the type of student who thrives in a traditional classroom, Champions should be your first choice in real estate exam preparation.
Con – Bundles: Like many online courses, Champions has bundled offers that come with licensing, renewal, and helpful extras. However, these bundles are far more expensive than average, even with frequent discounts. These are great resources, but you might be able to save money by shopping around first.
Bottom Line:
Champions is a no-brainer if you want to attend in-person classes for real estate in Texas. They also have great online features for everyone else, although these aren't quite as impressive.
---
FAQs About Online Real Estate Schools in Texas
What are the steps to getting my real estate license in Texas?
To become a Texas real estate agent, you'll need to complete the following:
Take a 180 hour real estate license course that meets TREC requirements.
Undergo a background check through a Fitness Determination from TREC.
After finishing your course, you'll need to pass the exam for your real estate license and then process an application with TREC.
How many questions are on the Texas real estate exam?
There are a total of 40 questions on the exam. In order to pass, you must get at least 21 of these questions right— so each answer has a lot of weight on your total score.
Where do I go to submit my application to TREC once I've completed all 6 pre-licensing courses?
You'll want to go to Texas Real Estate Commission Online Licensing Service and look under "New User," for the option "Begin Here for Sign-Up." Keep in mind that submitting your application online tends to cost a bit less on average.