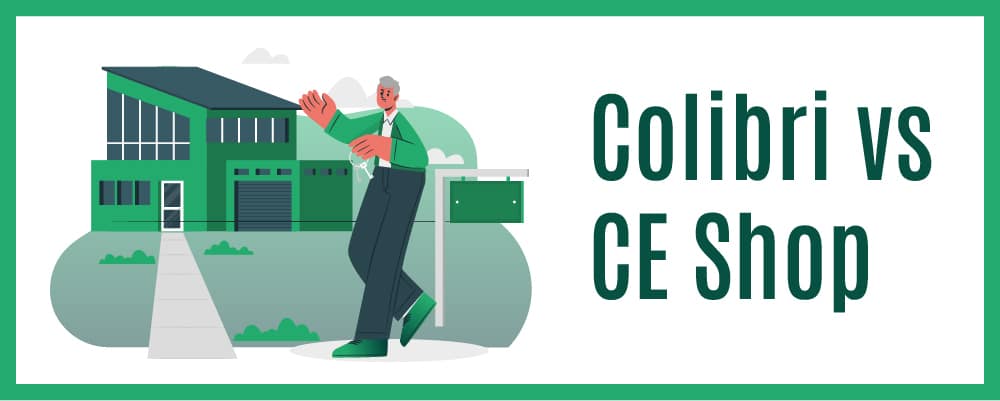 Navigating the world of online real estate education can be a maze. But what if I told you I've been there, done that?
After immersing myself in countless hours of real estate prep, I've zeroed in on two of the best online real estate schools: The CE Shop and Colibri Real Estate (formerly known as Real Estate Express).
Here's an eye-opener:
The market size of the real estate broker industry in the U.S. is projected to be $222.3 billion in 2023, according to Zippia.
Also, with home prices across the United States exhibiting a 3.7% year-over-year increase in 2023, according to Core Logic, it seems like home sales are only going to go up.
With numbers like that, there's no better time to get into the real estate industry.
We're about to embark on a detailed exploration of Colibri and CE Shop to see which is right for you. From unique features to potential pitfalls, I'll share my firsthand insights to help you make an informed choice. Ready to discover which school might just be your ticket to real estate success? Let's dive in!
---
Colibri Real Estate Overview
Colibri Real Estate, an established online real estate school, offers a streamlined process for obtaining a real estate license. Their self-paced courses, crafted by industry professionals, ensure that learners receive a comprehensive understanding of the real estate domain.
User-Friendly Process
Simplicity at its Best: Colibri Real Estate's platform is intuitively designed, ensuring that students can navigate through courses with ease. Every module, quiz, and resource is just a click away.
Advantage: The user-centric design reduces the learning curve, allowing students to focus solely on the content, enhancing retention and understanding.
Self-Paced Course Offerings
Learn at Your Leisure: Recognizing that every individual has a unique learning rhythm, Colibri Real Estate's courses are structured to be self-paced. This ensures that students can delve deep into topics they find challenging and breeze through areas they're familiar with.
Interactive Elements: The courses aren't just walls of text. Interactive quizzes, multimedia presentations, and real-world scenarios ensure an engaging learning experience.
Crafted by Industry Experts
Rich Content: Every course module is curated by professionals who've been in the real estate industry for years. This ensures that the content is not only accurate but also relevant to current market dynamics.
Practical Insights: Beyond just theoretical knowledge, the courses offer practical insights. Students learn the art of negotiation, understanding property laws, and the nuances of real estate transactions, preparing them for real-world challenges.
Support and Resources
Dedicated Support: Whether you're stuck on a particular topic or need guidance on the next steps after completing the course, Colibri Real Estate's support team is always ready to assist.
Resource Library: Students have access to a rich library of resources, from sample papers to in-depth articles on specific real estate topics, ensuring they're always well-equipped.
The CE Shop Overview
CE Shop stands out for its accredited courses available both at the state and national levels. Whether you're a newcomer to the real estate scene or an established professional seeking further knowledge, CE Shop provides a range of courses tailored to different needs.
Statewide and Nationally Accredited Courses
Scope: CE Shop's courses are recognized both at the state and national levels, ensuring that students receive education that's compliant with the latest industry standards and regulations.
Advantage: This dual accreditation ensures that professionals can confidently practice in their home state while also having the foundational knowledge to understand real estate dynamics at a national level.
New Certification Classes
For Beginners: If you're just stepping into the world of real estate, CE Shop's certification classes serve as the perfect starting point. These courses cover the basics of real estate transactions, property laws, ethics, and more.
Interactive Learning: Through a blend of text, multimedia, and interactive quizzes, students can grasp complex concepts with ease.
Furthering Education Options
For Veterans: For those who've been in the industry for a while, the landscape of real estate is ever-evolving. CE Shop's furthering education courses ensure that professionals stay updated with the latest trends, laws, and best practices.
Specialized Courses: Dive deep into niche areas of real estate, such as commercial property management, luxury real estate marketing, or green building practices. These specialized courses allow professionals to carve a unique niche for themselves in the market.
Adaptable Learning Experience
Flexibility: CE Shop's online platform ensures that students can learn at their own pace. Whether you're a night owl or an early riser, the courses are accessible 24/7.
Real-World Scenarios: The courses aren't just about theory. CE Shop integrates real-world scenarios and case studies to ensure that students can apply their knowledge in practical situations.
---
What's the Difference Between Colibri Real Estate and CE Shop?
Even though Colibri Real Estate and CE Shop are both online real estate schools, there are several differences between the two. Understanding what makes each option unique gives you the know-how you need to make an informed decision about your future.
Here's a comparison chart with more details below.
Colibri Real Estate
CE Shop
States Covered
AL, AK, AR, CA, CO, FL, GA, HI, IL, IN, IA, KS, KY, LA, MD, MA, MI, MN, MS, MO, MT, NE, NV, NJ, NY, OK, PA, SC, TN, TX, VT, VA, WA, WY
WA, OR, CA, NV, UT, AZ, NM, CO, KS, OK, TX, LA, KS, AR, MS, MO, FL, GA, AL, TN, SC, NC, KY, IL, IN, WI, MN, ND, MI, VA, PA, NY, VT, HI, MA, RI, CT, DE, MD
Course Offerings
Pre-Licensing
Post-Licensing
Continuing Education
License Upgrading
Pre-Licensing
Post-Licensing
Continuing Education
License Upgrading
Pricing
$370
$265
Special Perks
Pass or Don't Pay Guarantee
Free 5-day Trial
Coverage Area
Colibri Real Estate: Offers courses recognized in 36 states.
CE Shop: Provides courses accredited in a majority of states, excluding only nine.
Course Offerings
Colibri Real Estate: Primarily focuses on Pre-Licensing, Post-Licensing, Continuing Education, and License Upgrading.
CE Shop: Offers a similar range of courses, including Pre-Licensing, Post-Licensing, Continuing Education, and License Upgrading, with an added emphasis on real-world applications in their curriculum.
Pricing
Colibri Real Estate: Courses start at $370, with periodic discounts and promo codes available.
CE Shop: Their courses begin at $265, and they frequently offer promo codes for discounts.
Unique Features
Colibri Real Estate:

Offers a "Pass or Don't Pay Guarantee."
Uses a learning management system that tracks progress and helps students stay accountable.
Provides extended customer service support.

CE Shop:

Boasts high passing rates, with a 64% pass rate placing them among the top in the country.
Offers a printed course textbook for those who prefer physical study materials.
Provides cutting-edge career resources to help students transition into their real estate careers.
Student Feedback
Colibri Real Estate: Students often highlight the effectiveness of their courses and the support provided by the platform. One review mentions, "Passed my license test on the first try by using this online course."
CE Shop: Known for its high-quality continuing education courses, students appreciate the real-world applications integrated into the curriculum. A student review states, "Good combination of material, hands-on learning, and videos!"
Platform Limitations
Colibri Real Estate: Some feedback suggests that the online class format can hinder networking opportunities and that certain class formats might be challenging for some students to focus on.
CE Shop: Some users find the courses to be text-heavy, and there's limited access to instructors. Additionally, the platform lacks live instruction options.
By understanding these detailed differences, you can make a more informed decision about which platform aligns best with your needs and preferences in the realm of real estate education.
---
Colibri Real Estate vs The CE Shop: Pros and Cons
Understanding the benefits and drawbacks of each course is a great way to select the right option for you. Here's a quick look at the pros and cons you should consider when choosing between Colibri Real Estate and CE Shop:
Colibri Real Estate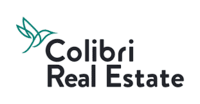 There's no doubt that Colibri Real Estate is a stellar online real estate school. After all, their alums' reviews rave about their success after completing real estate education with the school.
However, Colibri Real Estate is not without flaws.
Luckily, there's more to love about Colibri Real Estate than other real estate schools online. Let's jump into a few pros and cons of Colibri Real Estate:
Pros & Cons
More cost-effective versus CE shop
Learning management system tracks your progress and helps you stay accountable
Money back guarantee
Information is introduced in small, easy-to-digest bits
Extended customer service
Online classes hinder professional development via networking
Class format can make it difficult to focus
Colibri Real Estate Coupon Codes & Discounts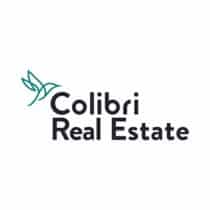 Colibri Real Estate: $205 Off Ultimate Learning Course
83 uses today
Last Used: 1 days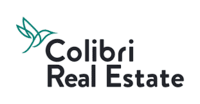 Colibri Real Estate: $182 Off Ultimate Learning Course
21 uses today
Last Used: 18 hours
---
The CE Shop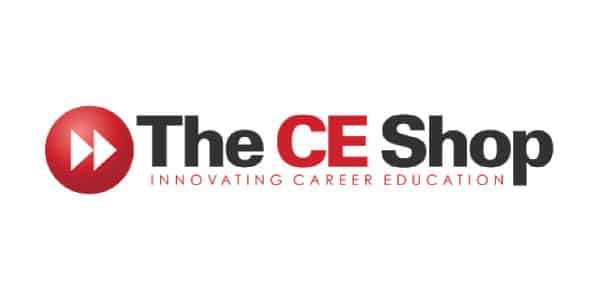 Did you know that CE Shop boasts some of the highest passing rates in the country? Their 64% pass rate put them in the top five for passing rates across the country. What's more, is that their stellar reputation for continuing education courses has earned them the trust of over a million real estate hopefuls.
What's even more exciting is that their online pre-licensing courses are also quickly gaining traction in the online real estate education arena.
Pros & Cons
High passing rates
Stellar user reviews
Competitive pricing
Long track record of success
Solid reputation
Printed course textbook
Cutting-edge career resources
Accreditation in all but nine states
No live instruction
Limited access to instructors
Course offerings are text-heavy
The CE Shop Coupon Codes & Discounts
---
Should I Choose Colibri Real Estate or CE Shop?
Choosing between real estate schools out there can seem like a daunting task. Luckily, when it comes to choosing between Colibri Real Estate and CE Shop, there's no right or wrong answer. All you'll need to do is choose the option that most closely matches what you're looking for in an online real estate school.
The Case for Colibri Real Estate
Having personally navigated through Colibri Real Estate's course, it's evident that they've meticulously crafted their courses to cater to the modern real estate aspirant. Their reputation isn't just built on hearsay; it's built on a foundation of comprehensive, in-depth online real estate courses.
Watch a detailed walkthrough of Colibri Real Estate's platform here.
One of the standout features during my exploration was the responsiveness and knowledge of their support team. Whether it was a query about course content or state-specific licensing requirements, the team was always ready to assist. And speaking of state-specific, it's commendable that their licensing program is recognized in as many as 36 states, making it a versatile choice for many.
For those just starting out in the real estate world, their pre-licensing courses are a boon. Not only do they cover the essentials, but they also provide insights into the nuances of real estate dealings, ensuring you're well-prepared for your new career.
And, if you're budget-conscious like many of us, the availability of Colibri Real Estate promo codes is a welcome feature. It's not just about affordability; it's about getting value for your money.
But don't just take my word for it. Here's a testimonial from a student who used Colibri Real Estate:
"Passed my license test on the first try by using this online course. I felt like I was not sure if I had all of the information that I would need, but on test day, I realized I was definitely prepared thanks to the online classes."
The Case for CE Shop
Having studied deep into CE Shop's offerings, I can confidently say that their approach to real estate education is both innovative and practical. If you're someone who values continuous learning in real estate, CE Shop stands out as a prime choice.
Here's a video walkthrough navigating through the CE Shop platform.
One of the first things that struck me was their emphasis on real-world applications. Instead of just theoretical knowledge, CE Shop's courses immerse you in practical scenarios, ensuring you're not just learning but also understanding how to apply this knowledge in real-life real estate situations.
The design of their courses is particularly noteworthy. They've managed to strike a balance between engaging content and comprehensive coverage, ensuring that students remain hooked while also absorbing all the necessary information. This is crucial for retention and eventual success in the real estate field.
For those conscious about the investment, keep an eye out for CE Shop promo codes. It's a great way to access their top-notch courses at a reduced price, ensuring you get maximum value for your money.
But my experience isn't the only testament to CE Shop's quality. Here's a review from a satisfied student:
"Good combination of material, hands-on learning, and videos! The information was organized, clear, and easy to follow! The certificate helps advance my career!"
---
Colibiri (Formerly Real Estate Express) Testimonials
EudaimoniaBound's Experience: "I recently bought the online training package and after finishing chapter one, I came across a TON of reviews saying how awful it was. However, I found the quizzes at the end of each unit pretty easy. I'm considering getting a refund but would appreciate any feedback."
magnum_dong69420's Feedback: "I used Real Estate Express. It is in fact state specific as far as the content and what they test you on. Just do the class and take the quizzes. You'll do fine. The law stuff sucks but you'll get through it."
InfiniteTranscend's Testimony: "I used it and it worked wonderfully for me. Just do a lot of rehearsing and keep taking the practice tests until you can ace them consistently without having to look things up. You should be good to go then!"
awall_1922's Review: "Just took the course in two weeks and passed my test. Would recommend. A lot of info but I think it prepared me well for the test."
Inevitable-Horror-66's Insight: "I passed my national exam with 90% correct and the state exam with 87% correct just a few weeks ago and I used REExpress. No vendor is going to ensure you pass. All you can hope is that they give you what you need. REExpress definitely does that."
floridageek's Experience: "FL here. I used it and passed my state exam last week on the first try. The state exam is all laws and math and this school, while boring, definitely did the job for me."
The CE Shop Testimonials
AngularRailsOnRuby's Feedback: "I thought it was alright. Very repetitive but I did pass the test on the first try by a wide margin and the only thing I did was CE shop."
Shoddy_Dog7564's Testimony: "I studied with CE shop too. Only the final test is proctored, and you have to find a local approved proctor to supervise you. The rest is purely self-study. I finished the 75 hours in about a month, used their practice test and another one I found online and passed the licensing exam. It's not the most engaging course but it did the job for me."
Cattingston's Review: "Took me 3 weeks to finish and I passed the test first try without studying, largely nothing in the test or the class has applied to my career."
WesternNebula4366's Experience:"It's definitely brutal but it works. Did it for NYS."
FiveTicketRide's Feedback:"I did my broker class there. It was I felt pretty par for the course as far as online learning. As others have said the only thing that really matters is if it prepares you for the licensure exam."
---
Conclusion
Both Colibri Real Estate and The CE Shop offer comprehensive online real estate courses tailored to meet the diverse needs of aspiring real estate agents. While each platform has its unique strengths, the choice ultimately boils down to individual preferences based on their comparisons above.
With the average home price in the U.S. standing at a staggering $761,540 in 2023, according to Ramsey Solutions, the potential for lucrative commissions in the real estate industry is evident. Whether you're drawn to the in-depth courses of Colibri or the real-world applications of The CE Shop, embarking on a career in real estate now could prove to be a financially rewarding decision.
---
FAQs
What are online real estate schools and how do they work?
Online real estate schools are digital platforms offering courses to obtain a real estate license. They provide web-based lectures, quizzes, and modules, allowing students to learn at their own pace from anywhere. Upon completion, students are ready for state-specific real estate licensing exams.
Can you get a real estate license online?
Yes, you can obtain a real estate license online, and platforms like Colibri Real Estate and The CE Shop make it even more accessible. Depending on your state, both these online schools offer accredited courses equivalent to in-person institutions, ensuring you receive the comprehensive curriculum required to successfully secure your license.
What is the most convenient way to upgrade my real estate license with Colibri or The CE Shop?
To upgrade your real estate license, enroll in the "License Upgrading" courses at Colibri Real Estate or the "Continuing Education" courses at The CE Shop. Both platforms offer online flexibility, letting you meet state requirements at your convenience from any online location.
How long do Colibri and The CE Shop online real estate courses last?
The duration of online real estate courses varies based on the specific course and state requirements. At Colibri Real Estate, courses can range from a few weeks to several months, depending on the depth and complexity of the curriculum. Similarly, The CE Shop offers courses that might last anywhere from one to four months. It's essential to check the specific course details on each platform and the requirements of your state to get a precise duration.
What kind of support does Colibri Real Estate offer to its students?
Colibri Real Estate provides dedicated student support, including access to instructors for course-related queries, technical assistance for platform-related issues, and guidance on state-specific licensing requirements.
How frequently does Colibri Real Estate update its course content?
Colibri Real Estate prioritizes staying current with industry trends and state regulations. As such, they regularly update their course content to ensure students receive the most up-to-date and relevant information.
Does Colibri Real Estate offer any guarantees or refunds if I'm not satisfied with the course?
Yes, Colibri Real Estate often provides a "Pass or Don't Pay Guarantee," ensuring that students feel confident in their investment. If students are not satisfied or don't pass their licensing exam after completing the course, they may be eligible for a refund or course retake, based on specific terms and conditions.
How does The CE Shop's course pass rate compare to the national average?
The CE Shop boasts a high pass rate for its courses, often surpassing the national average. Their comprehensive curriculum and real-world application emphasis contribute to this success, preparing students effectively for their licensing exams.
Are there any interactive elements in The CE Shop's courses to enhance learning?
Absolutely! The CE Shop integrates interactive quizzes, multimedia presentations, and real-world scenarios into its courses. This interactive approach ensures an engaging learning experience and helps students grasp complex real estate concepts more effectively.
Does The CE Shop offer any discounts or promotional offers for their courses?
Yes, The CE Shop frequently provides promotional codes and discounts, especially during special occasions or events. Prospective students can check their official website or subscribe to their newsletter to stay updated on the latest offers.