The Principle and Practice of Engineering (PE) exam is important for any aspiring engineer. After passing the FE exam, it's the second test that needs to be passed if you want to become a licensed professional engineer, so it's important to find the best possible study resources for it. Many PE prep courses claim to be the best, but some are much stronger than others.
Keep reading to see what I mean:
Take a look at two big names in the field of PE exam test prep— Testmasters and School of PE. Each has their own sets of advantages and disadvantages, but only one of them will be right for you.
Read on to see how these two exam review courses stack up against each other!
Price
First and foremost, it's important to look at the price for each service. For most students, this is going to be the biggest factor in their decision. Each service has a fairly complicated pricing system which can be quite expensive if you're not sure what to look for.
Here's what you need to know:
School of PE

School of PE's prices vary based on what state you live in, what course you're taking, and what format you choose. Most states and courses share similar prices, but the biggest cost variation involves format. On-demand courses have subscription options paid monthly every four months, every six months, or every eight months. However, each course also has a free trial option that allows access to sample recordings for one month.
Ultimately, School of PE's live online and onsite courses tend to cost upwards of $1200. However, this price is often lowered through discounts and promos.
Testmasters


By contrast, Testmasters' prices are far more varied. Their prices are highly dependent upon which test you're interested in taking as well as class format. Typically, the live online and classroom courses tend to cost more, but some courses don't follow this rule. If you do some searching, you can often find a course that's cheaper than School of PE's equivalent— but there are also several options that are far more expensive.
For more details about Testmasters' prices, check out their course catalog.
Winner:

Testmasters


In this category, Testmasters wins over School of PE. Their prices are much more customizable which helps lower income students pick a tier they're comfortable with. If you're looking to make the most out of your budget, Testmasters is likely to be your preferred exam prep course provider.
---
Live Content
Both School of PE and Testmasters offer live content with several similarities. For example, you can enroll in a live online or in-person classroom course with either provider. However, there are a couple of key differences worth mentioning:
School of PE

School of PE focuses heavily on lectures; they make up the majority of both their in-person and online classes. Because of that, you'll experience a similar classroom-style environment even when taking their online courses. In fact, their online options even include question and answer sessions in order to mimic the ability to raise your hand and ask questions during a lesson. Each lesson also comes with refresher notes that ensure you don't get lost and left behind.
However, what really sets them apart is their one-on-one tutoring. Currently, this is only available for the PE Civil Exam course but it will be expanded to the others soon. With the increased attention that comes with solo private tutoring, this is the best possible method of preparing for the exam.
Testmasters


Just like School of PE, Testmasters offers both live online and classroom settings. But unlike School of PE, their online courses allow you to interact with the teacher during a lesson instead of waiting until afterward. This adds a new dimension to the course and better simulates the live experience. Plus, each course includes videos about less common testing topics in addition to the broader and more common lessons. This means that you stand to gain a more robust understanding of the course material.
Winner:

School of PE

Even though Testmasters has excellent live courses, they can't beat the 1-on-1 tutoring provided by School of PE. If you're studying for the Civil PE Exam, definitely look into this option.
---
Instructors
School of PE and Testmasters courses are taught by highly qualified instructors. Although either option will provide you a professional level of engineering knowledge, only one can be the best:
School of PE

School of PE teachers must be PE certified and experienced in their fields if they want to teach a class. That means that they'll at the very least have a degree and will have worked for several years in the field. They also allow instructors from academia to teach, which means that you'll learn from real college professors as well. In fact, some of their instructors are even PhD holders, as is the case for their Civil PE On-Demand course.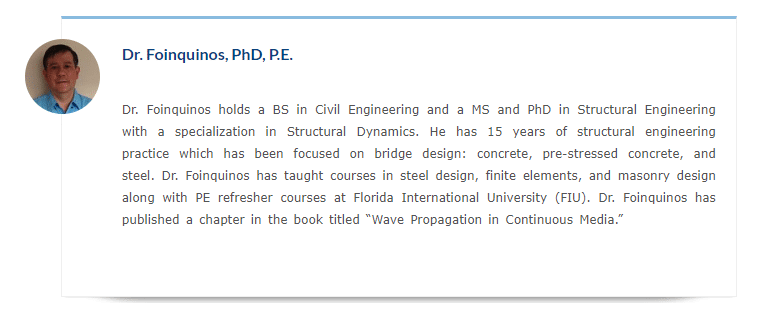 The instructors for School of PE give you the best of both worlds with their combined experience in both academia and industry. And unlike Testmasters, each of their courses are taught by multiple instructors, allowing you to gain multiple viewpoints about each subject that you study.
Testmasters


Testmasters also sets high standards for their teachers; each instructor has worked in the industry for many years. However, what differentiates them is their course coordinator, who has been teaching PE courses for over 35 years. Because of that, Testmasters instructors are uniquely qualified to teach you everything you need to know about the PE exam.
Winner: Testmasters


Testmaster wins in this category due to the experience of their course coordinator. Even though School of PE has equally qualified instructors, it's hard to match up to 35 years of experience.
---
Money Back Guarantee
School of PE and Testmasters have nearly identical guarantees. If you attend every class and review all required materials and video without passing the test, you can take the course again for free. To qualify, the exam must be taken within nine months of completing the prep course.
In terms of refunds, the two companies are also fairly similar. School of PE offers a full refund if you cancel at least ten days before the course starts. If you wish to cancel within ten days of the exam you'll be charged a $150 administration fee from your refund.
Similarly, Testmasters allows you to cancel three days before the course starts for a full refund. You will be charged a $150 administration fee if you cancel within a week of the course start. Otherwise, you can't receive a refund.
Winner: Tie
Because both policies are identical, this category ends in a tie.
---
Final Recommendation – School of PE or Testmasters?
Between these two courses, I'd have to recommend School of PE. Testmasters has some great offerings and are still an excellent choice for students who want to study for the PE Chemical exam, PE Environmental exam, or any other related discipline. However, they can't beat the one-on-one tutoring and instructor quality of their competition. Plus School of PE has much more varied prices which allow you to only spend what you're comfortable with.
Make sure to check out School of PE's courses today!