For many aspiring engineers, the PE exam is a final hurdle before a long and successful career. And as you might expect, this exam can be tricky— after all, it's meant to prepare you for a fast-paced career in mechanical engineering, electrical and computer engineering, or several other specialized fields.
That's why Capstone Learning Associates is here to help with their robust PE exam review course. Capstone prides itself on their course's learning experience, and it can be a helpful resource for engineers of all skill levels.
But is Capstone an effective way to prepare for the PE exam? Read our review to find out!

Overview of Capstone Learning
Capstone Learning is a comprehensive online FE, CBT, and PE preparation program. All of their high-quality educational resources are designed by engineers and eLearning professionals. Their certification exam prep courses replicate the exam experience to ensure students are as prepared as possible for their exam, making them a useful tool for aspiring engineers in several different disciplines.
Capstone's philosophy is to teach to the exam; that's why it's not a general review course but an exam-centric one. Essentially, they focus on the knowledge students will need to pass their exams— not just the fundamentals of engineering.
Capstone's E-Learning Modules have these features:
20-40 hours of narrated instruction

Sample exam problems

Tutor Support

Flexible module based curriculum

Free sample course

Corporate program for additional savings
What's Included With Capstone Learning Courses
Video Lectures and Practice Questions
The Capstone PE review curriculum provides all the learning components needed to pass the exam, and each module is designed to target specific knowledge areas from it. This means you are sure to find Capstone's curriculum a useful tool to study with, no matter what discipline you're studying.
Their curriculum includes several hours of narrated lecture-based instruction. However, the amount of video content varies between different packages. For example, their section on Thermal and Fluid Systems has more content than Chemical, which has more than Civil. Additionally, text captions accompany each lecture, which is great for students that prefer to be able to read along with the lecture.
To further prepare you for the exam, Capstone structured their various PE courses in a problem-based manner. Each subject is introduced with a problem; then the instructor works students through how to solve it, step-by-step. This system encourages students to be as methodical as possible, which is a perfect way to prepare them for the PE examination.
Also included are plenty of test questions and solutions, with easy step by step answers and tutor support. This includes one more handy feature— instant conversions between Imperial and Metric measurements.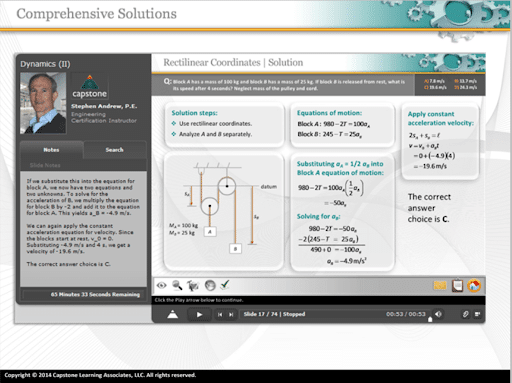 Flexible Online Learning
Capstone's unique exam review marries the benefits and flexibility of online learning with the responsiveness of a classroom experience. You can take each course module as many times as you like, and they're designed to give you as many tools as you need for as long as you want. So study until you pass the PE exam at no additional charge!
The online course lets you access specific exam topics at your leisure. This makes Capstone's learning course perfect for the FE CBT schedule format, which can now be taken in two-month examination windows four times per year. Essentially, the modular design of Capstone's curriculum allows students to design their own course load, set their own pace, and study what they want— all while being given more time to prepare for the exam.
To further support this essential open book flexibility, Capstone provides an index of topic-specific reference information. Needless to say, this is an excellent feature for exam success when dealing with a subject as complicated as professional engineering. Each course section additionally ends with a brief need-to-knows section, which covers all of the general concepts most needed for exam success. Click on any topic and the course will automatically jump you back to that content for review.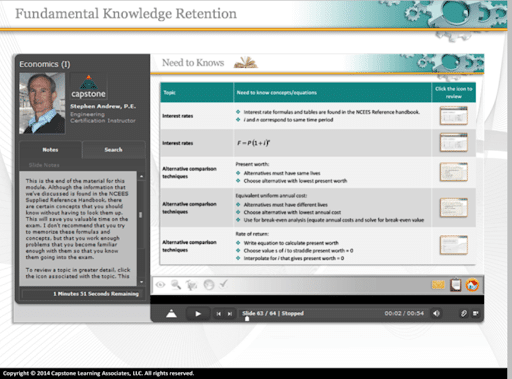 Corporate Program
Not only is Capstone Learning a valuable course to the individual, but there are additional benefits for large companies. Capstone's administration team offers enrollment management, user registration, and student administrative support— perfect for companies that need to train a lot of employees for their exams. This corporate option can be useful to any business or school looking to certify workers.
In addition, Capstone can send reports on student progress, enrollments, and completions to your organization on your own schedule. Here's the best part; the larger the volume of enrollments, the larger the discount on the courses. To learn more about Capstone's corporate program, either call 650-504-0301 or email [email protected].
Capstone Learning Pricing
In addition to one free sample course, Capstone's PE curriculum offers all of the following packages, each priced $699.00:
Mechanical Breadth plus Mechanical Systems and Materials Depth section

Mechanical Breadth plus Thermal and Fluid Systems Depth section

Chemical PE Examination

Civil Breadth plus Structural Depth Section

Electrical and Computer–Power
As mentioned above, there is a discount in bulk enrollments with the corporate training model, but individual students should be sure to review their site to find their ideal course. Altogether, Capstone is prepared to help you pass the exam in any of these areas.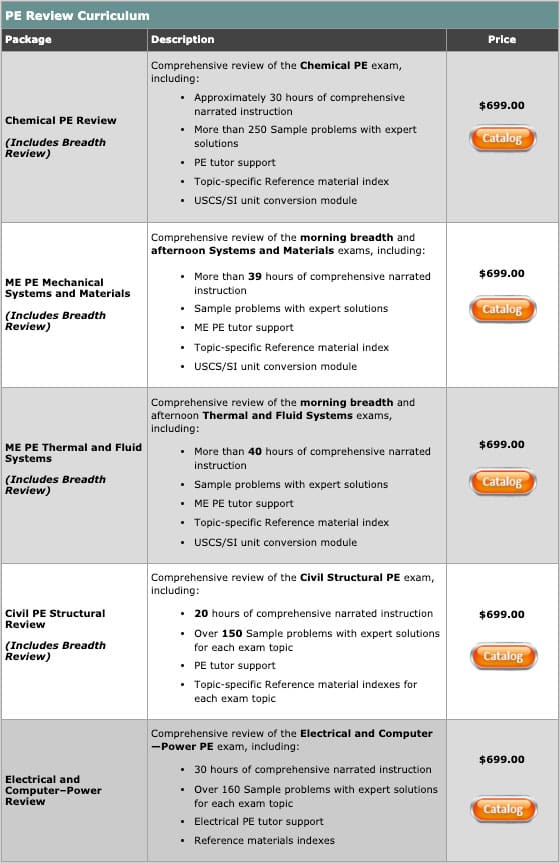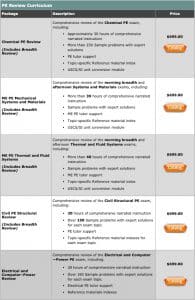 Pros & Cons
Here are some of the benefits and drawbacks of Capstone Learning:
Pro – Learn at your own pace:

Capstone learning is a uniquely flexible online course. Unlimited access to all study materials and lectures, tutor support, and a modular design let you learn on your own time and on your own terms!

Pro – Exam focused curriculum:

The unique design of the Capstone online PE review is built to teach for the exam, using different modules and knowledge areas to ensure students are ready for their exam.

Pro – Free Sample Course:

If you're not sure Capstone is right for you, there is a

free sample course

you can use to try the curriculum. Although it's actually about

the FE exam

, it's still a great way to understand how their system works.

Con – Practice Questions:

Although this PE exam review course company offers hundreds of practice questions to help you prepare, there are competing companies that offer thousands. Still, it should be enough to help most students grasp these concepts.
Frequently Asked Questions
Have more questions or doubts about Capstone? Here's a few of your questions answered:
What is Capstone's refund policy?
All purchases with Capstone are considered final, and no refunds will be issued. Additionally, they provide no pass guarantee when completing any of their engineering prep courses.
How long do I have access to my Capstone course?
All of Capstone Learning's courses are yours to keep, forever. Use them as often and as long as you like, it's yours.
Who instructs Capstone Learning's engineering course?
Capstone's PE review course is taught by Stephen Andrew, who has been teaching the subject for 25 years. After teaching thousands of students, Andrew has focused the exam-focused curriculum of Capstone on the areas where students have the most trouble.
Ideal Customer
Is Capstone the ideal course for you? Consider the following:
If you enjoy learning at your own pace,

this is the course for you.

If you are an audio-visual learner,

this is the course for you.

If you are not a self motivated student,

this isn't the course for you.

If you are looking to certify a group of corporate employees,

this is the course for you.
Final Recommendation
Ultimately, Capstone Learning has put together a powerful course that could be helpful to any engineer looking to brush up for the PE exam. With its advanced curriculum, tutor support and online flexibility, it can be a valuable course for individual students. Furthermore, the many benefits to corporate training through Capstone makes it an even more valuable tool for large groups of engineering students.
In conclusion, if you are preparing for the PM exam, Capstone's PM review course may be the ideal course for you! But if you're still unsure, we've ranked the top companies for your convenience.