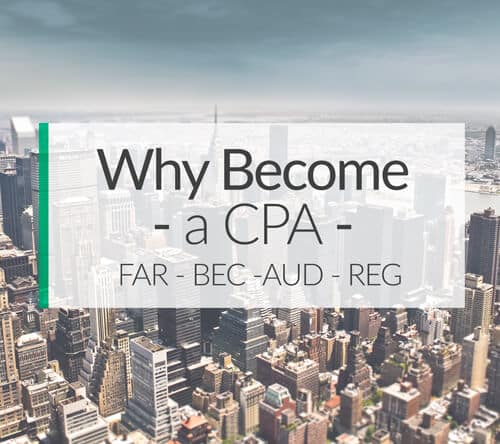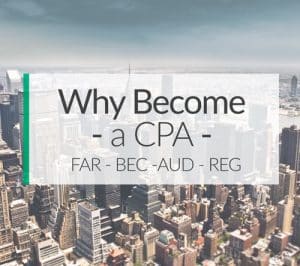 Why become a CPA? Should you get a CPA? I've heard these questions time and time again. Taking the CPA exam was one of the most nerve-wracking and crazy experiences of my life. It was the most challenging thing I had ever done up to that point in my life. That being said, it was also the most rewarding things I have ever done. After investing months of studying, I had a designation that few people can say that have accomplished. I was a professional.
I know how difficult focusing and studying can be. Hang in there. Here are some reasons to become a CPA you can think about when you doubt yourself and don't feel motivated enough to sit down and study.
---
4 Reasons It Is Worth Becoming a CPA
---
CPAs Make More Money Than Their Counterparts
Most big firms offer a bonus for passing the exam. Firms were offering me a $5,000 bonus if I passed the exam in the first year of employment. That's huge! You get $5k for doing something you already wanted to do in the first place. Think of the possibilities. You could buy 5,000 items off the McDonald's dollar menu. Ok. Well, let's not go that far, but that's an awesome bonus.
Plus, CPAs on average make $1M more than their non-certified counterparts. Yup. That's right. You will make a million dollars more over the course of your career if you sit down and study right now. If the 5,000 McDonald's double cheeseburgers weren't enticing enough, this will really help motivate you. I know it did for me the first time I hear it.
---
CPAs Get Better Opportunities
Some of the most amazing parts of getting your license are the opportunities that come with it. It doesn't matter whether you are working as a public accountant or an internal accountant at a company. Once you pass your exam, doors will open for you. Public firms will allow you to advance up the hierarchy into senior positions that could even lead to becoming a partner one day. Internal company accountants often climb the corporate ladder and become officers or board members because of their experience and expertise. Trust me. There is a whole wide world of opportunities out there once you get certified—not to mention the travel.
Whether you want to go the public accounting route or the private industry route, you can travel the world on your employer's budget. CPA firms are located all over the world as are large companies. When you move up the latter, you'll get plenty of opportunities to travel and get paid for it at the same time!
---
Public Accounting is a Stable Career
The fact is that CPAs are always in demand. It doesn't matter if we are in a down economy or not. Accountants will always be needed because they are necessary for our society. Public firms are constantly recruiting college grads and experienced people to join their firms. By getting your license, you are making yourself that much more qualified and desirable. Firms know what you are capable of and will want you that much more.
If nothing else, you will always be able to get a job with the IRS. It's like my tax professor said just about every class. As long as the government is still around, the will be full employment for us accountants. : )
---
Everyone Respects a CPA!
Let's face it. Being a CPA gives you major street cred. It's one of the most respected professions. It's right up there with the other professional designations like lawyers and doctors. People know that it's difficult to become a CPA and they respect you because of it. You'd be amazed at what putting three letters behind your name will do to people's opinions of you. Now you aren't just a college graduate. You are a professional of the highest regard. You are the best of the best.
I remember what one of my professors said to me in college. He said, "When you pass the exam, you will reach the pinnacle of our profession." Being a college student, I didn't take his remarks very seriously, but it's true. When you become a CPA, you are instantly elevated to the best in the profession. If I got nothing else out of my CPA journey, this was worth it.
---
What are you waiting for?
Don't sit around and wish you could make more money and start an awesome career. Start your CPA journey today. Check out the best CPA review courses and start studying today. Here's to you passing the exam and starting your new life. You can do it. Stay motivated and stay focused!