Every general securities representative will have to take the Series 7 exam in order to get their securities license and start their career. It's an important way to gauge competency and proves that you're ready to start your career, and that's why it's so important to work through a prep course before taking it.
The Securities Institute of America (SIA) offers an effective FINRA licensing prep course for financial and insurance professionals at a great price. Thanks to their expertly curated selection of securities training materials and enticing guarantees, you'll be in great hands if you sign up for any of their securities licensing courses— including their Series 7 materials.
Read on to see how they can prepare you for what's on the exam!
---
Overview of Securities Institute of America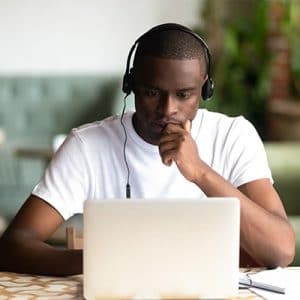 SecuritiesCE.com is a website that creates and distributes effective testing materials at a low price. This site and its FINRA materials was made by a company that's garnered an impressive 17 year track record for excellence in securities exam training. Essentially, they offer some of the most advanced exam prep training on the market thanks to their professional experience and partnership with Wiley.
Here are a few of the included course features:
Textbook

Practice Exams

Online Video Class

E-books

Unlimited video and test bank access

Free updates
---
What's Included With Securities Institute of America?
Practice Test Bank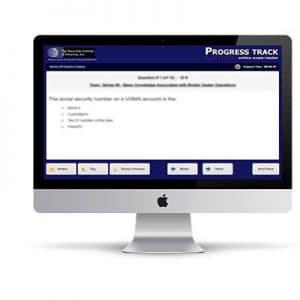 SIA's Series 7 course has a heavy focus on practice tests to ensure you're familiar with the format and content of the real exam. In order to do that, their test mimics the real thing as closely as possible. Consequently, practicing with these exams will make you uniquely prepared to pass your Series 7 test while also familiarizing yourself enough with the format and content to avoid feeling stressed on your exam day.
Here's how Securities Institute of America makes their practice tests so effective:
To start, the question bank is filled with over 2,100 test questions. These cover every exam topic in equal measure. Additionally, you can mix and match different subjects to create your own custom practice tests. This allows you to focus on areas where you need the most help while still becoming familiar with the full exam format.
Textbook and E-books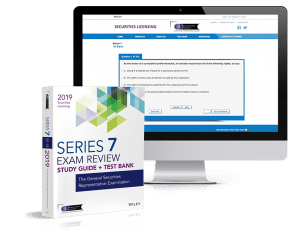 A set of e-books and a textbook are included with each of SIA's securities exam prep solutions. These allow you to continue studying without having to go online. Because of that, you can easily learn on the go or put in some reading time whenever you have a few minutes. There's no pressure to try and meet a strict schedule; all your learning is based on the pace at which you're the most comfortable.
Video Classes
One of SIA's major selling points is its realistic online classroom experience. Their courses come with a full set of video tutorials designed to mimic traditional classes in an easy and familiar environment. Each video is re-watchable as well, so you can revisit areas where you need help later in your study schedule. You can also control your learning pace with these videos, just like when you're learning out of your textbook.
SIA's video tutorials take up around 20 hours in total. They are intended to be used alongside the practice questions and textbook learning.
---
Securities Institute of America Pricing
This course comes with a few different prices based on what you need. Because of how much is on offer, you're able to save some money and buy individual aspects of the course if you don't want everything.
To start, both the

Video Class

and

Exam Prep Software

are $99. Individually, these come at a great price— but you may want to pay for the full package if you're interested in both of them.

Next up the

Textbook and Exam Prep Software

bundle, which costs $194.95. This package is a solid self-study option for people who want to learn quickly or study on the go. But this still isn't the best deal on offer:

The final and best package is the

Complete Self Study Solution

at $259. It includes everything from the other packages for a much lower price. This is the best choice for anyone preparing for their Series 7 exam,

hands down

.
---
Pros & Cons
Check out this quick rundown to learn more about the specific benefits (and drawbacks) to using this exam review course:
Pro – Course Bundles:

If you need to take multiple exams (such as Series 7 and

Series 66

), SIA offers

combination packages

for their courses. These allow you to continue studying as you advance in your career with minimal impact to your wallet.

Pro – Excellent Support:

If you're ever having trouble, SIA has got your back. Click on the support tab on the side of their page to chat with a rep at any time. Additionally, you can call their office during business hours and they'll happily answer any of your questions.

Pro – Varied Format:

SIA doesn't force you to learn through only one method of study. They know that would put you in a rut and dramatically slow down your progress. Instead, they make sure to mix up their online courses with multiple ways of studying— ensuring that you don't feel bored or unmotivated.

Con – No Live Content:

Although the video content is intended to simulate a live classroom lecture, Securities Institute of America's Series 7 course is exclusively for self study. This might not bother you if you're only interested in studying solo, but you'll want to look elsewhere for live instruction.
---
What's the Securities Institute of America "Ideal Customer?"
Are you still unsure about whether you should take this course? This will help you determine if what they're offering is ideal for you:
If you learn best via self study,

this is the course for you.

If you like learning through multiple study formats,

this is the course for you.

If you want to set your own pace towards the exam,

this is the course for you

.

If you're interested in live content,

this isn't the course for you.
---
Final Recommendation
Ultimately, Securities Institute of America's Series 7 course is an excellent and effective way to study for your exam. It uniquely prepares you via multiple study methods so you'll never get bored. Plus, it's pretty affordable compared to other options.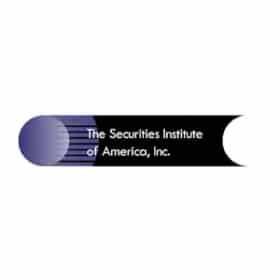 Save 12% on Securities Institute of America Series Exam
110 uses today
Last Used: 1 days
---
Frequently Asked Questions
Still have some lingering questions? Check out these answers:
✅ Does Securities Institute of America have a pass guarantee?
Yes! If you take your securities exam within 5 days of completing the course and don't pass, you'll receive a full refund. However, this offer is only for people who pass their GreenLight exam before moving on to the real thing.
💰 How much do Securities Institute of America's combination packages cost?
It depends on which courses you're combining. For instance, complete self study combos cost $329, but the other bundled packages only cost $259. You can enroll in bundles for Series 7 and Series 63, Series 7 and Series 66, or Series 7 and SIE— among many more!
❓Does Securities Institute of America have a free trial?
SIA doesn't offer a free trial, but it does offer a set of 10 free practice questions and several free lectures on their YouTube channel. This should let you get a feel for what the course is like and decide if it's right for you.
---