Lambers has been doing business for a very long time. They've been helping students pass the CPA exam for over 45 years now. Because of that, they've become very confident in their course and study materials— despite the fact that it's a fraction of the content you can get from a company like Becker or Gleim.
How do they do it? By identifying your strengths to eliminate your weaknesses.
Each course by Lambers has a heavy focus on self paced content in order to appeal to people with busy schedules. By designing bite sized and flexible materials, busy professionals can take advantage of this course during non traditional study hours.
Keep reading to learn some pros and cons for Lambers CPA Review:
Pros
Adaptive Drill Mode
Lambers CPA course starts with a quick pretest in order to establish a baseline for the rest of your learning. The test gives you a sampling of questions from each exam category; completing these will allow the program to assess your level of proficiency in each topic.
From there, you'll move into one of the most impressive aspects of their CPA review course— Adaptive Drill Mode.
Adaptive Drill Mode focuses on specific exam objectives that you struggle in. As you work through problems and task based simulations, Lambers constantly adjusts your sessions to focus on different weaknesses.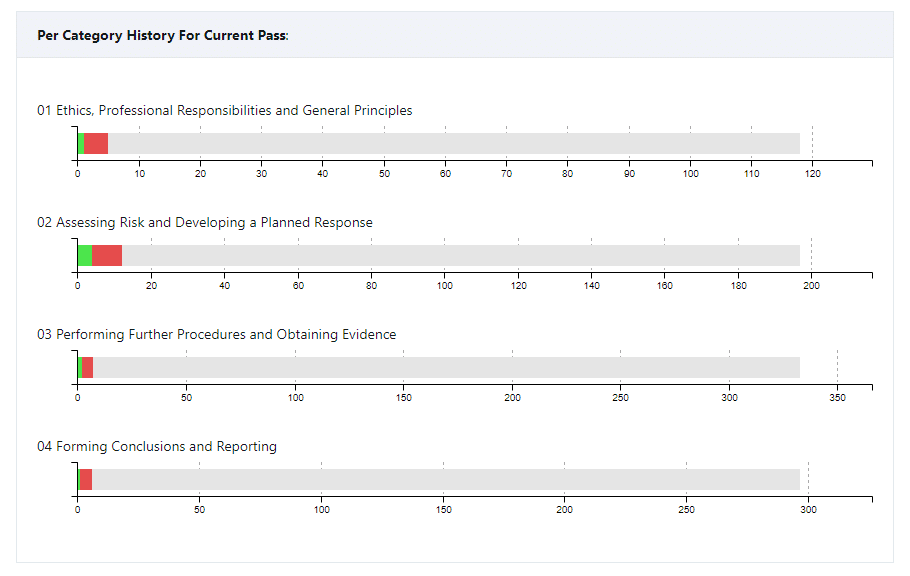 Once you've completed all phases of this mode, you'll be ready to start taking simulated exams.
Video Lectures
Included with the practice tests are a wide range of video content. These cover every exam topic and have a combined length of over 90 hours. Each lecture is on demand and has no limit to the amount of time that you can watch them— so feel free to take your time and set your own pace while studying.
Videos typically teach test concepts by having an instructor work through problems that you'll see on the CPA exam. Each step of the problem solving process comes with a full explanation of what the teacher is doing and why.
Recently, these videos have been updated to reflect the most recent iteration of the CPA exam. Unlike some of the content you might find in a larger course, you won't have to worry about studying any outdated material.
"At a Glance" Report
At any time during your course, you can check out your "At a Glance" report. Doing so shows you a concise and exhaustive look at your current progress through each section of test prep. It does so by letting you quickly see your pretest results and current progress through adaptive drills and simulated exercises. It will also show you your simulated exam results if you've reached that part of the test.
By using all of your course materials you can see just how ready you are for the CPA exam at any time. You'll never have to take the CPA exam without knowing beyond any shadow of a doubt that you're ready.
Price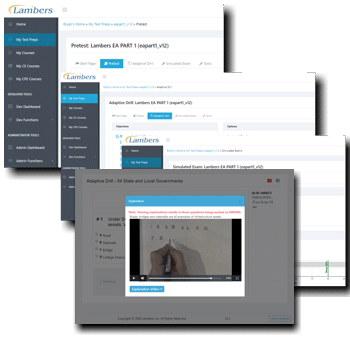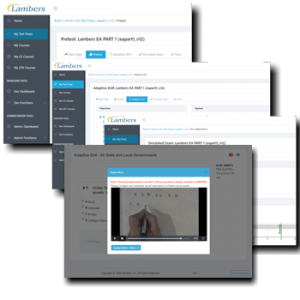 Lambers CPA courses are very affordable. Each section costs $250, so the combined cost of all four is far less than what their competitors are charging. If you want a good course without having to break the bank, then this is a good choice.
Cons
Limited Test Content
Lambers offers far fewer CPA practice questions than other courses. That's by design— in their own words, no one actually completes all 10,000 questions offered by other CPA review courses. Instead, Lambers only provides the questions that you need to know in order to pass the exam.
For some people, this is a nice way to save some study time. But for others, this can feel like a missed opportunity:
It's true that very few people are actually going to complete thousands of practice questions. But what's really important is making sure people see different content with each test they take. If you're drilling in one area in order to master it, the last thing you want to see are the same sets of questions over and over again.
Limited Feedback
It's tough to find student reviews or testimonials for Lambers. But this doesn't mean that it's a poorly made or unpopular CPA review course; it just seems like not many people are talking about Lambers compared to their competitors.
What little feedback you can find online is positive, but this can still be concerning if you're not sure about taking this prep course. If you're more interested in a well-known and professionally endorsed option, Becker CPA Review is a better choice.
Bottom Line
Lambers is an excellent low price option for CPA exam prep. They offer a straightforward self study course designed to be completed at your own pace. This is done through test based content and video lectures that are designed to have you always working on your weak areas.
On the other hand, if you're willing to pay more for courses with more content then you have many more options. Lambers doesn't offer as much as their competitors but their price does reflect that.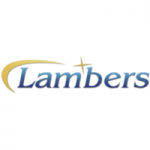 Lambers CPE: 20% off 2-Year & 10% off 1-Year
12 uses today
Last Used: 27 minutes