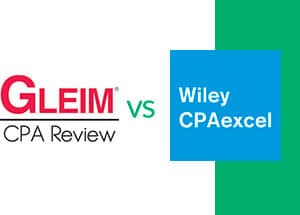 Both Wiley CPAexcel and Gleim CPA review are great CPA exam study guides. Consequently, many candidates have a difficult time deciding which one is better. The right question isn't which CPA exam study materials are better. It's which CPA exam prep course suits you better and is right for you.
Let's compare all the features in both of these review courses to see which one fits your learning style best. We'll go through the test banks, video lectures, study books, practice questions, and a few other features. I've used both of these courses a ton, so I know pretty much all the ins and outs of both. I'll be comparing the Wiley CPAexcel Platinum Course to the Gleim Premium Course. Let's see which one takes the cake. 🙂
Wiley CPAexcel or Gleim CPA Review Comparison
Wiley CPA Review versus Gleim CPA Review Prices
You may have noticed that I chose to compare the two "premium" CPA review courses that both companies offer. I did this because I think it's a true comparison of what you can get from each company. They both offer different levels of study guides, but I would recommend getting the full version of whatever prep course you decide to buy.
There is a big price difference between these two courses. Gleim is much more affordable, but it also comes with a lot fewer features. Thus, if cost is your only consideration for your exam review, Gleim is probably the right choice for you. This is rarely the case, however, so let's continue to look through each set of materials.
| Course | Full Course Price | Silver Course Price | Single Section Price |
| --- | --- | --- | --- |
| Wiley CPAexcel | $2,450 | $1,700 | $825 |
| Gleim CPA Review | $1,999 | $1,599 | $599 |
---
Unlimited vs Limited Access
Both sets of CPA exam review study materials come with unlimited access to their online courses and practice exams. This is a huge plus compared with many other courses on the market that expire after a certain period of time and require you to pay an additional fee to keep using the course you've already paid a ton of money for.
No extra fees with either of these courses!
---
Wiley CPAexcel vs. Gleim Test Bank
The Wiley CPA Review test bank keeps improving each year. They now offer more than 12,000 multiple-choice questions for CPA candidates to practice taking the exam. They also include over 600 task-based simulations. Not to mention, they have an additional test bank of practice questions. This bank features 6,250 true and false questions that you can use to study topics and concepts quickly. These questions are a little lighter than the past exam questions and can be used to gauge your understanding of a topic without taking a full-blown quiz.
The Gleim CPA Review test bank has long been the industry leader for the largest bank of past CPA exam questions and professionally written solutions. This is still the case if you don't include Wiley's practice questions in this count. Gleim does offer way more task-based simulations than Wiley, however. They offer over 1,300 TBS.
All in all, both of these test banks are comparable. Both have a ton of questions, so you won't be running into the same ones over and over. Both include explanations and details for the solutions.
---
Gleim CPA vs Wiley CPAexcel Study Text
This is where these two courses really differ. The Gleim study text is extremely detailed. It gives tons of explanations and goes through many more practice problems and examples than Wiley does. This can be great for candidates who want to understand a topic better. It can also bog down candidates who already understand the topic and simply want a refresh. Gleim also tends to include many more topics than what is actually covered on the exam. This tends to increase candidates' study time by reviewing things they don't need to.
Wiley's materials, on the other hand, contain enough information to learn the concepts but not enough to bore you to death. The study books typically follow in the information in the lectures and give some added detail. Each lesson is relatively short and doesn't usually walk through too many examples and explanations. These study books tend to list topics and concepts that will appear on the exam. Thus, you should know them. They don't cover a lot of extra material.
Both courses offer printed and digital study books.
---
Gleim CPA Review vs. Wiley CPAexcel Flashcards
CPAexcel features a full set of over 4,000 digital flashcards that you can use on any device. This is a great feature because it allows you to practice topics and key terms wherever you are. The platinum course also comes with a set of 1,000 printed flash cards that you can use to study or take notes on.
Gleim CPA Review does not offer any flashcards. This is kind of a downer because many candidates use this feature. In Gleim's how to study for the CPA exam booklet, they suggest that you make your own flashcards. This technique will increase your memory on the topic and you will only be making cards for the topics you need to study. Although this sentiment might be true, it's kind of a cop-out for not offering a set of flashcards.
---
Audio Lectures and Audio Books
Gleim offers a full set of audio lectures that can be listened to anywhere you go. This is a pretty good feature because it allows you to listen to lectures while you are doing something else like driving to work or riding your skateboard.
Wiley CPAexcel doesn't offer any audio lectures or audio books with their platinum course. It's a shame, but many people don't use this feature because they do the bulk of their studying at home, the office, or the library.
---
Offline Access
CPAexcel comes with a set of flash drives and a mobile app that can be installed on any device. Thus, you can take the entire CPAexcel experience with you no matter if you have an internet connection or not.
Gleim doesn't include flash drives or a mobile app. You'll have to log onto their system in order to use the course.
---
Gleim CPA Review versus Wiley CPAexcel Course Format
Both of these prep courses are based around the self-study model, but they have a couple of huge differences in their approach. Gleim CPA review as adopted the adaptive approach that actively suggests questions and study topics for candidates as they go through the course. As you answer questions, the adaptive software tracks your right and wrong answers to understand what you know and what you don't. It then makes custom topic suggestions for you to study.
The CPA Excel course format is more traditional. It's similar to a textbook where you start at chapter one and go under you finish the course. The entire course is split into small, bite-sized lessons that target the most important topics covered on the exam. Each lesson should take 10-30 minutes to complete. This means that you can start and finish multiple lessons in one sitting without having to start and stop the same lesson over and over. This format is great for people with busy schedules. It's also great for candidates, like me, who get distracted easily. The lessons are short enough that you don't lose focus.
---
Wiley CPAexcel or Gleim Lectures
Both of these courses have similar lecture styles. The presenter stands in front of PowerPoint presentation and talks about the concepts. The Gleim lectures tend to go into more detail and cover more examples than the Wiley videos do, but the CPAexcel videos tend to focus on only the key topics covered on the exam. Both have a comparable amount as well. Wiley has 110 hours of lectures, while Gleim has 100 hours of videos.
---
Smart Study Planner
Since Gleim has started using the adaptive approach to CPA exam prep, they have developed a smart planner than automatically generates your study schedule. You simply enter your exam date and any days you don't want to study and it will do the rest. It automatically tells you how many topics you need to cover each day. It also actively tracks your progress. If you miss a day, it will update the calendar and add more study time to future days. Wiley CPA does not have a feature like this.
---
CPAexcel or Gleim CPA Review Customer Support
When you purchase a Gleim course, you will be assigned a personal counselor who will be your helper and supporter throughout your study process. He or she will email you when you get behind and answer any questions you have along the way. This is a great feature for people who have questions about topics or just need an accountability partner to give them a kick in the pants.
CPAexcel offers support through message boards and emails. It's similar to the Gleim support system, but not as personal. You don't have a designated person who answers your questions. You simply send them in and someone will get an answer back to you.
---
Study Material Updates
Both courses come with unlimited access and updates. You never have to worry about your course being outdated with either of these choices.
---
Recommendation
Both of these courses are really comparable. They are about equal in many respects, but we have to choose one of them. The best course comes down to several things. First, is price a big factor for you? Obviously, it's a factor for all of us, but is it a make or break thing? If it is, Gleim is much more affordable than Wiley.
Second, do you feel like you need a lot studying to be prepared? For instance, have you been out of school for a long time or are you an international student? If so, you might want to get the Gleim course. It has a lot more detailed examples in it.
So who would want CPAexcel? Well, if neither of those two exceptions above applies to you, I'd recommend Wiley. It's a better full course and comes with more way more features. It also reduces study time by not cramming extra information into your head. The short lessons are nice because you don't have to devote 4 hours at a time to make some headway in the review materials. It's all-around a better course for the average candidate.