For those working within the securities industry, the Financial Industry Regulatory Authority (FINRA) serves to ensure their protection through a fair financial market.
This means that anyone selling securities products has to undergo the necessary testing to prove their qualifications and obtain their license. This also extends to advertisements, which FINRA works to keep truthful so that full disclosure on all investment products is available prior to purchasing.
But how does FINRA maintain this level of integrity? By requiring all certified individuals and organizations to complete FINRA continuing education.
---
What is FINRA Continuing Education?
All investors and organizations working within the securities industry are required to complete Continuing Education (CE) in order to continue working and adhering to their standards of integrity. This is a similar process to fulfilling Continuing Professional Education (CPE) for other finance and accounting certifications.
There are two levels to FINRA's continuing education requirements— the Regulatory Element and the Firm Element. Meeting these requirements is crucial to continuing work within the securities industry.
While it can be overwhelming trying to keep track of the specifications of both elements, we've got you covered. Keep reading for a comprehensive breakdown of both the Regulatory and Firm Element, as well as recommended courses for each.
FINRA CE Regulatory Element Programs
This portion of FINRA CE is squarely focused on regulatory sales practice standards as well as compliance and ethical conduct. The material for the Regulatory Element is built upon industry regulations and rules as well as practices and standards of the industry.
Those undertaking this element must exhibit a proficient level of knowledge to meet their CE requirements. All individuals must finish computer training sessions inside of 120 days after the second anniversary of their original date of registration; failure to do so will render your registration inactive. This requirement must be fulfilled again every three years after. Luckily, there are courses available online that can help you to meet these specifications.
Each program for the Regulatory Element consists of a set of modules. You're required to complete these modules in order to demonstrate your proficiency and understanding of their underlying concepts. You should expect to repeat some case studies until you adequately display proficiency in them. Nearly all of these requirements must be met within 120 days of your registration anniversary date— so you have a little over a year from first becoming FINRA certified to complete them. S201 is the exception, since it must be met 2 years after passing your exam.
Here's a quick breakdown of the different regulatory element programs:
FINRA Continuing Education Firm Element Programs
The Firm Element differs from the Regulatory Element because it's more specific to a given broker-dealer. Basically, this CE program requires firms to build a training program for their registered personnel.
Broker-dealers must enforce their Firm Element CE Program in conjunction with an annual Needs Analysis and Written Training Plan. They must also keep written history and documentation of the content included within these courses as well as record of program completion.
FINRA provides Firm Element Advisory guidelines that help identify key sales practice issues and regulations that broker-dealers should take into consideration for such programs. They also provide a list of guidelines for the Firm Element in their Guide to Firm Element Needs Analysis and Training Plan Development.
Here's the most important takeaway about this continuing education program— the training needs of the individual or their firm as a whole must be revisited annually and focus on ethical and professional conduct.
They must also cover 3 main categories:
General Investment Features + Associated Risk Factors
Suitability and Considerations for Sales Practices
Regulatory Requirements (where applicable)
---
Best FINRA CE Online Programs
Now that you know the different CE programs for each license, check out these recommendations for meeting your specific professional requirements:
Best Regulatory Element Training Courses

Starting with the Regulatory Element, we recommend using Securities Institute of America. Their courses are designed so that you can take them online or at a testing center.
When taking courses with The Securities Institute of America, you have 120 days to complete each section. But other than this loose guideline, these courses are essentially self-paced. You're free to start and stop whenever you like, taking long breaks in between if you want; this is helpful if you need some flexibility due to an already packed schedule.
The testing center option is great if you don't mind paying a bit more for an expedited experience. But if not, the online portal will still help you learn and master the material within each section thanks to a large library video training, reading assignments, and Q&A tests.
Here are the courses we recommend from The Securities Institute of America:
S101 Regulatory Continuing Education Prep Course
Cost: $55-$100
Covers all 4 modules
5 Hours Video Training (Testing Center option takes 3.5 hours)
Reading Assignments
Q&A Tests
Prerequisites: Any Series registration excluding Series 6
S106 Regulatory Continuing Education Prep Course
Cost: $55-$100
Covers all 4 modules
7 Hours Video Training (Testing Center option takes 3.5 hours)
Reading Assignments
Q&A Tests
Prerequisites: Series 6 registration
S901 Regulatory Continuing Education Prep Course
Cost: $55-$100
Covers all 4 modules
5 Hours Video Training (Testing Center option takes 3.5 hours)
Reading Assignments
Q&A Tests
Prerequisites: Series 99 registration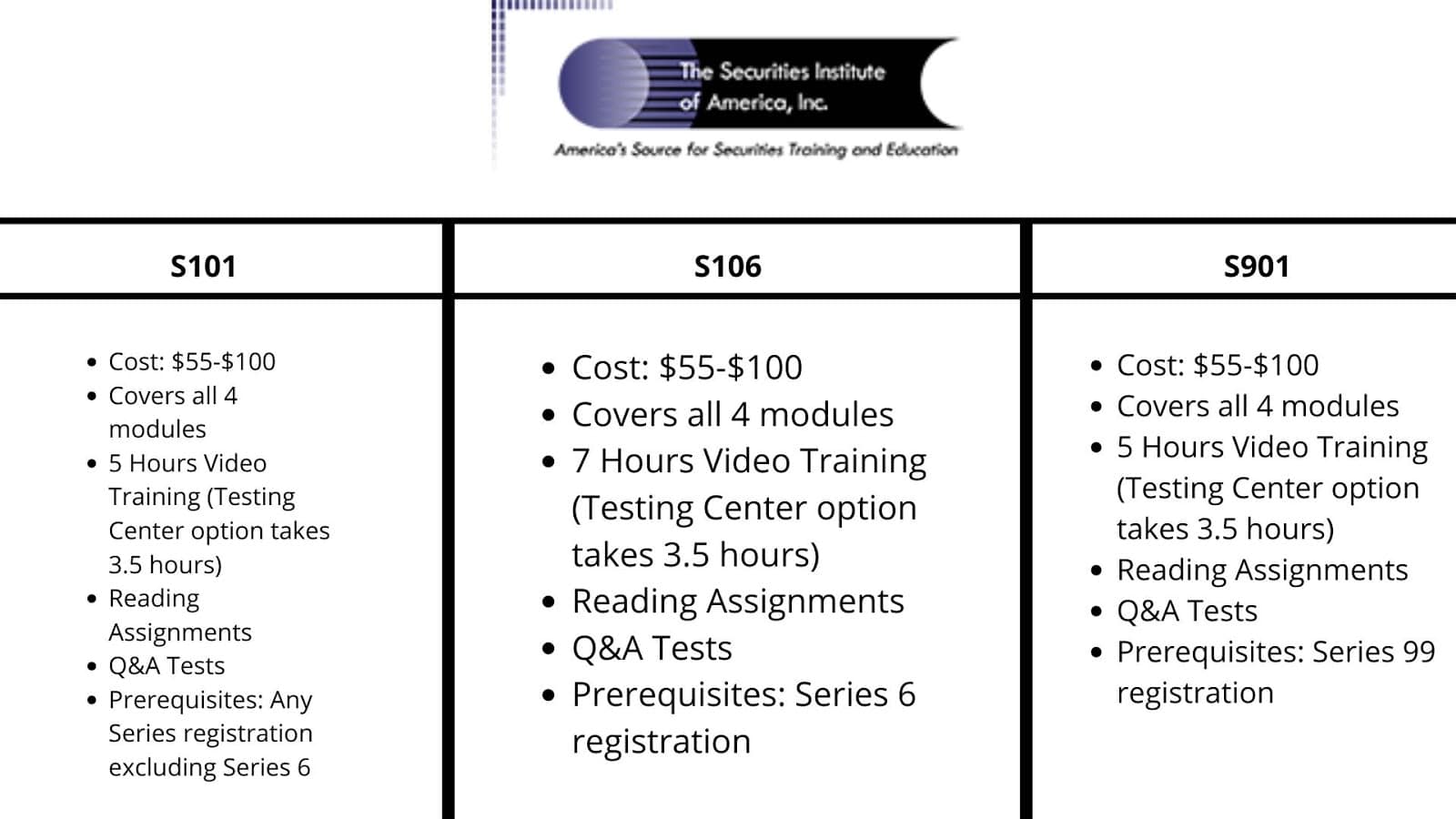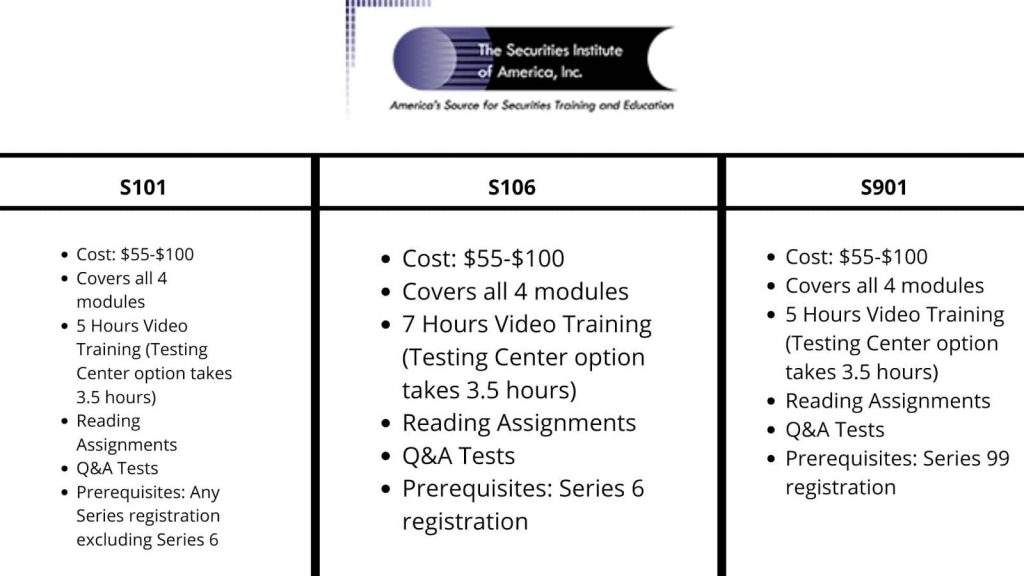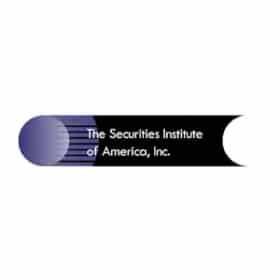 Save 12% on Securities Institute of America Series Exam
85 uses today
Last Used: 7 hours
---
Best FINRA Firm Element Training

Most companies in the securities industry are understandably busy— especially now that interest in retail trading is growing.
Companies looking to ensure their employees meet continuing education requirements for their licenses can greatly benefit from Securities Training Corporation. Their suite of CE courses guarantees minimal time loss, allowing for your firm's focus and energy to be spent on the topics that matter most to making money.
Their selection is vast, including over 100 new and regularly updated courses. Employees will also have unlimited access to the content, and each package is customizable to scale to your company's size and needs.
If you and your company like the experience, STCUSA also offers single and multi-year plans for broker-traders. They also host an Annual Compliance Meeting via webcast which allows firms to choose particular subjects relevant to their specific needs.
One feature that's especially helpful for managers is tracking and reporting. Securities Training Center's online portal generates and shares information for your entire team. Consequently, you can easily keep up with your team's progress.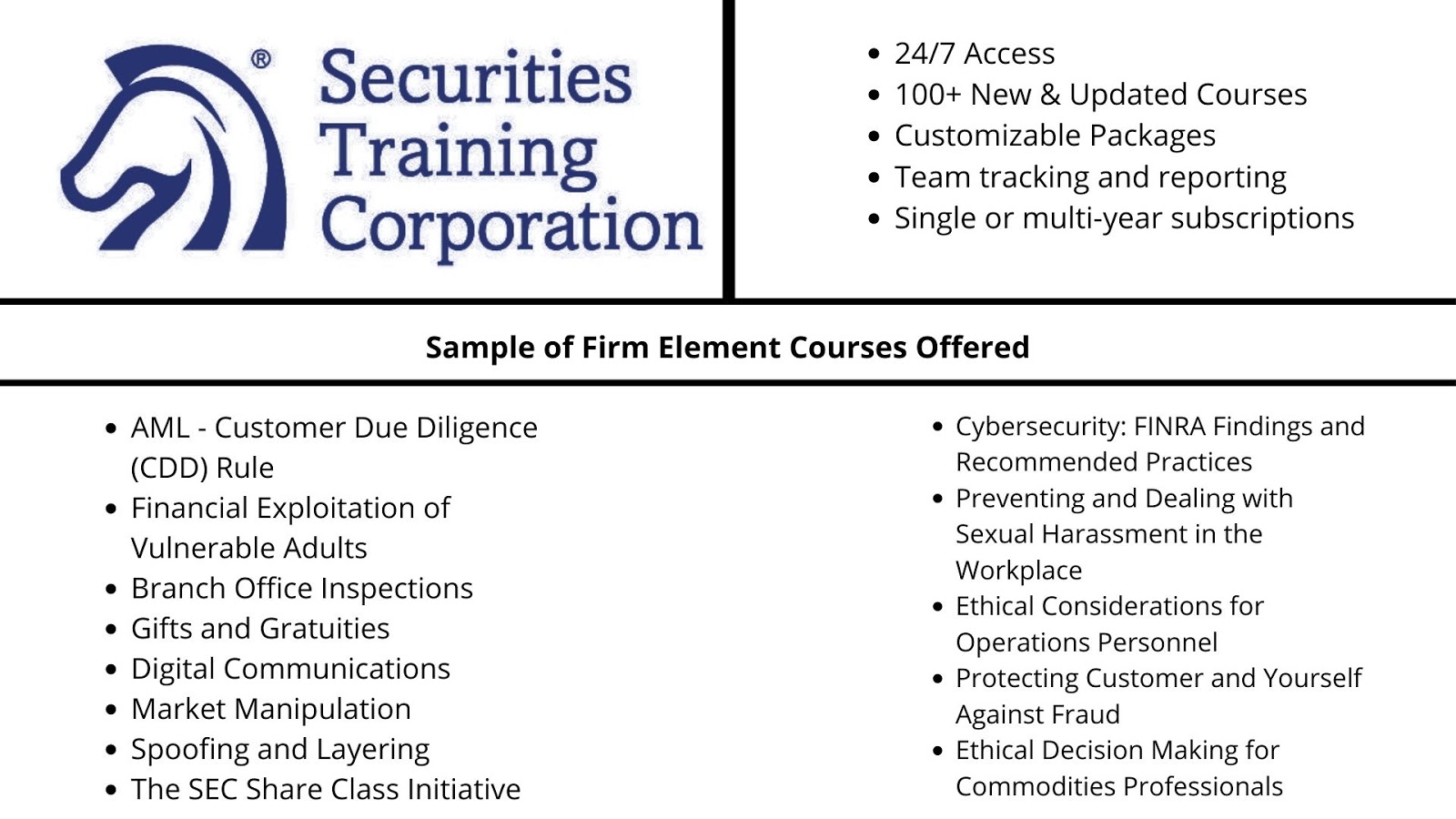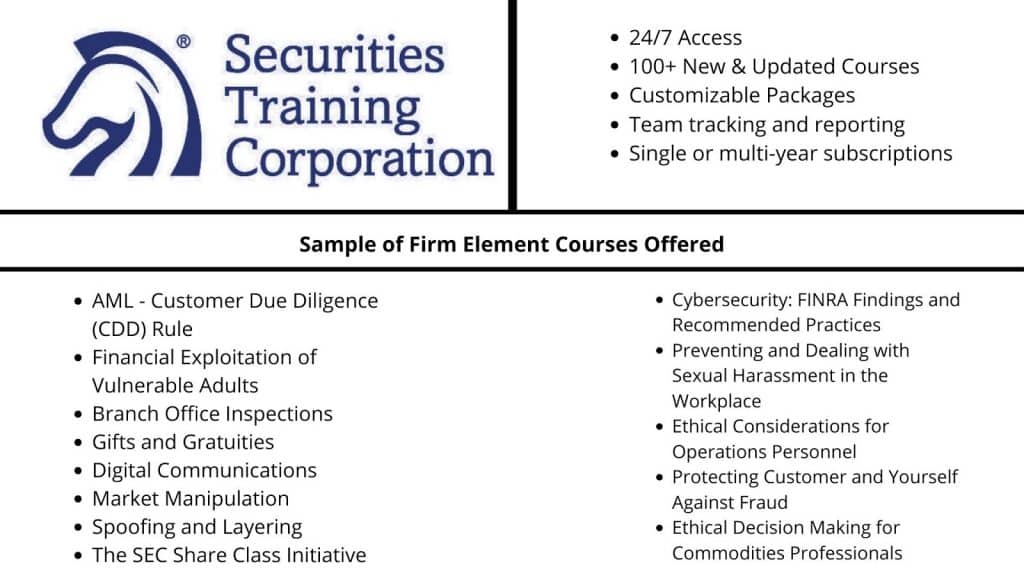 Get 30% Off Securities Training Corporation All Securities Courses
82 uses today
Last Used: 5 hours
---
FINRA CE FAQs
Still confused about FINRA continuing education? Check out these commonly asked questions:
What do I need to complete my CE requirements from FINRA?
FINRA requires that individual license holders complete the Regulatory Element, and broker-traders complete the Firm Element. These programs can be completed online through FINRA's website or in-person at a FINRA-approved testing center. 
How often do I need to complete the FINRA Regulatory Element?
You will need to complete the Regulatory Element within 120 days of the anniversary of your initial series registration. This needs to be completed again every 3 years thereafter.
How often do I need to complete the FINRA Firm Element?
This is something that your business or firm should be revisiting on an annual basis in order to keep everyone up to date with ethical and professional standards.