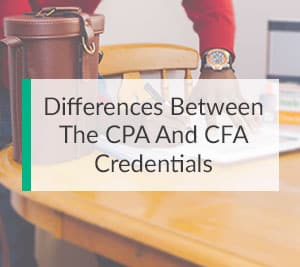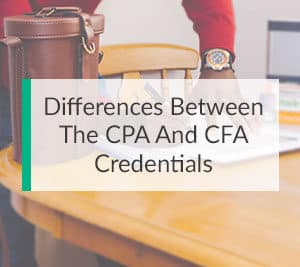 Regardless of which certification you choose, obtaining your Certified Public Accountant (CPA) license or the Chartered Financial Analyst (CFA®) credential can help you advance in your career. In fact, some business professionals work as both CPAs and CFAs for this very reason.
Both of these credentials may require hundreds of hours of study, however, so the most realistic option for most students is to choose one of the two to pursue. Therefore, you should carefully consider if the amount of work required for each is worthwhile and will help you move forward in your career.
Read below to understand each designation, the test material you must study, and the type of work you can perform in each role. That way, you can make an informed decision and pursue the career of your dreams!
The CPA Exam
The AICPA administers the CPA exam, and in order to qualify for this test all accountants must follow the certification requirements of their particular state board of accountancy. The state boards have education requirements that must be met before an accountant can take the exam. Check with your state to determine the number and types of credit hours that you need to take the tests.
CPA Exam Format
The CPA exam is divided into four tests:
Passing the four CPA exam sections will require hundreds of hours of study, so you should create a realistic plan to study for the tests over several months or longer.
CPA Careers
Once you pass the CPA exam and meet your state's work experience requirements, you can obtain a live license to practice public accounting. You can gain the required experience by working as an accountant in industry or for a public accounting firm.
Accountants working in the private sector may post accounting transactions, generate financial statements and management reports, or prepare tax returns.
If you decide to work in public accounting, you can choose one of these work specialties:
Auditing

: Auditors perform test work on a client's financial statements, and provide a written audit opinion. You should expect to spend a fair amount of time performing audit work at the client's headquarters, warehouse, or manufacturing facility.

Tax

: Tax accountants spend most of their time in the office; these professionals work the largest number of hours in public accounting. Many firms require tax accountants to pass tests on tax concepts periodically in order to ensure that they understand current tax law.

Management Consulting

: Consultants help companies solve a particular business problem, such as a logistics issues or planning for a company merger. This work involves the concepts tested on the BEC test. If you choose this career path, you may travel most of each week.
Accountants who work at smaller public accounting firms may fill more than one of these roles. For example, an auditor for a smaller client may also work on the company tax return.
Working in public accounting is demanding, but accountants who choose this path can obtain a number of valuable skills. Many CPAs leave public accounting and work for former clients, or for businesses in the same industry as their former clients.
Furthermore, some accountants add to their skills sets by obtaining law degrees, earning MBAs, or by securing the CFA® designation.
---
CFA
®

Certification

CFAs spend their time performing advanced investment analysis and portfolio management; hence, studying for the CFA® exams may take over 1,000 hours of study time.

This set of tests covers some of the financial reporting and analysis topics that you'll see on the CPA exam, but most of the topics address investment and money management concepts.
CFA
®

Exam Format

Here are some of the topics covered on this exam:
Quantitative methods

: Time value of money and regression analysis.

Economics:

Supply and demand, the monetary system, and the impact of inflation.

Corporate finance

: Decisions about capital structure, and rates of return on capital.

Investments

: Equities, fixed income products, derivatives, and portfolio management
If you're more interested in economics and investments than in accounting, the CFA® role is a technically challenging career path that you might consider.
CFA
®

Careers

Many CFAs become portfolio managers for banks, mutual fund companies, or pension plans. In this role, the CFA® considers a client's investment objective as well as the current condition of the stock, bond, and other markets, and constructs an investment portfolio.

The performance of the portfolio is typically compared to a benchmark, such as the Standard and Poor's 500 index (an index of 500 widely traded stocks).

As a CFA®, you may also want to pursue a career as a research analyst. Analysts consider financial, economic, political, and other factors to place a current value on an investment or a business. If you work as an analyst, you may dig into more detail than a portfolio manager; therefore, this role is suitable for people with an ability to focus on detail.
---
Your Career Path: CPA vs. CFA
®
The right career path for your depends on your personal preferences, and you should consider taking a personality assessment before making a decision. A CPA, for example, may have more day-to-day interaction with people than a research analyst. If you prefer spending most of your work time alone, you might prefer one of the research analyst roles that commonly comes from CFA® certification.
As stated above, the public accounting career path may require a large amount of travel, and you'll work a large number of hours in the first quarter of each year. However, if you're interested in eventually managing a company, you might become a CPA and obtain an MBA down the road.
Finally, if the investment markets interest you, the CFA® is a great option.
---
Take Time To Decide
Before deciding on either the CPA or CFA® credential, assess how much study time you'll need take the exams and if the time and travel demands of these professions are acceptable to you. Remember, whichever path you choose: both of these designations can help you advance your career over time.
Good luck!
CFA Institute does not endorse, promote or warrant the accuracy or quality of AIS-CPA.com. CFA® and Chartered Financial Analyst® are registered trademarks owned by CFA Institute.