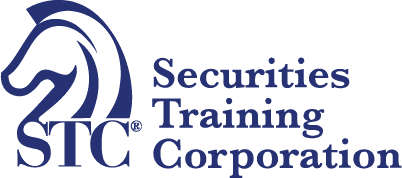 Anyone interested in a career as a securities expert has a long path ahead of them. According to FINRA, you need to complete the Securities Industry Essentials exam and additional qualification exams to become certified and start work in the field. Completing these will prove to employers that you have the requisite basic and specialized knowledge to start a career in securities.
Passing 2 exams can be tough, so it's important to prepare in the right way.
Securities Training Corporation USA provides prep courses for several securities exams. But how effective are they at ensuring that you'll pass? Read on to see what tactics they use throughout their study courses.
How do you rate STC Review?
---
Overview of STCUSA
STCUSA provides practice materials for all 50 states. Their educational content focuses on a wide range of materials and methodologies. This way, different kinds of students with specific preferences can easily find something in their catalog that appeals to them. 
This broad approach has been very successful for thousands of students, who have used their courses to pass over 24 different securities examinations. Because of this, STCUSA's students have some of the highest pass rates in the industry.
Listed below are a few of the features you can expect from Securities Training Corporation USA:
Online Study Manual
Practice Exams
On-Demand Lectures
Flashcards
Pass Guarantee
SIE Q&A Sessions
Live and On-Demand Classes
---
What's Included With STCUSA
Practice Exams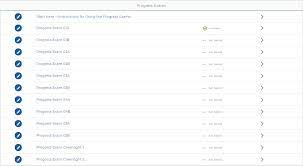 One of the strongest features included with any STCUSA course is their wide array of practice exams. These are implemented in different ways to gauge your progress through the course.
Start by completing an assessment exam to see what areas you'll need to spend the most time studying. Next, you'll take practice tests after every unit to make sure you understand what you need to know from each lesson. Finally, you'll know you're ready to pass if you can excel on the final Green Light exam.
Aside from these benchmarks, there are some other ways this course implements their practice questions.
Tests can be created according to your specifications. These focus on certain areas and allow you to focus on targeted review; this will help fill in any knowledge gaps. Consequently, your securities exam will be much easier once you've put in the practice.
Lectures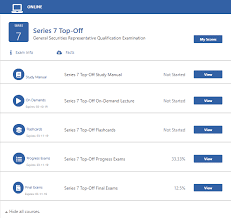 Lectures are available in both live and on-demand formats. This means you can still catch whatever lecture you want if you don't have a flexible enough schedule to consistently show up when they're first broadcast. However, I highly recommend that you attempt to show up for the live versions of these presentations, since it will provide the opportunity to ask your own questions directly to the presenter.
But who are the presenters of STCUSA's lecture content? Here's the gist:
Every lecturer is a highly accomplished securities professional with several years of experience in their respective industries. They understand how professional finance works and exactly what you need to know for the exam and once you start your career after passing. With that in mind, you can rest assured that these are informative and extremely helpful presentations.
Study Guides
Much like with the lectures, study guides are available in multiple formats. Anyone can access the online version of the guides, while those who pay for a Premier course are able to use printed materials. Best of all is that both versions can be easily annotated for later review— so it's much easier to put together a final review study session.
Completing these guides will reinforce what you've learned through the lectures and practice exams. You'll be able to see examples of what the instructors have taught with added detail. Each study guide is able to go more in depth since you should already understand the core concepts from earlier lessons.
---
Securities Training Corporation USA Pricing
Interested? If so, you have a few options when signing up.
Each exam has 3 different study packages. The first is the Essentials course, which typically costs around $225. It includes all self study materials and exams. Next is the Premier course for around $395. This adds in a pass guarantee and print materials. Lastly, you can choose the Premier Plus option for $475, which adds live content to your study program.
---
Pros & Cons
It can be tough to see the upsides and downsides to a course without taking it. Luckily, I can outline some of the positives and negatives here to help you decide:
Pass Guarantee: STCUSA has so much confidence in their course that they guarantee you'll pass the exam after completing it. This removes a lot of financial risk from the course, since you'll receive a full refund if you fail the exam. Obviously, STCUSA doesn't want that to happen— so they make their courses extremely effective.
Weekly Q&A: Each week you'll have the opportunity to join WebEx sessions with your instructors. During this time, you can ask questions about the course and receive some extra study information. I highly recommend taking advantage of this to fill in gaps in your knowledge.
Crunch Time Facts: At the end of your course you'll gain access to a set of crunch time facts. This serves as a list of essential topics for anyone hoping to do a final review. This way, you can easily construct a final study plan as long as you build it around this sheet.
---
Frequently Asked Questions
Check out the most commonly asked questions for more info on this course.
Q: Is Securities Training Corporation mobile friendly?
A: Yes it is. In fact, STCUSA has an iOS app that can be used to complete your course. It doesn't have as many features as the desktop site but is more than enough to get the job done.
Q: Are there any STCUSA course bundles?
A: STCUSA offers bundles for several different combinations of exams. This mostly takes the form of SIE courses bundled with specific series exams like the Series 65 or Series 66, but you can add more courses if you'd like.
Q: Can I earn CE credits through STCUSA?
A: Once you've earned your certification, you'll be able to earn all the CEs you need through STCUSA. Just visit their continuing education page for information on available courses.
---
Ideal Customer
Still on the fence about this course? See if any of the following applies to you.
If you like multiple study formats, this is the course for you.
If you prefer live learning, this is the course for you.
If you like having access to practice exams, this is the course for you.
If you're only interested in 1-on-1 tutoring, this isn't the course for you.
---
Final Recommendation
STCUSA is an excellent course provider for anyone interested in a securities certification. Their blend of live and on-demand materials helps every type of student pass on their first try. Plus, their wide range of materials makes it easy to stay engaged and reinforce what you've learned elsewhere in the course.
Make sure to check out this course as soon as possible. There's no risk thanks to their pass guarantee!