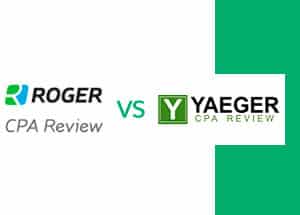 Yaeger and Roger CPA Review have been two of the most popular CPA exam study guides for years, which makes them difficult to decide between. The core components and features of each course are similar, but they are completely different CPA exam prep courses. So how do you decide which one is better?
That's a good question. Let's compare the core components and features of each course including the video lectures, study text, practice exam questions, cram courses, and general feel of each to see if one fits your personality and studying/learning style better. I'm sure you'll have a pretty good idea which CPA study materials are right for you by the end of this comparison.
Let's compare the features of the Yaeger CPA Review course to the features of the Roger Elite course Package. These packages are the biggest and best of both companies. Let's see which one wins!
---
Yaeger CPA Review or Roger CPA Review Comparison
Yaeger versus Roger CPA Review Prices
The best place to start with any study guide comparison is their price. This is what we are all concerned about, isn't it? Well, as you can see, the Yaeger course is extremely more affordable than the Roger course. In fact, it's almost 2.5 times less expensive. Take a look.
| Course | Full Course Price | Single Section Price |
| --- | --- | --- |
| Yaeger CPA | $1,199 | $349 |
| Roger CPA | $2,895 | $1,135 |
Keep in mind that you can also get some discounts on these courses that I offer to save you some CASH! This type of price difference is pretty incredible. You would think that Roger must have so many more features in order to make up for this price difference, but it doesn't really. Let's start going through the features to see how each course compares to the other.
---
Unlimited Access vs Limited Access
Neither of these courses has unlimited access. Since I'm reviewing the Elite course, Roger includes a 6-month extension. Thus, you can use your course materials for 24 months. This is a pretty good amount of time for most of us, but some people need a little more than that. Especially, those of you who are like me and passed your first section and promptly took a 6-8 month vacation from studying. If you need your CPA study materials for more than 24 months, you'll have to pay an extra renewal fee.
Yaeger's course materials are only valid for 18 months, but if you fail one of your CPA exam sections, they will give you a 3-month extension on that section's materials for free. This sounds good, but there are a couple catches. First, you have to meet a bunch of study requirements that the staff review in your course analytics. Second, you only have 3 months to study for and retake the section again. So, if you were planning on taking a different part in the next testing window, you are going to have to double up because your materials are about to expire.
---
Yaeger CPA Review vs. Roger Test Bank
The Yaeger CPA Review test bank includes over 4,300 past exam and practice questions with expecting solutions and explanations. It also includes over 160 task-based simulations. This isn't a particularly large test bank, but there are definitely enough practice questions in here to properly prepare for the exam.
The Roger test bank doesn't include many more questions or simulations. It features 5,000 multiple-choice questions and 200 task-based simulations.
Both course software packages allow you to generate custom quizzes covering any amount of topics and any length. This is a great feature because it allows you to test yourself on the topics you need help with rather than going through the chapters in a row.
---
Roger CPA vs Yaeger Study Text
The CPA study textbooks for these two courses are quite similar. Roger's books use the Roger method of studying and tie into his lectures. He's created tons of helpful memorization techniques and mnemonics to help you remember concepts and detailed lists. His CPA books go into a fair amount of detail and give examples of each topic.
The Yaeger study text is much more detailed than Roger's and it's integrated into their software better. The myYaeger portal automatically tracks your lecture progress and syncs the digital study text with the video lectures. This allows you to reference the materials in real time as you are listening to the lectures.
Both courses send you printed and digital copies of their textbooks.
---
Roger vs. Yaeger CPA Review Flashcards
The Roger CPA Review Elite course includes a set of 800 printed flashcards and a set of digital flashcards. It's nice to have both of these variations because they both have different advantages. The digital cards can go anywhere with you because they are on your phone. The printed cards are nice because you write notes and organize them how you want.
The Yaeger full course also comes with a set of 2,000 digital and printed flashcards. This is more than twice as many study cards as Roger. It seems like Roger could throw in a few more.
---
Audio Lectures and Audio Books
Both CPA exam study materials come with a full set of audio lectures or audio books. These are great study tools that take advantage of the time that would have otherwise been wasted. For instance, you can listen to a lecture while you are commuting to work or school. You can listen to one while you at the gym. Or if you are like me and wouldn't be caught dead in a gym, you can turn one on while you are skateboarding. Wherever you listen to them, they are a great feature to have.
---
Offline Access
Both courses come with a set of CPA exam flash drives and mobile apps that allow you to take their study materials anywhere without an internet connection. Both of these options are great for places that don't have wifi or won't give you the password.
---
Roger CPA Review versus Yaeger Course Format
This is where the difference in each course really shows. Roger's course is very linear in nature and resembles a textbook. It's divided into chapters allowing you to read through each chapter chronologically. Each chapter includes several lessons using the Roger method of teaching. This method starts with Roger's energetic video lectures followed by the study text reading and practice question-solving. Each lesson takes about 1-2 hours to complete and covers a lot of information.
Yaeger, on the other hand, is a more customizable course that adapts to your learning style. As soon as you sign in, there are four different options to use:
Watching video examples of concepts
Repetition of multiple problems
Listen now, practice later
Read and highlight now, practice later
By selecting one of these options, it will set up your course in this fashion. Thus, it's much more tailored to your learning style. The components of each lesson are detailed and include a ton of information. These lessons typically take about 1-2 hours also.
---
Yaeger CPA Review or Roger Video Lectures
Another big difference between Roger and Yaeger is their video lectures. Each of their video lessons is about the same length, but they are way different teaching styles. Roger is flamboyant and energetic. He tells jokes, sings, and jumps around during his lectures. This is great for keeping you awake and engaged during the lectures. He also tends to go over information quickly and tends to speed talk. This is good for people who have a firm concept of the information, but people unfamiliar with the topics or international students tend to have to pause and rewind a lot.
Yaeger lectures, on the other hand, are the complete opposite. Think old-school accounting lecture. They are very informative and full of information, but they super dry and boring. The best thing about Yaeger's videos is that he goes through practice problems and questions at the end of each lesson. This gives you an idea of his thought process for multiple-choice questions and how you should approach them on the exam. Super helpful.
---
Smart Study Planner
Another big differentiator between the courses is their study planners. Yaeger has put a lot of effort into making their smart planner something useful and reliable. After you enter your exam date, it will automatically plot out your study process. If you miss a day, it will automatically update each remaining day's study load to compensate. This is a great way to stay on track.
Roger CPA Review doesn't offer anything like this. They just have an excel file with a standard study process.
---
Yaeger vs Roger Cram Courses
Both courses come with final review cram courses that you can use to study and refresh on the most important topics a week or two before the exam. This is a really helpful feature because the week before your exam is crunch time and you need something that will remind you of everything you need to know.
One important thing to remember is that only Roger's Elite course comes with this feature. If you downgrade the package, you will have to pay an extra $600 for this feature.
---
Customer Support
Yaeger CPA is famous for its personal support system. You can call or email anytime and you'll get a response from one of the actual lecturers or course creators. This means you will have a true expert at your disposal any time you have a question about the materials or the exam.
Roger doesn't offer support like this.
---
Recommendation
As you can see, both of these study guides are very similar. They both have many of the same features. Roger has a little bit bigger test bank, but Yaeger has more study material features and support.
I think this decision comes down to personal preference. If you enjoy Roger's teaching style, you will love his course. Some people love him, and some people don't. On the other hand, if you don't mind boring lectures, Yaeger's lectures are really informative and helpful. They are just boring.
Personally, I don't think that the Roger study guide is good enough to justify being 2.4x more expensive than the Yaeger study guide, but if you like Roger's lessons that's what you will have to pay.
All in all, both are phenomenal study guides, and both will more than prepare you for your exam day.
CPA Exam Product Review - Summary
Reviewer
Review Date
Reviewed Item
Yaeger vs Roger CPA Review
Author Rating