The Law School Admissions Test (LSAT) is a tough exam. It has 101 questions and is scored on a scale of 120-180 with an average score around 150. However, if you're looking to get into a top law school, your mark should be well over 160. This is not an easy feat to accomplish, especially on your own; therefore, we recommend checking out our list of the best LSAT tutors and getting some extra help on your test prep!
Not convinced that a private tutor is necessary? Consider the following:
When determining admissions, some schools weigh your LSAT scores much heavier than a GPA. In fact, most consider it at a 70% vs. 30% difference. That's because high LSATs can be rare, while GPAs aren't. Hence, the LSAT is critical to continuing your education in law— more so than a high GPA!
Ultimately, the last thing you should have to worry about is costly tutoring. Fortunately, there are hundreds of affordable tutors online waiting to help you pass. You just need to know where to find them (Heck, if you get a high enough score on the LSAT, you could even get a job as an LSAT tutor yourself!)
Here are four of the best resources for LSAT tutors available today:
#1 LSATMax Tutoring Review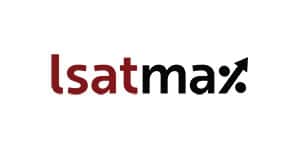 PROS
Flexible Pricing and Financing:
Not every student fits in one box. To accommodate, LSATMax is a key platform for learning flexibility. Their approach is to assume that you're the expert when it comes to where you are and where you need to be, so they offer a variety of tutoring packages based on individual needs. This includes the ability to purchase by the hour or in the following packages:
Basic – 10 hours
Complete – 20 hours
In-depth – 30 hours
There is also a chance to apply for financing through Affirm. Packages start at just $34/month.
Multi-Channel Management:
The tutoring aspect of LSATMax is managed through multiple channels. Sessions happen at the student's convenience through a range of platforms: phone, video conferencing, or email. Once you match with a tutor, you can schedule a time that works best. Then, all you need to focus on is the LSAT itself!
Wide Range of Professionals:
LSATMax is one of the leaders in comprehensive LSAT prep online. Hence, it's no surprise that they offer a diverse pool of tutors with unique skill sets, ranging from Columbia graduates to individuals with doctorate degrees. In fact, one top-scoring tutor took the test for fun and is an award-winning equestrian by day. Seriously, there is a tutor for every kind of student!
Student Resources:
In addition to tutoring, students have access to a wide range of LSAT resources. There is an entire section on their site dedicated to free test materials: logic games, daily drills, and practice tests, among others. They also offer resources like eBooks, blogs, and admissions consulting. Basically, you're not just limited to private instruction when you sign up for LSATMax.
Bottom Line: LSATMax is a powerhouse in the tutoring space. Tutors infuse modern technology into traditional education models to encourage highly adaptive learning. This helps to lessen the time you study, without reducing effectiveness. Additionally, the a-la-carte tutor pricing means LSATMax is one of the most comprehensive and flexible programs for LSAT prep on the market!
---
#2 Varsity Tutors LSAT Tutoring Review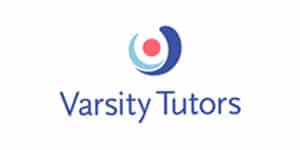 PROS
Scholarship Program:
College graduates and pre-law students who plan to attend law school are eligible for the Varsity Tutors Scholarship for LSAT Test-Takers.
Entries into the monthly program are entitled to a one-time $200 prize to be applied toward the cost of law school. This typically requires an essay of 200-900 words on varying topics. Since it's exclusive to enrolled students, you've got a decent chance of being a winner!
Scholarship Program:
If you aren't satisfied with your tutor (for any reason) after the initial lesson, contact Varsity Tutors for a better fit; the next two hours of tutoring will be free of charge. Although it isn't a full money-back guarantee, it does allow you to recoup some of the cost with extra tutoring!
Shared Hours:
Do you have any siblings or relatives that are also interested in taking the LSAT? If so, an incredibly unique model to subscription-based pricing provided by Varsity Tutors makes this the perfect choice! This tutoring company allows students to share purchased tutoring hours with immediate family members; you won't find this anywhere else.
CONS
3rd Party Management:
Varsity Tutors doesn't hire tutors directly; instead, they're more of a third-party connector. That means if anything goes wrong with your tutor, they have little to no liability. Although they do offer a satisfaction guarantee, the fact they don't screen each tutor as closely as they do their full-time employees, this can be concerning to some students.
Bottom Line: You still need to do your homework with Varsity Tutors, but they have one of the widest pools of LSAT tutor professionals on the web. It's a nice gesture for them to allow people to pass on hours to family as well. This level of trust makes for a one-of-a-kind private LSAT tutor program!
---
#3 Tutor the People LSAT Tutoring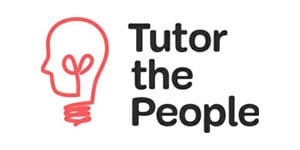 PROS
High-Scoring Help:
All tutors hired by the Tutor the People must score within the 94th percentile or higher. Furthermore, they all strive to personalize the learning experience based on the needs of each individual student and have a lot to bring to the table in terms of skills and experience. These tutors have a passion and skill for teaching that translates into exam success!
Free Trial:
Tutor the People offers a no strings attached, free 30-minute trial for the LSAT tutoring services. When you purchase the LSAT study packages, it comes with a free, one-hour introductory trial. If you are dissatisfied, there is a 100% refund with a money-back guarantee.
Excellent Scholarship:
Tutor the People also has a pre-law scholarship of $1000— $800 more than what Varsity Tutors pays out. It goes without saying that this kind of money can be a tremendous stress reliever for many struggling law students, so it's definitely worth looking into!
CONS
No Continuity:
Unlike LSATMax, tutors on this official LSAT learning platform are all independent contractors. This means they have their own methods, materials, and styles. What this means, unfortunately, is that Tutor the People's business model doesn't do much for educational continuity. If you change tutors, the learning process might be completely different.
Bottom Line: Ultimately, the addition of a free trial and a lucrative scholarship opportunity make this a very appealing option if you're preparing for your law school applications. However, an intimidating price tag and lack of consistent tutoring experiences make this slightly less appealing than the other options on this list.
---
#4 Chegg Tutors LSAT Tutoring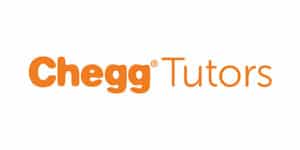 PROS
Subscription Model:
Chegg is the only educational company on this list to offer tutoring on a subscription basis. This is ideal for students that aren't sure how much help they need or how much they'll be able to spend on their study resources. With this option, you won't ever have to worry about getting locked into extra hours of tutoring that are a waste of time!
Logic Games:
In contrast to most other tutoring companies, Chegg likes to focus on fun. They use gamification in a lot of their teaching methods to create a lighter atmosphere. For an additional $199, they offer a Kaplan-based LSAT Logic Games package to go along with your tutoring. It features over 300 real logic games, a prep book, and 20+ episodes of the LSAT channel video series.
CONS
No Rollover:
Unlike Tutor the People, any minutes you purchase will eventually expire— They don't rollover into the next month. Membership is automatically renewed until canceled. Ultimately, this means that effective time management is essential when you enroll in Chegg Tutors.
Site Issues:
Unfortunately, there are many complaints online focusing on issues with Chegg's site. Additionally, some students have protested that Chegg's user policy is too strict. For example, if you log in from another computer you could be locked out of your account for 48 hours! This is brutal if you have a test the next day and even worse if you're trying to use the last of your non-rollover study hours for the month.
Bottom Line: What you need to ultimately keep in mind is that Chegg is more of an aggregator for tutors. They don't hire them directly and won't hold them to the same high standards as LSATMax or Varsity Tutors. Still, Chegg is one of the cheapest options on the market for instant LSAT tutoring and can be invaluable for students during crunch time.