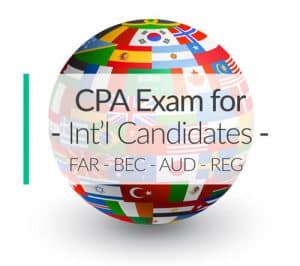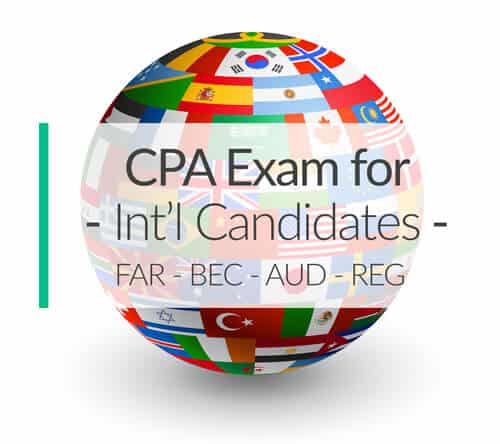 The CPA exam application process for non-citizens or people who live outside the United States is complicated. Heck, the application process is complicated for citizens. It's way too complicated for international candidates and non US citizens. Let's discuss the ways you can apply for the CPA exam as an international student.
Who Can Take the CPA Exam?
First off, we need to discuss who is eligible to apply for the CPA exam as an international student. To do that, we need to look at the state boards' licensure requirements to see if international people can apply. Remember, state boards are the legal bodies that issue CPA licenses. The CPA certification isn't a national US designation.
There are 54 different accounting boards that issue CPA licenses. That's right, 54! Each of the 50 states issues its own CPA certificate, as do Washington D.C., Guam, Puerto Rico, and the U.S. Virgin Islands. Each has different rules and requirements to sit for the exam and become licensed.
In addition to meeting the requirements of a state, you will need to sit for the exam. As of 2011, the US CPA examination is being offered in several countries other than the U.S. including Japan, Kuwait, Lebanon, Bahrain, and the United Arab Emirates while there are many more who are working on joining this list as well. The AICPA Website has more details about testing centers abroad.
Before we can look at scheduling a testing date, let's look at the requirements for each jurisdiction and see which ones are most accepting of those who want to apply for the CPA exam as an international student.
---
Non-Citizen CPA Requirements
Education Requirements
The minimum educational requirement to sit for the CPA exam is generally a four-year degree (120 credit hours) from an accredited University. In addition to the 120 credit hour minimum, candidates must take a required amount of accounting, business law, finance, taxation, and auditing classes for most jurisdictions.
Some states require 150 University semester hours before you can sit for the CPA exam. Most states also require 150 credit hours to obtain a license after the exam has been successfully completed.
If you attended a college or University outside of the United States, you will have to check to see if your educational institute is accredited and recognized by the AICPA. If it isn't, you will not be able to apply for the CPA exam as an international student. NASBA has created a resource to help identify approved educational institutes.
No Residency or Citizenship Requirements
Some states do not require that you be a resident of the state or a U.S. citizen to earn a CPA certificate in that state. The following states do not have residency requirements.
Alaska
California
Colorado
Connecticut
Delaware
Florida
Georgia
Hawaii
Illinois
Kentucky
Maine
Maryland
Massachusetts
Montana
Nevada
New Hampshire
New Jersey
New York
Oregon
South Carolina
South Dakota
Texas
Utah
Virginia
Washington
Wisconsin
---
Get Discounts On CPA Review Courses!
---
No Experience Requirements
Most states require some type of experience before you are issued a license. There are some states, however, that will grant a CPA certificate with no experience. These states often require evidence of experience before a permit to practice is issued, however. If you just want a U.S. CPA certificate for your resume, you might investigate the current requirements of these states:
Alabama
District of Columbia
Florida
Guam
Illinois
Iowa
Kansas
Louisiana
Maryland
Minnesota
Mississippi
Missouri
Montana
Nebraska
North Dakota
Oklahoma
Puerto Rico
South Dakota
Virginia
Washington
West Virginia
Wyoming
---
Less Than 150 Credit Hour States
All states now require 150 University credit hours to meet the educational requirement and obtain a CPA license.
---
The International Application Process for the Uniform CPA Exam
The application to apply for the CPA exam as an international student is very similar to domestic candidates. The only real difference is in the educational requirements. Most US Colleges and Universities are accredited and approved by NASBA and the AICPA. Thus, US candidates don't tend to have problems with their education requirements. Before you apply, check the NASBA site to make sure your institution is recognized. After that is out of the way, your application process should be pretty easy.
1) Contact the appropriate board of accountancy to obtain an application.
2) Send in your application including the required recommendation letters, transcripts, photographs, and other documents. You should request your application several months in advance. Keep a copy of your completed application, and send your application by certified mail (return receipt requested).
3) Use your ATT to obtain an NTS
4) Use your NTS to schedule your exam.
State boards are constantly changing their CPA exam requirements, so make sure to contact the state you plan to sit in before sending in your application.
Once you have passed the exam in one state you can transfer to another state if need be. You will have to meet the education and experience requirements of the new state, but normally you are given credit for having already passed the CPA exam.
Once you've decided where you want to take the exam, don't sit around. Start studying right away! The last thing you want to happen is to re-take one of these exams after this lengthy application process.