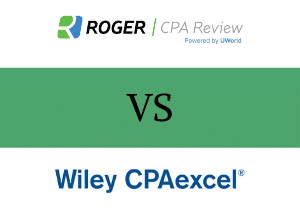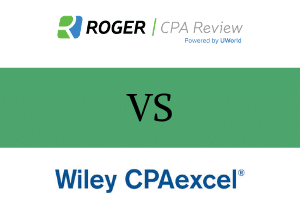 Roger CPA Review and Wiley CPAexcel are both industry-leading CPA exam study guides. Consequently, many candidates struggle to decide between the two. They both offer similar features, but the courses in and of themselves could not be more different. For instance, both CPA exam prep courses offer test banks, video lectures, study books, and practice questions. So which course is better?
Before we can answer that question, we'll need to look at each of the components in these CPA study materials. Luckily, I've used both of these courses extensively, so I know my way around them far better than someone trying them for the first time. 🙂 Let's compare the CPAexcel Platinum Course to the Roger CPA Elite-Unlimited course and see which one comes out the victor.
Wiley CPAexcel or Roger CPA Review Comparison
Wiley versus Roger Prices
Both of these CPA review courses are fairly expensive. That should be assumed because they are the best courses that both of these companies offer. That being said, they include all the features that the companies offer as well. This is a true comparison because it shows what the high end of both companies will get you. Surpisingly, both of these courses currently have the exact same price ($2,999) for the exact same access period (unlimited). Consequently, the result is a tie!
| Course | Full Course Price | Single Section Price |
| --- | --- | --- |
| Wiley CPAexcel | $2,999 | $800 |
| Roger CPA | $2,999 | $649 |
---
Wiley vs. Roger CPA Review Test Bank
The Wiley test bank includes more than 12,000 multiple-choice questions that can be taken in either exam mode or study mode. These modes give you the option to see the answers immediately or wait until the practice exam is submitted for grading. The Wiley CPAexcel test bank also features more than 600 task-based simulations and 6,250 true/false practice questions. This is the second biggest test bank in the industry!
The Roger CPA Review test bank includes more than 6,000 multiple-choice questions along with 200 task-based simulations. Although this test bank is nowhere near as large or expansive as Wiley's, it does include enough questions that you won't be running into the same one over and over during your study sessions. The last thing you want to be doing is memorizing the answers to questions when you should be learning the concepts and working through the questions. Still, the obvious winner here is Wiley.
---
Roger vs Wiley CPAexcel Study Text
The CPA study books for both of these courses are pretty similar with a few exceptions. Roger's study materials tend to be more detailed and provide many more examples and memorization techniques in them. Roger is famous for using several unique mnemonics in his materials. His books are also meant to be paired with his video lectures, which are a key selling point in and of themselves. But more on that later!
On the other hand, Wiley's textbooks aren't extremely detailed. They tend to be short and to the point. This can be a good thing for people who don't want to be bored to death reading an accounting textbook. These study books list information and concepts that are heavily covered on the exam. They don't tend to have many memorization techniques in them, but that's what the Wiley Focus Notes are for. This is an added bonus in the Platinum course that is filled with nothing but acronyms and mnemonics in both print and digital formats. 
The Wiley books don't go into as great of detail as Roger's do, but there is definitely enough information in there to explain to CPA candidates the most important topics that will probably be covered on the exam.
---
Roger vs. Wiley Flashcards
The Wiley CPAexcel course features a full set of digital flashcards. These 4,000 plus flashcards cover all of the main topics in the study materials and can be used on your computer, phone, or mobile device. This is great for flipping through a couple while you are waiting in line at Starbucks or sitting in line at the bank counting all the cash you saved by using one of our course discounts. Wiley also includes a set of 1,000 printed cards.
The Roger CPA Review Elite-Unlimited course also comes with both printed and digital flashcards. After their newest update, students have the ability to work with a group of cards hand-selected by Roger himself. Alternatively, they can organize decks of their own, which are then printable for added convenience. This is another tough call that will ultimately boil down to each student's personal preference.
---
Audio Lectures and Books
Roger CPA Review is the only course with audio lectures and audio study books. This can be a big deal for many CPA candidates with an auditory learning style or for those who are short on time. For instance, it's nice to listen to an audio lecture while you are in the car on your commute to work or at the gym. These lectures are convenient because you can carry them anywhere and listen to them without an internet connection. What's even better is that they offer the distinctive and engaging teaching style that Roger CPA Review is most well-known for and are included free with their Elite-Unlimited package.
---
Offline Access
Both courses offer ways to access their test prep study materials offline. Both the Roger CPA Review Elite-Unlimited course and the Wiley CPAexcel Platinum course comes with flash drives with all of their study materials on them. They also offer mobile apps with practice questions and flashcards that can be downloaded on any device.
---
Roger CPA Review versus Wiley CPAexcel Course Format
Both of these courses are only offered in a self-study format. Neither company offers live lectures or classes that you can take. In my opinion, this is a good thing. Who wants to drive to a lecture site each night for months on end to listen to a lecture? I don't. I'd rather sit at home, eat Mac 'n Cheese, and study on my own time. That being said, the course materials are laid out in a slightly different way.
Roger's course broken into 12-20 large chapters that focus on using the Roger method. Candidates listen to the lectures and follow along in the study text. These lectures are long and cover a lot of information in one sitting. However, the beauty of these lectures is the way that Roger himself manages to make the material engaging and interesting, keeping the attention of his audience. Each lesson requires about 1-2 hours to complete, but students have said that the time flies because of how entertaining these videos can be!
Wiley's course is broken into tons of small bite-sized sections that cover specific topics instead of broad concepts. Each lesson only requires 10-30 minutes to complete. This is nice for candidates who have less time to study, but they're missing out on the fun that comes with Roger's lectures.
*Update: Wiley's new Platinum course now offers Live Online Lectures where you can listen and ask questions in real time!
---
Wiley CPAexcel or Roger Lectures
The Wiley CPAexcel lectures are short and to the point. They cover small, bite-sized topics and only list information that is most likely to be on the exam. They are also a little like a traditional accounting lecture. In other words, they are very professional and don't have any jokes in them. The typical lecture is about 10-15 minutes in length.
Roger's lectures couldn't be more opposite. Roger is crazy and flamboyant. He flails around, tells jokes, and yells. These are great for candidates who want to stay awake during their study time. However, it's not so good for people who don't find Roger amusing. These lectures are way more detailed than Wiley's and cover more information. Each lecture is about 45 minutes in length.
Ultimately, it's no contest which video lecture is better. You may have a different preference for your study material, but the vast majority of students and reviewers (like me!) prefer Roger's unique style.
---
Study Material Updates
Both of these courses come with free updates. This means that if any new updates are released by the companies, your course will also be updated. This sounds like common sense, but many companies don't do this. You have been warned!
---
Recommendation
This is a difficult comparison because both of these courses are so good. They both have their unique qualities, but Wiley offers the better experience overall. However, both are excellent choices and I think it mostly comes down to personal preference. If you really enjoy Roger's lecture and teaching style, this might be the course for you. If, on the other hand, you just want the most content for the price, CPAexcel is a better option!