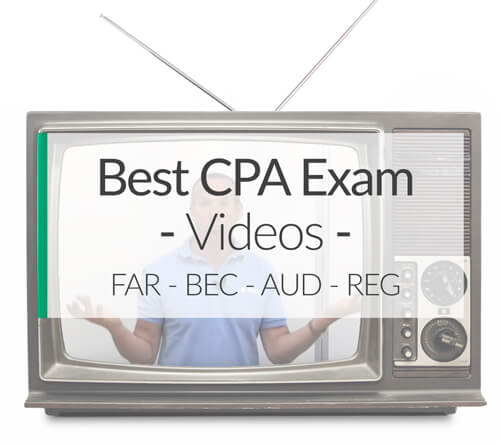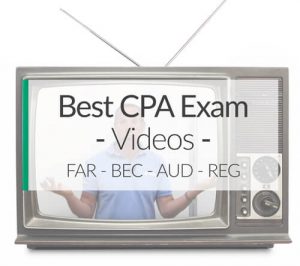 Almost all CPA exam review courses include video lectures in their study materials because they are really helpful. Video lectures were one of the most important study tools I used to pass the exam and I'm sure they will be important to your success with the exam as well. But, how are you supposed to know which are the best CPA review course video lectures?
This is a great question. The answer is none of them are the best; they're all different. Most full-length CPA courses include great video lectures, so there isn't one set that can really be called the best. They are all different and work for people with different learning styles.
Therefore, let's look at each CPA review course's video lectures, talk about their pros and cons, and decide who should use them!
[convertkit form=1033965]
Top CPA Exam Prep Video Lectures Compared
---
UWorld Roger CPA Review Video Lectures
Roger's CPA exam study lecture style is explosive and energetic. He flies through topics and tries to entertain watchers with jokes and new memorization techniques, acting as a personal counselor of sorts. Surprisingly, he accomplishes this without any supplementary learning technology, typically standing in front of a whiteboard and writing out notes or explanations during the presentation. However, some candidates have complained that his handwriting can be a little unorganized and sloppy while others like this style because it's more personable. You decide.
FAR Exam Cost and Equity Method
Pros
Includes 100+ hours of video
Lots of details and explanations
Lots of memorization techniques
Engaging and full of energy
Cons
Roger can talk too quickly
Roger's energy and jokes don't amuse some candidates
His handwriting can get sloppy and difficult to read
Who Should Use These?
The Roger CPA review course video lectures are good for candidates who are sick of dry, boring accounting lectures. It's the best CPA exam resource for people who have a sense of humor and want to be somewhat entertained and engaged.
Read Our Review of UWorld Roger CPA
---
Yeager CPA Review Video Lectures
Yaeger's lectures are very old school, traditional accounting lectures. Their video CPA study materials are full of detailed information but are also quite lengthy. Yaeger's team of expert accountants and educators present the CPA exam information on a whiteboard and PowerPoint slides. Ultimately, this is an effective way to convey information, but it can be pretty boring at times. Here's an example.
2012 CPA Exam Review Demo - Yaeger CPA Review
Pros
Includes 100 hours of video
Detailed explanations with CPA question walkthroughs
Slow paced and easy to understand
Well integrated into the course materials
Cons
Lengthy and slow at times
Old-school teaching can be boring
Sometimes gives too much information
Who Should Choose This Course?
Candidates who need more information and explanations will do well with these lectures. Yaeger goes through practice CPA exam questions in almost all the videos allowing candidates to see the thought process behind answering each multiple choice question correctly.
---
Gleim CPA Review Video Lectures
Gleim started offering video lectures several years ago with their full CPA prep course. These lectures are presented in front of a green screen similar to the CPAexcel videos. Gleim tends to use PowerPoint slides for their examples and draws on them with a virtual whiteboard. As with the other Gleim CPA materials, the videos discuss the topics in great detail. Here's an example.
What is Audit Risk? How Do You Calculate Audit Risk?
Pros
Includes 100 hours of video
Very detailed topics and explanations
Professional
Cons
Can be too detailed
Can be lengthy
Somewhat boring
Who Should Buy This Course?
Gleim is a great course for people who have been out of school for a long time and need detailed explanations of topics. It's also a decent cram course for international students. These lectures are very informative, but they can be rather dry and boring.
---
Here's the CPA Exam Course You Should Buy
Remember, the lectures are only one part of the entire course. I don't think that they will make or break your decision, except in the case of Roger. If you don't like his lectures, you will not like his course. Otherwise, you should take a look at the other courses' features before you decide which one is right for you.
Read our CPA Exam Review Course Comparison